Housebuilder's decision is a canny piece of work, writes Building Value's Tony Williams
It's déjà vu all over again," said Yogi Berra; famous less for his baseball prowess than his malapropisms. In 2008-10, amid the global financial crisis, the UK housebuilding industry raised £1.7bn of fresh equity and wrote off £5.4bn or 40% of its net asset value.
Within the covid-19 crisis, Taylor Wimpey is the third housebuilder to call on shareholders – it was preceded by Inland Homes and Gleeson – and raised a net £515m by way of a share placing to allow it "to pursue additional near-term land acquisition opportunities". The group said that disruption in the land market as result of covid-19 is creating short term opportunities to acquire land at attractive returns and prices below pre-covid levels.
>> Taylor Wimpey raises £500m to buy up land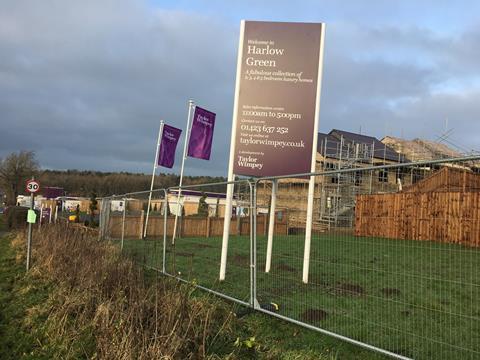 To be fair, Taylor Wimpey was already on the front foot with an orderbook 12.2% higher at £2.85 billion and £650 million of land creditors – where it has agreed to buy land but not yet paid for it. This means it could do with a few bob and, if not, the capital raising is an excellent two-way bet: either the group expands or the downside is covered. The placing was also popular with shareholders: demand for new shares determined that it was priced at just a 4% discount. If I was chief executive Pete Redfern, I would have done the same thing.
During the covid-19 pandemic and resulting lockdown, Taylor Wimpey says that it has seen "robust demand and continued to sell homes to new customers and progress purchases remotely each week. This has continued since the phased reopening of sales centres and show homes". Sales are also said to have been consistent with those achieved prior to the lockdown in Q1 2020.
Finally, Taylor Wimpey said that, while at this stage it is too early to resume full guidance, the impact of the lockdown on build programmes will push Q4 2020's completions into 2021 "leading to a meaningful reduction in 2020 volumes". However, dependent on government guidance, the group would "expect improvement in 2021 capacity" – although it added "this is unlikely to fully rebound to prior levels".
Taylor Wimpey is the third in a hat trick of housebuilder cash calls. I would expect more.