All this debate over policy isn't driving the industry where it needs to go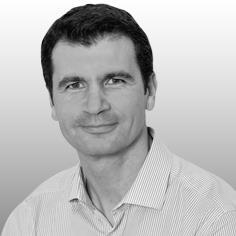 When an insulation expert recently told me I'd have to sacrifice the original stone window sills of my 18th century home and replace them with polystyrene substitutes in the pursuit of external solid wall insulation, I was taken aback. Then there was the dilemma of whether insulating the house too well on the inside could actually risk undermining the brickwork by creating a freezing point inside the wall itself. Tough choices – even for someone who knows a bit about this stuff – and that's before you even start considering the costs involved.
Thankfully, not all properties with solid walls present such difficult decisions, yet none are particularly easy to address either. The fact is that solid walls are expensive to treat and, logistically, represent a huge challenge compared to insulating lofts and filling cavity walls. There are around 7 million homes in the UK with solid walls – that's almost one third of our entire building stock – and they will need to be insulated if we stand any chance of getting many of the most vulnerable people in our society out of fuel poverty, let alone meeting our climate change targets. There is simply no getting away from it.
And this is one of the reasons why the coalition government introduced the Energy Company Obligation (ECO) at the beginning of this year. Not only does the scheme target the nearly 2.5 million households that the government estimates are living in fuel poverty, but it also aims to specifically insulate solid walls and other "hard to treat" cavities.
The timing of David Cameron's rhetoric about "rolling back" green levies and specifically ECO from energy bills is extremely damaging
Progress under ECO has however been devastatingly slow. A recent Ofgem update showed that more than half way through the first phase, energy suppliers are only 3% towards meeting their solid wall and hard to treat cavity obligations. And of the measures delivered, just 11% were solid wall, while cavity wall insulation made up the vast majority at 72%. Solid wall installations have essentially fallen off a cliff, from 80,000 installations in 2012 to just over 12,000 nine months into ECO.
While this is hugely worrying, it does not come as a huge surprise to the industry that warned that the sudden shift from previous insulation programmes CERT and CESP, which focused on easier and cheaper insulation measures, to the solid wall and hard to treat cavities, wouldn't happen without disruption. It's not rocket science: you simply cannot switch off one industry and start another, like turning a tap off and on.
It also makes the timing of David Cameron's rhetoric about "rolling back" green levies and specifically ECO from energy bills extremely damaging. Talk of shaving £47 from the average annual bill (of £1,267) by cutting ECO is an obvious crowd pleaser but an incredibly short-sighted one. Installing solid wall insulation can save up to a staggering £490 a year on bills. It is perverse that Mr Cameron is attempting to reduce energy bills by cutting the only policy that will drive them down radically, and permanently.
Industry undoubtedly needs to invest and gear up to deliver solid wall insulation at scale but sadly it's the same old story. The lack of clarity and consistency of government policies is catastrophic for investment and innovation. The latest analysis shows that just a 30% cut to ECO – that's a saving of under £15 on energy bills - could put 10,000 jobs on the line by Christmas. And where will the energy efficiency industry be in a year's time, when energy prices have inevitably risen again, six months before a general election Mr Cameron?
As someone who has grappled with the difficulties of solid wall first hand, there is a lot of learning to be done, with no quick or easy solutions. But in order to improve the quality of life for millions of families up and down the UK, we need our policies to be the same as the walls we're trying to insulate - solid.
Paul King is chief executive of the UK Green Building Council