Construction needs fresh thinking from every participant in a building's lifecycle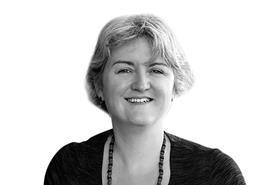 Climate change is looming over policy and public opinion like never before, but not everyone has been paying attention to Greta Thunberg's stark warnings.
A recent RICS survey revealed that 47% of UK commercial property investors still consider climate change risks "irrelevant" or "not important" in their decision-making. That isn't good enough.
Complacency like this will see design and construction fail to keep pace with the fervour of the Extinction Rebellion, confirming suspicions that we're old fashioned and out of touch. With the built environment contributing 45%of the UK's carbon emissions through construction and operation, we must be seen to embrace proactive change.
Inaction gives us the appearance of a dinosaur caught in a tightening policy net. With the government's latest Construction Strategy on the horizon, it would be a missed opportunity not to strive for policy that properly reflects the complexity of achieving long-term sustainability beyond the current emotive public debate.
Crucially, we can't afford to continue to treat carbon strategies like a "hot potato" to be handed down the supply chain. It's true that great progress is being made by materials providers to reduce emissions associated with the base fabric of our buildings. For example, the embodied carbon of UK concrete has reduced by nearly a third since 1990. However, the scale of the challenge demands fresh thinking from every participant in a building's lifecycle, investors included.
Our buildings shouldn't be purely designed or demolished according to return on investment cycles. Enhancing longevity is an essential part of a future circular economy and will be key to unlocking greener, more sustainable assets and infrastructure.
Rather than the quick consumerism of the linear economy (make – use – dispose), the circular approach demands we maximise the time that resources are in use to extract their full value.
As society wages war on single-use plastics, the glass milk bottle is a particularly useful example. The bottle remains in circulation, serving its original purpose for as long as possible rather than being rapidly recycled and replaced. We should look to embrace these principles by extending the usable life of our buildings, providing for refurbishment, adaptation and reuse wherever possible.
Forward-looking design is a prerequisite. For example, simple elements like generous floor-to-ceiling heights can help create flexible buildings for changing future uses. Durable structural components are essential to provide a strong frame and core for repurposing. This can be defined as a "long life, loose fit" approach, delivering buildings that can be readily modified, with demolition as a last resort.
We need to be particularly mindful of milk bottles as we apply modern methods of construction to deliver projects more efficiently. Some volumetric offsite solutions could hamper the longevity of new housing stock, for example, due to short spans and small compartments limiting flexibility. This can be solved at the design stage, but it will become a problem for hindsight if we fail to consider and account for the relationship between longevity and sustainability.
While educating investors and clients remains a challenge, it's good to see traction being made in policymaking. The UK Green Building Council (UKGBC) is now driving for a net-zero carbon built environment, taking into account a building's operational and end of life carbon impacts in sustainability strategies. This aligns with the ambitious 2050 net-zero greenhouse gas target for the UK recommended by the Climate Change Committee.
Encouragingly, the UKGBC predicts that "accounting for whole life carbon will increase emphasis on reusing structures and moving towards a circular economy that seeks to maintain value and utility from assets, materials and resources". Making this happen will rely on engagement across the board from clients to contractors and investors to architects. Nobody can afford to be uninterested.
Nearly three years ago, Mark Farmer warned that construction needed to "modernise or die". As averting climate crisis becomes the zeitgeist of our era, it's time for "decarbonise or die" to become our new mantra. Adopting the principles of the circular economy and designing for the long term will help us to meet this very immediate challenge.
Elaine Toogood is senior architect at The Concrete Centre