Some might see a name change as symbolic but with building at the heart of the government's covid recovery plan, this one shows construction has come full circle from the time when it was a dirty word, writes Dave Rogers
The news that Interserve's construction and engineering business is reverting to its historic Tilbury Douglas name marks the end of a rather peculiar bout of industry self-loathing stretching back two decades.
As the 1990s ticked into a new millennium, a host of contractors decided they weren't really contractors after all and were actually support services firms instead.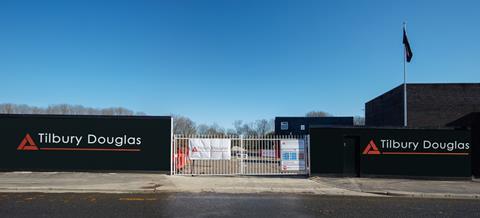 Fed up with their muddy boots image, the firms, whose number included Carillion, Alfred McAlpine and Interserve, wanted to follow the example of Amey, a contractor turned support services firm, as well as one-time City darling Jarvis, and enjoy the benefits of a support services rating. In short, the share price seemed to go up when building firms made the switch.
> Also read: Losses from Interserve's energy-from-waste disaster top £300m
Construction was yesterday's news, too risky, too stuck in the mud. Too unglamourous. Support services, which covered everything from looking after the country's rail network, providing school meals and cleaning hospital floors, was where it was at.
Take Alfred McAlpine, for example, set up by its eponymous founder, one of the sons of Robert McAlpine, in the 1930s.
After the pugnacious Ollie Whitehead stepped down as chief executive in 2003, he was replaced by Ian Grice, a civil engineer who had arrived from Mowlem in 1995, working his way up to the board where he was the executive director responsible for setting up its support services business.
It was 20 years ago last month that Interserve said it was ditching the Tilbury Douglas name – which can trace its origins back to 1884
After taking the top job, Grice quickly decided Alfred McAlpine needed a revamp. Out went the yellow and green logo and, after a £350,000 rebranding exercise, in came a swish new purple, lozenge-shaped marque – minus the Alfred name.
But there was a snag: Sir Robert McAlpine – known as 'The Family' at Alfred – weren't happy and went to court to demand they put back the Alfred.
McAlpine's reasoning – Sir Robert's – was that people would get confused between the two; it was they who were traditionally known as McAlpine, not Alfred.
When the case was heard at the High Court in spring 2004, Grice explained why he had ditched the Alfred name. "We wanted to get away from the perception of the bricks and mortar and muddy boots image," he told court 52.
"Several of us thought 'Alfred' was old-fashioned. If you drop the 'Alfred', then it, the name 'McAlpine', has broader appeal. It allows us to go into other markets without giving up our goodwill, heritage and history." In contrast to Interserve, for example, which had already gone the whole hog three years earlier and dropped the Tilbury Douglas name for something more catch-all-y.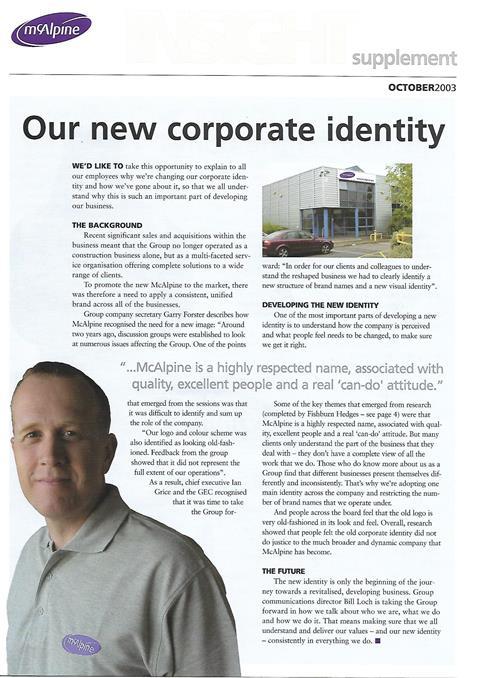 Grice told the court people wouldn't be confused by the presence of two McAlpines but Mr Justice Mann disagreed and McAlpine – Alfred – was told to reinsert the prefix. It briefly thought about an appeal, decided against it and was left holding a £1.5m legal bill.
Perhaps the defining moment of the four-day hearing was when a baffled Grice told the court: "We had expected some reaction [from Sir Robert McAlpine] but not this."
No wonder he was miffed. Such was the effort put into the name change, the court was told Alfred McAlpine had hired a branding expert which came up with 42,000 different oval shapes before finally settling on one that was right.
There is, of course, a postscript to this story. In 2008, Carillion paid £555m for Alfred McAlpine and Carillion's finance director at the time, Richard Adam, said it would not be using the marque in the future. Never mind McAlpine and its purple lozenge, Alfred McAlpine was deemed surplus to requirements too.
"We are not looking to trade under the Alfred McAlpine name," confirmed Adam, who is currently facing a government ban from holding board positions after Carillion's collapse three years ago. "Apart from one or two exceptions, everything will be rebranded Carillion." Alfred McAlpine must wonder what he did to deserve that.
The travails of Alfred McAlpine paint a picture of what was happening then. The bet at the time was support services, not construction. And what better way for a bit of history washing than to start by amending the name or changing it completely?
Carillion became Carillion after it demerged from materials firm Tarmac at the end of the 1990s. It was another to ride the support services wave in the early 2000s.
It brought in a new chief executive from FM firm Johnson Controls – to replace another pugnacious leader, this time Sir Neville Simms – and it showed. Results meetings at the time seemed to be more about championing the benefits of cleaning hospital toilets or changing soiled bed linen than building things. Its then construction director, Roger Robinson, gamely went along to the presentations but rarely got to speak. He eventually left and joined Laing O'Rourke.
Tower 42 builder, Mowlem, also swallowed up by Carillion for close to £300m, was another one bought for its support services business. Announcing the deal in late 2005, Carillion said the merger would create "one of the UK's largest support services and construction companies". Note the order in which the two sectors were mentioned.
So last week's news about Tilbury Douglas being resurrected brings construction's troubled relationship with support services full circle.
The Tilbury Douglas name is, its managing director Paul Gandy, who joined in October 2019, said, "a well-recognised historical brand in the construction sector and now represents our purpose of being a trusted construction and engineering partner".
It was 20 years ago last month that Interserve said it was ditching the Tilbury Douglas name – which can trace its origins back to 1884 – because, it said at the time, the change would "reflect and represent the nature of the group's activities in support services". The previous June, the firm had reclassified from construction to the support services sector.
In a familiar story for contractors turned support services firms, Interserve went into administration two years ago hobbled by a disastrous foray into the energy-from-waste sector. The scale of this debacle has been laid bare by its just published most recent accounts, those for 2019, which said the losses at energy-from-waste have now topped £300m.
After going into a pre-pack administration, Interserve's lenders bought the business assets and then restructured it into three main operating divisions with its own chairman and managing director. Support services was one of those and was sold last year to Mitie for £205m.
The support services craze took out two industry heavyweights – Alfred McAlpine and Mowlem – and put the skids under two others – Jarvis, which went into administration in 2010 after running out of support from its lenders, and Interserve. Carillion belongs in a category all of its own but its thirst for support services can in part be blamed for its undoing.
Amey, set up 100 years ago initially as a quarrying firm, was the trailblazer, switching to a support services rating in 2000 and was bought by Spanish giant Ferrovial three years later. But Ferrovial now wants out and has been trying to sell the business for the past two years with reports last month saying it has brought in Morgan Stanley to run the latest attempt at a deal.
It's an irony that will be lost on no one but two decades later, construction is no longer a dirty word and is key to the UK's economic recovery from covid-19. It's just a shame it took a global pandemic to see to that.