Regulatory change is coming but the government must also consider the insurance industry's ability to provide robust cover, argues Weightman's Paul Lowe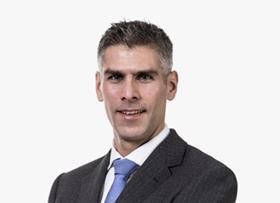 The coronavirus has caused widespread disruption in almost every sector. The construction industry has been hit particularly hard – site closures, project delays and staff furloughing have become commonplace.
But the pandemic has also put pressure on insurers. Many business owners, including contractors, are attempting to claim on business interruption policies after lockdown forced them to close. Insurers argue that existing policies are not intended to cover the costs of a global pandemic, leading the Financial Conduct Authority to bring a High Court action to test 17 disputed policy wordings, with the ruling potentially liable to expose insurers to high value claims.
The pressure on insurers could have a knock-on effect on the construction industry as they strive to increase productivity on sites. Contractors are keen to get back to work in earnest, but firms cannot do so if insurers are not able to provide adequate cover at an affordable premium.
For example, the government classifying the remediation of high-rise buildings with unsafe cladding as 'critical' was welcome news for qualified contractors looking to substitute other revenue lost during lockdown. But covering contractors that chose to undertake the work in such unprecedented circumstances presented uncharted waters to insurers – with additional risks they had not fully accounted for.
If the coronavirus makes the insurance industry more risk averse in the long-term, contractors may find it harder to obtain affordable cover - an issue that must be addressed as the government gears up to bring its Building Safety Bill to the floor of the House of Commons.
Building a safer future
The outcome of the Building a Safer Future Consultation – the Building Safety Bill – is expected to deliver an expansive programme of regulatory change. It has been informed by over 900 consultation responses, which called for fundamental cultural changes within the construction industry and the enforcement of new standards.
But, as yet, little consideration has been given to how the insurance industry would adapt to the significant changes under the new Bill, and whether it will be able to provide cover and protection for contractors. If this is not addressed, contractors could find themselves without the cover needed to progress the building safety improvements the Government's proposals aim to implement.
The new regulatory landscape
Under the new programme, the increased levels of responsibility that could sit with contractors is significant.
This will impact whether insurers are able – and willing - to provide adequate professional indemnity and Directors & Officers (D&O) liability protection, covering the new risks that the planned legislation will bring.
The 'accountable person' will require an extension of existing professional indemnity cover to encompass the obligations
The establishment of a new national Building Safety Regulator (BSR) will play a key role in defining this new legislation. Initially, the BSR will regulate all multi-occupied residential buildings, but its powers will ultimately expand to cover any building where there are concerns over fire and building safety.
In practice, this will take the shape of new reporting processes for any structural or fire safety-related events, and an 'accountable person' regime that identifies one individual who will take responsibility for managing building safety during occupancy. This essentially new profession, with its clearly defined expectations and responsibilities, will require an extension of existing professional indemnity cover to encompass the obligations that now rest with it.
Another key element will be a new 'duty holder' regime, which opens up additional areas of risk during the design, construction and refurbishment of buildings. All new regulation will be stringently enforced by the BSR, and any breaches could lead to criminal prosecution, or even an unlimited fine.
This change poses the question of whether insurers will be prepared to extend professional indemnity insurance, in the face of potentially unlimited claims, to cover designers and contractors who must take a share of responsibility for fire and building safety.
The implications for contractors
Contractors must work closely with insurers and brokers to establish whether their existing policy wordings provide adequate cover for management and control of construction operations, in light of new fire and structural safety requirements.
It may be necessary to take out extensions of cover to allow these crucial works to continue. But in the long run, such extensions may also trigger a rise in premiums, placing additional financial pressure on contractors already working to tight margins.
As the UK emerges from lockdown, it is crucial that the government takes steps to properly assess the new risks arising from this regulatory regime. While measures to improve building safety and create a more sustainable construction industry are undoubtedly crucial, additional consideration must be given to the insurance market's ability to provide robust cover.
Without this, the government's new Building Safety Bill could inadvertently prevent contractors from carrying out critical building safety and remediation works.
Paul Lowe, partner at Weightmans