Malcolm Fraser loves how Edinburgh's Commonwealth Pool complements its surroundings, but is left cold by another building's attempt to mimic nature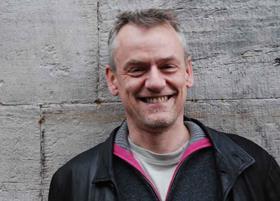 In 1970 the Commonwealth Games came to Edinburgh. What joy it was to watch Lachie Stewart winning the 10,000m, and Ian Stewart and Ian McCafferty's miraculous gold and silver in the 5,000m on the last day with an 11-year-old me in the stands screaming my wee self hoarse.
But my most resonant moment was architectural, walking into the light of John Richards of RMJM's Commonwealth Pool building. Coming from the old greyness of Edinburgh I was amazed and dazed by its light and openness - struck dumb by modernity.
It's such a clear demonstration of the aims and virtues of modernism: health, democratic space, gathering, simplicity, openness, light. It was love at first sight. I love it still, now fresh from a huge repair and renewal; and it strikes me with what skill its simple modernist horizontals were drawn across the rugged landscape of Salisbury Crags and Arthur's Seat, Edinburgh's urban mountain.
They complement the mountain beautifully, and I think of them whenever I see my blunder, Michael Hopkins' Dynamic Earth building, similarly set-against Arthur's Seat, but making the mistake of advertising how its masts and structure mimic the mountain behind.
Not such a terrible blunder of a building at all, for it's perfectly decent. But it's in its contrast with the Commonwealth Pool that it blunders, and in that blunder lies a good lesson: buildings are not natural landscape. Trying to hide them in it, like we are embarrassed at the act of building, is a falsehood - and it's ironic, to me, that digging into the ground (and maybe putting a turf roof over) scars the earth far more than building on top of it. And trying to mimic nature's forms is equally problematic - nature looks that way for its own, sweet reason, and buildings need to find sweet reasons of their own.
So, every time I read some architects PR twaddle, about how their daft, wonky proposal mimics/reflects/respects the local geology, I think of the Commonwealth Pool and its quiet dignity.
WONDER
Edinburgh council and Sport Scotland have funded a £37m refurbishment of the Royal Commonwealth Pool. The 50m pool, which will be hosting diving events as part of the Glasgow 2014 Commonwealth Games, reopened this spring. Graham Construction was the contractor and Buro Happold provided full structural, civil, M&E services on the pool.
BLUNDER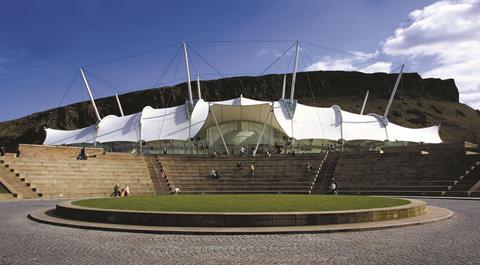 Edinburgh's Dynamic Earth museum opened in 1999 at a cost of £39m. At the time it was Scotland's largest interactive visitor centre at 6,300m2 and formed part of a £150m regeneration programme for the Holyrood area of the city.
Malcolm Fraser, Malcolm Fraser Architects