There are quite a few reasons why construction should be feeling better about things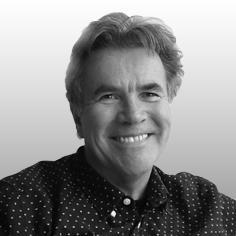 "A bit of grin and bear it, a bit of come and share it" are inimitable lyrics from the late and very wonderful Ian Dury as he recited a long list of sights, sounds and influences as to why we should be happy.
Over the past five years, we have done plenty of the former i.e. the forbearance bit, but it is now time for "something nice to study, phoning up a buddy".
Number one on my own list, for example, is a UK GDP forecast, from the Bank of England (no less), of +3.4% this year, which compares with an outturn of +1.9% in 2013. Similarly, inflation, as measured by the CPI is below 2% for the first time in more than four years.
Okay, the unemployment rate would have been number three, but it inched up in the December quarter from 7.1 to 7.2%; but that's still alright to be getting on with.
By sector, private housing and infrastructure are expected to be the best performers
My first love, construction, is also playing ball with a rise in output of 1.3% last year (after a 7.5% decline in 2012).
For my sins, too, I work with Experian on its prognostications for UK construction activity; and, in fact, have done so since Ian Dury released his penultimate album ('The Bus Driver's Prayer & Other Stories') in 1992.
Number four, then, is a forecast of +4.2% in UK construction output this year (as per chain-linked pounds million at 2010 prices) followed by +4.4% in 2015 and +2.7% in 2016, based on the Experian forecasts.
This means that - over three years - construction output will grow by almost 12%; and, in money terms, this means that total construction output in 2016 is set to be worth almost £127bn, which is only 2% lower than its 2007 peak (on the same price basis as above).
By sector, private housing and infrastructure are expected to be the best performers. The former looks set to expand by 22% from 2014 to 2016 - which means it will come within 12% of its most recent peak in 2006; while infrastructure should rise 24% to a new high.
The private industrial sector also looks set to grow at an average of 5% per annum from 2014 through 2016, while the best news of all - in my view - is that commercial construction appears to have turned the corner, with growth of +3, +4 and +5% over the next three years.
Herein, too, office construction - the largest of commercial's sub-sectors - is expected to be the strongest over the forecast period.
Only public building (aka public non-residential) is a laggard with negative growth across the piece until a flat year in 2016 - on the back of the current government's austerity measures.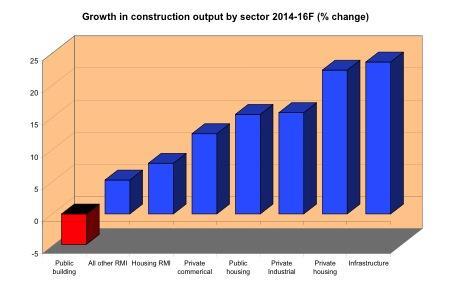 Tony Williams is founder and chief executive of Building Value