On the one hand, construction activity is at its lowest level in 14 years. On the other, there are some signs of a slowly improving situation - that's if you've survived this long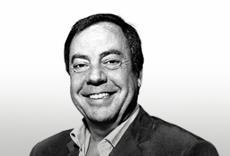 So, it's doubles all round as Britain's double-dip recession may be erased from the history books after the Office for National Statistics (ONS) said the construction industry grew more strongly than it first thought at the start of last year. The ONS has apparently now estimated that construction in the first quarter of 2012 contracted by "only" 5%, not the 5.4% as previously estimated, and that output in the sector was £108m more than previously thought, a tiny amount that makes all the difference, symbolically, we are told.
Economists calculate that after rounding to the statistical norm, the change means the economy stagnated at 0.0% rather than shrank by 0.1%. This is apparently a cause for celebration, although to be frank most of us are now more interested in what happened in the first quarter of 2013 than revising history for last year.
George Osborne may have realised too late that our industry is the bellwether indicator that may hold the key to his re-election
At the moment from anecdotal evidence the general picture seems mixed at best, with lots of contradictory pieces of evidence from various members of the commentariat. The latest RICS survey, for instance, also added to a feeling of well being, showing pockets of optimism emerging in the West and East Midlands, around the M25 and of course, in London. Also, from my own observations, Manchester and Leeds seem to be active as developers brush the dust off old plans and start to approach architects and consultants for designs and costings.
With downsized firms having lower overheads, operating costs have also come down considerably for many since the heady days before the slump. So, for a consultancy doing business outside the capital, things have moved from a feeling of abject misery to perhaps a cautious acceptance that we are at least no longer going backwards and that slightly above breakeven can be achieved.
This is not true everywhere, however, and Scotland, the South-west, Wales and Northern Ireland have yet to emerge from the recessionary gloom. This is borne out by a view from the Construction Products Association which predicts that the industry is expected to lose £2bn in 2013 with a corresponding 2.1% drop in output. Also one should not forget that the ONS, in spite of its revised figures, also said that construction activity is now at its lowest level in just over 14 years.
Sadly, for subcontractors like Rowecord Engineering, whatever happens in the next 12 months is academic now; the third largest steelwork subcontractor in the UK was finally beaten into bankruptcy by the twin killers of negative margins and a limited work pipeline. It is interesting to note that this 500 employee strong firm showed a positive balance sheet in 2012, declaring a pre-tax profit of £3.2m where it had made a loss the previous year. Maybe a sympathetic bank might have helped it survive or perhaps it was beyond resuscitation but I suspect that Rowecord are not untypical of the general state of the contracting and subcontracting community for whom the near future still looks bleak.
When a firm the size of EMCOR says that the state of the M&E market in the UK is so bad they need to pull their tents and depart, it sends a strong message
This was further typified by the announcement that Emcor, the M&E giant, is finally to up-sticks and exit the UK. This is ominous news for the 3,500 people employed by the firm across the country with redundancy notices issued throughout its 10 regional offices. When a firm this size says that the state of the M&E market in the UK is so bad they need to pull their tents and depart, it sends a strong message. Balfour Beatty is another UK construction business that, like the ONS, has had to revise its figures. For this company, it meant reducing its profit forecast by £50m, restructuring and watching its share price tumble. However, I suspect that some subcontractors may have little sympathy for their larger contractor partners, with many blaming them for late payments, squeezed margins and perceived unreasonable contract terms.
In spite of large sections of the country and our sector still suffering, it is my perception that we are slowly moving into a better place. This is helped by announcements like the much stalled, albeit cynically viewed, Priority School Building Programme being built under PF2. Also, a general uplift in housing construction and some private developers realising that there has never been a better time to buy, has made for more optimistic messages going out. For consultants and architects this means there is at last a glimmer of light at the end of a long, dark tunnel.
For the consultants, we are the construction professionals at the start of the supply chain and were hit earliest when the 2008 crash came. We are also traditionally first to emerge blinking and shell shocked from the pit of despair. Contractors and subcontractors did not feel the pain until some two years or more after the initial crash but sadly, those operating outside of housebuilding will be the ones that will take longest to return to profitability. Not all of them will make it, I am afraid, and with a reduced pool of suppliers from which to chose, this will inevitably push costs higher.
It is an irony that chancellor George Osborne may have realised too late that it is our industry that is the bellwether indicator that may hold the key to his re-election. In the past many of the Conservative Party's biggest donors were big name contractors which may well still be in recessionary gloom up to 2016. I wonder if they will be so keen or indeed have the funds available to put their hands in their pockets for the 2015 election this time around.
Richard Steer is chairman of Gleeds Worldwide