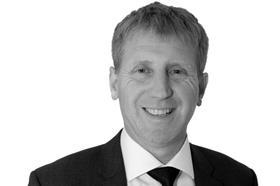 Within a generation, many of the UK's city centres have undergone a dramatic transformation from dreary grey high streets into dynamic hubs and fashionable residential districts – complete with obligatory independents on every corner.
I'm sure most would agree our cities are all the better for the rise of the urbanite, and this trend for city living shows no sign of abating. Young professionals have largely led the charge, with the number of 20- to 29-year-olds in the centres of large cities tripling in the first decade of the 21st century.
Designing and shaping our cities to ensure they need the needs of older urbanites is critical
However, the demographic that makes up our cities is experiencing a subtle shift; people aged over 65 are due to make up a quarter of the UK's population by 2040 and there is an ongoing influx of older urbanites making their homes in cities.
Designing and shaping our cities to ensure they meet the needs of this fast-growing demographic is critical. Enabling elderly residents to live active lives as valued members of an engaged, urban community presents a challenge to local authorities. For local authorities dealing with the many-headed hydra of cuts to adult social care and healthcare budgets and a rapidly growing elderly population, the situation is worrying.
The public-private joint venture (PPJV) model is one approach that could unlock the later-living puzzle and support local authorities as they explore this complex and growing area of provision. Indeed, the benefits this can present for local authorities are significant – enabling a large-scale, strategic development outlook and a level of bigger picture planning that the public purse may not have the capacity to enable.
This is critical when planning developments that need to meet a diverse and changing range of user requirements – from later-living residential care to accommodation that meets specialist and dementia care needs.
From a construction perspective, the collaborative partnerships that sit at the heart of PPJVs can bring together a broad range of specialists with open, productive conversations at an early pre-construction phase between architects, sector-specific specialists, public and private sector stakeholders.
These experts are able to feed into a project's strategic development plan, enabling a connected, holistic approach to developments which strengthens the delivery and planning strategy of the entire scheme.
This includes maximising asset value through greater control over how developments progress where the private and public sector hold equal stake in the partnership. The model also offers enhanced financial returns by driving value into sites with the best possible solution informed by industry experts.
The pace of delivery is also increased as aligned, long-term interests between partners enable the overarching vision to be achieved. This is critical when planning developments that will need to meet a diverse and changing range of user requirements – from later living residential care to accommodation that meets specialist and dementia care needs.
Local authorities have been able to explore the potential offered by PPJV vehicles to enable strategic regeneration and the delivery of much-needed housing – often through build-to-rent.
With lessened risks, councils are also able to share in development profits and retain control over the type of homes and development delivered – driving increased appetite for this model to enable the regeneration and transformation of UK city centres.
Morgan Sindall Investments and Herts Living, Hertfordshire county council's own property company, announced a £2b PPJV in 2018. The 50:50 partnership, known as Chalkdene Developments, will provide new homes and jobs across the county through a series of housing-led developments on the council's surplus land.
Another recently announced PPJV between Brentwood council and Morgan Sindall Investments, the Brentwood Development Partnership is a £1bn 50:50 joint venture that will provide new homes, mixed-use developments, public spaces, commercial and leisure facilities across the Essex borough.
Other countries have long led the trend for urban retirement villages. In the US about 6% of all over-65s live in self-contained retirement flats or bungalows with communal facilities and on-site care provision, but in Britain this falls to around 0.7%.
The Nordic nations are moving one step further, with Sweden recently announcing a pioneering new community model specifically designed for people with dementia. Backed by Ikea and built by BoKlok, each unit includes features such as extra-wide doorways, support handles in the bathrooms, handrails in the showers, electric door openers and more.
The private sector is responding to this opportunity with a range of new ventures coming forward that offer an alternative for urban later-living provision, such as Legal & General's new Guild Living model.
The partnership between Legal & General and a team of global experts in design, development and wellness responds to the changing requirements of the UK's over-65s and will feature retirement communities with extra care. With plans to deliver more than 3,000 new homes within vibrant, urban communities across the UK over the next five years, the plans have a gross development value of £2bn.
However, while local authorities in the UK may draw inspiration from innovative private sector models, the challenge for the public sector is unlocking a new approach that responds to the multi-tier needs of often-vulnerable residents and draws in numerous services, while constrained by the realities of budget requirement and internal capability.
Indeed, as we approach these increasingly complex development challenges, which will inform how our cities are shaped in the decades to come, we're witnessing an increasing focus on a more collaborative, innovation-focused approach that draws on the expertise of all project partners to best effect.
While not a silver bullet, the flexibility, control, and lower risk that the PPJV model offers local authorities could hold the key to unlocking the complex challenges this sector presents and ensure we have the development capabilities in place to future-proof later-living provision.
Sean Bradley is managing director for London and Home Counties at Morgan Sindall Construction