Dulux's outlook on sustainability combines being environmentally friendly with customer benefits. Duncan Lochhead talks about its new specifier tool Halo and the Smarter Spaces scheme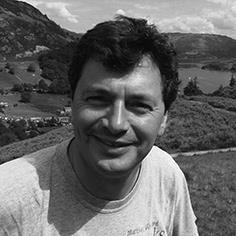 Undoubtedly we are in a period of immense political and economic change. However, within all this uncertainly there seems to be one constant for the building industry: the pressure to deliver high-quality, sustainable buildings with brilliant spaces, on time and within budget.
As Britain heads for the EU exit door, a key question for supporters of sustainability is what will happen to the embedded EU environmental legislation that has helped drive much-needed reductions in emissions. In the built environment, EU measures have been partially responsible for ensuring we deliver better, more energy-efficient buildings to live and work in, that transportation causes lower levels of noise pollution and that steps have been taken to improve air pollution. Whatever is going on politically, the progress made in these areas must not cease.
At Dulux Trade, we believe the success of the sustainability agenda over the next few years will be tied to how well we ensure sustainable solutions also create better buildings and better spaces. If these wider benefits, together with sustainability improvements, are clearly communicated we should see continued demand for using sustainable solutions to drive quality improvements, cost reductions and a range of environmental advantages. In turn, this will ensure that sustainability will continue to be at the forefront of construction and the built environment.
So how can suppliers help? Suppliers need to respond to today's changing market by listening to their customers' needs and ensuring they can quickly and concisely answer their questions. This can often necessitate clearer communication of product benefits or compliance to schemes such as BREEAM, SKA Rating and LEED. At Dulux Trade, we try to ensure we have relevant and rigorous accreditations that mean customers can select products safe in the knowledge that they won't risk their reputation if used in their buildings. For example, we recently achieved BES 6001 accreditation for responsible sourcing, so our customers can be confident and compliant every time they specify and apply Dulux Trade products.
Making sustainable solutions easy
Suppliers must also recognise the need for greater change and innovation to improve solutions and deliver better outcomes for their customers. At Dulux Trade, we understand that to be truly sustainable we need to offer products that are not only good for the planet and society, but also provide sustainability benefits for our customers. We will bring this to life at Ecobuild through Halo, a new specifier tool designed to help building professionals easily meet their everyday sustainability needs by being guided to clear and effective solutions.
Halo centres on the needs of professionals by combining overarching sustainability challenges with the common questions we are asked, ultimately showing how these issues can be addressed. It presents a wide range of Dulux Trade's high-quality products, unique services and useful tools all designed to help overcome common challenges, whether that's through extending maintenance cycles (even in high-traffic environments), maximising light levels in buildings or improving the wellbeing of occupants.
We recently achieved BES 6001 accreditation for responsible sourcing, so our customers can be confident and compliant every time they specify Dulux Trade products
Over the past two years, we have also put our knowledge of commercial environments and colour expertise into practice through Dulux Smarter Spaces, working with educational influencers to help create inspiring learning environments where students and teachers can thrive.
However, all this knowledge and expertise must be accessible to specifiers if it is to be put to good use, which is why we will be at Ecobuild demonstrating time-saving technologies that can help specifiers break through common challenges such as visualising colours on walls before any paint is applied. These tools ensure that the right colour, finish and product is chosen from the off, preventing unnecessary waste, thus aiding the drive for sustainability.
Whether specifiers wish to find out more about Halo; have questions about carbon reduction in the built environment, sustainable specification or reducing decorating waste; or want to find out how the principles from the expanding Dulux Smarter Spaces programme can help their next project, Dulux Trade representatives will be on hand at this year's Ecobuild.
Head to stand C161 for live demonstrations of sustainability products courtesy of Dulux Academy (11am daily) and even meet Herbert, the famous Dulux Dog. Alternatively, follow @DuluxTrade on Twitter for live updates from the Ecobuild stand.
Duncan Lochhead, commercial sustainability manager at Dulux Trade