This week: mixed reactions to the French going nuclear in Somerset; there are harsh words over a Palace; Berkeley learns to keep its views to itself; plus an update on Google's plans to rule the world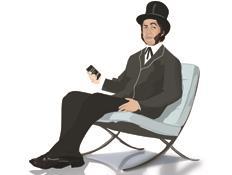 Two strikes and you're out
You needed no more evidence that negotiations over the strike price from EDF's Hinkley Point plant - which lasted well over a year - had been a torturous affair than the sight of EDF boss Vincent De Rivaz' face. During a press conference following the announcement, energy secretary Ed Davey explained that should EDF decide to build a second nuclear plant in the UK at Sizewell, there would be fresh negotiations on a strike price for that plant. He laughed at the prospect, as did EDF group chief Henri Proglio, but De Rivaz bore the mask of a man contemplating being sent back to the trenches.
'Monstrous' crystal
London mayor Boris Johnson's announcement this month that the Victorian Crystal Palace is to be rebuilt caused me to reminisce about the debacle first time around, covered extensively in the pages of this magazine. Over 200 architects sent in their best work, only to have them all rejected for the committee's own design, a brick building, with an iron dome designed by Isambard Kingdom Brunel. It was ridiculed, with one correspondent in our 6 July 1850 issue describing the proposal as "monstrous". In the end, Joseph Paxton came in with his iconic glass design at the last minute. This time round it will be left to Chinese billionaire Ni Zhaoxing to "put a missing piece of British history back in place" as the Daily Mail put it. You can read a full account of the scheme's heritage at
bit.ly/1au1TXJ.
We've been Googled
Not satisfied with simply dominating the internet, Google's secretive development unit Google X is dabbling in all sorts of other areas that may change the way we live, including glasses that connect to the internet and self-driving cars. Now Google X has construction in its sights. Reports suggest Google has developed a technology called Genie, that standardises and automates the design and construction process, potentially saving 30-50% on costs and cutting design time by 30-60%. Google believes the technology could generate it $120bn a year - almost what the entire UK construction industry brings in. Gulp!
Eyres and graces
A new exhibition on London's Great Estates may be of particular interest to one architect. The exhibition, curated by New London Architecture at the Building Centre in Store Street until 19 December, looks at the influence that major landowners such as the Crown Estate, the Grosvenor Estate and the Bedford Estate have had on the city. Another is the Eyre Estate, whose family has owned much of St John's Wood since 1733 and includes Wilkinson Eyre co-founder Jim Eyre. The estate last hit the headlines two years ago when it sold off the 5.5 acre St John's Wood Barracks site to a Malaysian billionaire for a cool £250m.
For sale: London
And over to Berkeley Group's HQ for the launch of "independent" research they commissioned from academics Tony Travers and Christine Whitehead on the threats facing the London housing market. Berkeley chief executive Rob Perrins said that as "control freaks", the firm found it hard to let go and give the academics room to come to their own conclusions. Fortunately for Berkeley, it seems their findings support the firm's view: both broadly agree that foreign buyers are good news. Phew!
Nuclear fallout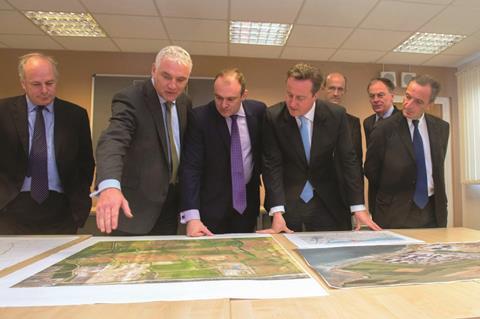 Hinkley has been the story of the week, and the announcement of the long-awaited tying of the knot between the government and EDF caused a real stir online. In particular, there was guffawing on Twitter at this image put out by the Department of Energy and Climate Change, showing EDF construction director Nigel Cann showing David Cameron and Ed Davey a map of the construction site. Captions included: "And this map cost you £4bn" and "This is where we hide from the EDF bill payers." Can you come up with a better caption? Suggestions to the usual address.
Send any juicy industry gossip to hansom@ubm.com