This week, Grant Shapps is unmasked as a 'bot', RIBA's Angela Brady reveals herself to be multilingual (sort of), and Wilmott Dixon tries to alert school children to the hazard s of getting plastered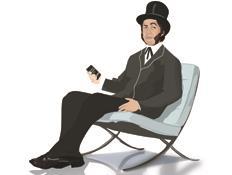 Speaking in tongues
In case you've spent the past seven years on Mars, I'll let you into a little secret - the Olympics kick off this weekend. To fill in the world's media on the construction effort that got us here, industry luminaries including London Organising Committee of the Olympic and Paralympic Games head of venues and infrastructure James Bulley and RIBA president Angela Brady held a briefing for the world's media last week. I'm pleased to report that Brady was at her eccentric best. After telling journalists that strict marketing rules were not much of an issue because Olympic buildings are big and therefore cannot be hidden, Brady went on to answer questions from overseas reporters in their native tongue. Or, at least, for the first word of her answers. So it was that the Mexican TV journalist was answered with "Hola" and the Chinese hack with a cheeky "Ni hao". Full marks for effort, Angela!
High society
Qatari prime minister Sheikh Hamad bin Jassim bin Jaber al-Thani - the man ultimately bank-rolling the Shard - clearly has a taste for the high life. He has spent almost $100m purchasing New York City's most expensive penthouse on the 89th and 90th floors of the under-construction One57 skyscraper. What odds he'll stake a claim for one of the plush flats at the top of the Shard, and if so, can developer Sellar really ask the Shard's paymaster to cough up the reported £30-50m price tag for one of the properties?
Through a glass darkly
Willmott Dixon has invested in a sobering initiative. The contractor is trying to teach teenagers the dangers of drinking at work by challenging them to complete simple construction tasks while wearing "beer goggles". Pupils at Henry Compton School in South-west London attempted to carry out plastering, plumbing and basic electrical activities with and without the goggles to demonstrate how difficult it is to do building work under the influence of alcohol. Several of the pupils may now sign up for work experience at Willmott Dixon, so here's hoping they'll heed the advice.
Climb every mountain
Contractors working in the education sector have become too used to having long lead-in times for their projects of late, what with repeated delays to the government's flagship Priority Schools Building Programme. But one venture that Steve Beechey, Wates' head of education and Building columnist, is presumably grateful for having a long time to prepare for is a 5,895m Kilimanjaro trek, due to take place in August 2013. Beechey will (I'm told) be leading the pack in a fundraising project,
on behalf of educational charity the Transformation Trust, despite lacking any recent mountain hiking experience.
Any construction professionals who feel inspired to join him should contact amy.leonard@transformationtrust.org.uk.
Mr Popular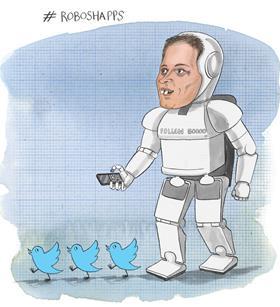 It seems housing minister Grant Shapps has been using a computer programme - or a "spam-bot", in modern parlance - to boost his followers on Twitter. The minister - who had 50,000 followers at the start of the week - automatically follows almost anybody in a bid to attract followers. A blogger observed Shapps was following dormant accounts, a number of Spanish speakers and someone called "Butthole Synonymous". When former deputy prime minister John Prescott - himself a Twitter pioneer - asked Shapps why he was "the only follower of @magie_the_doger, who has never tweeted?", Twitter erupted, with Prescott's #roboshapps hashtag trending. Shapps said: "Hey @johnprescott at least I can be bothered to follow tweeps. Your approach is rather less reciprocal I see." To which Prescott replied: "@grantshapps But that's the point. YOU don't follow people. A computer programme you've downloaded does it to boost your follows. Bit sad." Upon which, @petermoore commented: "Politics doesn't half remind me of primary school". Quite.

Send any juicy industry gossip to hansom@ubm.com