This week, there may be a problem with the Olympic drainage system but the longest toy train track in the world shows British engineering at its best - as does last minute marathon woman, Freya Murray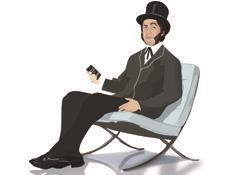 Bunged up
The UK construction sector has rightly won plaudits for its work on the Olympics. However, no construction projects are without defects. Having spent much of the weekend at the park, glorying in the architecture and marvelling at the price of the lager, I was also surprised to see that large areas of the paving were rapidly turning into ponds under the stress of our magnificent British summer weather. Many of the drains appeared to be blocked and staff were marshalled with brooms to sweep the rapidly collecting water into areas where it could safely drain away. Still, you wouldn't really expect anyone to have anticipated it to rain in August now, would you? It would be like expecting a media centre to be sound proof …
Going the distance
Congratulations to Freya Murray who on Sunday did the entire British civil engineering community proud by being the highest finishing Brit in the Olympic marathon. The young engineer, who works for Cundall when she isn't training, finished 44th in a time of two hours and 32 minutes, besting all her fellow compatriots despite only being called up a week before the competition to replace the injured Paula Radcliffe. It's fortitude like that that helped build the Olympic Games in London and it's good to see construction workers stepping up to the plate in trainers as well as work boots.
CRASHing a party
Homelessness charity CRASH held its annual patron reception, attended by a who's who of the construction and property sector, including CRASH chairman and Balfour Beatty chief executive Ian Tyler. The charity brings together construction and property firms to donate time and expertise to building and refurbishing accommodation for the homeless. It provided free materials and grants worth an impressive £640,944 last year. To find our more or to get involved, visit www.crash.org.uk.
Beyond the pale
When will the Fifty Shades of Grey madness end? Following builder listings website mybuilder.co.uk's youtube film, spoofing the hit erotic novel, comes an even more tenuous effort from furniture seller Murray Weir Willats. "MWW Presents: Shades of grey" announces the press release, showing sofas, mirrors and tables in that most cheerful of colours. It doesn't do it for me, I'm afraid.
Dress to impress
As well as taking part in an official swipe at Olympic marketing restrictions at RIBA's central London headquarters (see page 13), RIBA president Angela Brady indulged in some guerrilla marketing of her own. She wore a dress, emblazoned with the names of all the London 2012 construction firms, to the 100m final at the Olympic stadium, to see if Locog's brand police would chuck her out. In fact, no attempt was made to have her removed. Indeed, Brady said one of the security guards said he "greatly admired" her outfit.
Full steam ahead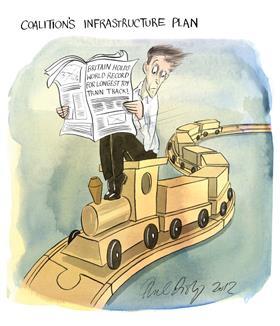 Britain is often at the sharp end of jibes about our transport infrastructure - especially from the French and Spanish, who completed their fast rail projects years ago and laugh at our attempts to do the same. Fortunately, news has emerged from Kent that Britain is once again a world leader in infrastructure. In fact, it's entered the Guinness Book of World Records for the longest toy train track in the world, which measured 2,196.5m and was laid out in Chatham Dockyards. Ian Alexander, partner at property consultant Cluttons, who acted as a steward and expert witness for Big Jigs Toys in the record, said: "I have measured many unusual buildings and areas in my career. However, this is the first wooden railway. I am pleased to confirm the world record was broken."
Send any juicy industry gossip to hansom@ubm.com