An integrated design process could help pave the way for the UK to power its global export drive after Brexit, writes Colin Harding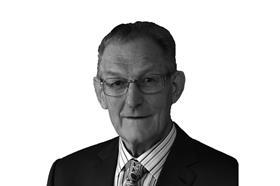 Tom Broughton rightly chides the construction industry's institutions and trade associations for "not informing the Hackitt review in the way it should be, in an open and transparent process" and "missing an opportunity" (see Leader, 23 March). Most of these subtly luddite organisations are unlikely to be forthcoming – so here's a summary of some of my previously published comments and suggestions as an independent construction professional with 50 years' experience of design and construction management.
Construction is the only strategic global industry that doesn't control the design of its own products. In all other industries, designers are an essential part of the overall production team – striving to improve design and value for the customer, while improving efficiency and reducing costs for the manufacturer. UK construction's fragmented, adversarial structures and processes mean for the past two decades we've been doing the opposite.
At the peak of the current most sustained, most profitable property boom in modern decades, developers, independent contract administrators and designers have been declaring profit margins of up to 25%. Consequently, costs to clients have been increasing above inflation since 2007, making the UK the most expensive country in which to build. Yet over the same period, the average net profit margin of the largest UK contractors fell to an unsustainable 1.2%-2%, for practical purposes – net cost. So it's no good blaming the builders for this hyper-inflation.
In all other industries, designers are an essential part of the overall production team – striving to improve design and value for the customer, while improving efficiency and reducing costs for the manufacturer
I was recently asked by an international developer to explain why construction costs were two to three times more in London than in any other European capital. My answer included the following: since the 1990s, construction has been split into two adversarial parts.
This division has created the management equation from hell, where the principal contractors who sign the contract with the client have no authority over the design, specification or value of their own products, yet bear total responsibility for those products' quality and performance. I believe that this obsessive avoidance/dumping of risk by designers and contract administrators is the basic cause of UK construction's burgeoning crisis.
Anywhere else in the world, this parasitic behaviour would be denounced as "modern economic slavery", yet it's acceptable in the 21st-century UK. Real construction has to assert control over and responsibility for the design of its own products and its own industry, dealing directly with its clients, guaranteeing design and workmanship through insured warranties, with everybody involved accepting responsibility for their own work.
We must create a system where:
All the key design and construction practitioners and suppliers can be involved in the process from the initial design stage through value-management workshops, with the skills and experience of on-site construction managers and specialists being utilised in a value-enhancing approach to defect- and error-free design and construction.
A product-sale agreement between client and constructor takes contracts and lawyers out of the design and management process.
Secure regular payments to contractors and subcontractors are guaranteed without delays or retentions.
The Code of Practice for Integrated Design and Construction – Single Responsibility (IDCsr), supported by the Chartered Institute of Building, provides all of this, integrating the virtual and real construction sectors. IDCsr is a totally integrated design and construction system between client and integrated design and construction constructor (IDCC), and comes with a model form of sale agreement terms and conditions. The IDCC employs or engages all the design and construction practitioners necessary to deliver the complete project as a manufactured product.
The design process involves the client team and the IDCC design team all working with the trade suppliers, cost management, estimating, value management and site-delivery teams. The total responsibility for the design and quality of construction rests with the IDCC, backed by insured 12-year warranties. Payment terms of the IDCsr product sale agreement are based on pre-agreed stage payments through a project bank account, made within three days of authorisation; subject only to confirmation by the joint client/IDCC quality managers that the stage has been satisfactorily completed in accordance with the BS:EN 9001-compliant project quality plan. As payments are made only when the work section has been signed off, retentions are therefore not required. IDCsr collaboration is by far a better way to guarantee quality and to abolish retentions than any form of legislation.
Provided we can repudiate the restrictive and anti-competitive EU "trade protection" legislation threatened to be imposed on real construction during the Brexit transition period, the IDCsr system is just what is needed to lead the UK's post Brexit global export drive. This will allow IDCC firms to deliver well-designed, competitive, guaranteed fixed-price projects as warranted finished products rather than potential lawsuits.
And the independent UK would lead the world with an integrated, productive, profitable and socially responsible real construction manufacturing industry.
Postscript
Colin Harding is a past president of the CIOB and the author of Integrated Design & Construction – Single Responsibility: A Code of Practice