Being ethical and treating your supply chain properly can guard against risks like inflation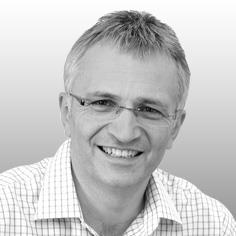 I was recently asked what keeps me awake at night. Apart from health and safety, one of my biggest concerns is inflation, because I think that's going to be a real issue for the construction industry as the economy starts to grow.
The key inflationary factors are obviously rising material and labour costs, but the way we trade with suppliers and partners is also important. We've all been squeezed hard by the recession and have had to accept tougher terms and conditions that reflect the shortage of work and the intense competition for business. This has affected suppliers in every tier.
As the economy grows, we are all likely to have greater choice about the work we do. This means that suppliers and sub-contractors will expect better terms and conditions, which in turn could drive prices up, affecting the profitability and competitiveness of main contractors.
In the bidding process, prices are often based on today's material and sub-contractor costs. It can be a long time – sometimes up to 18 months or more – between being named preferred bidder and the contract being awarded. That's when inflation can bite. There is also the risk that members of the supply chain could over-extend themselves.
The government says that more than £30 billion is owed in late payments across all industries. The recession has made this problem a lot worse: in 2008 the figure was £18.6 billion. Providing a fair deal to the supply chain, whatever the economic circumstances, improves stability and reduces inflation risks when the economy picks up.
It's important to support suppliers through the tough times, meeting with them and maintaining the relationship even when there has been less work for them
It's not just about money though, it's about supporting local communities, using local suppliers and creating local jobs. It's about leaving a positive legacy in the communities where you work. I believe being responsible and being in business go hand in hand. A business with a poor ethical reputation won't survive very long in this day and age.
I think the right approach is to work with a diverse supply chain that you know and trust, maintaining fair and reasonable payment terms. Developing long-term relationships with suppliers helps ensure the most efficient and cost-effective solutions for clients. A diverse supply chain can also bring increased capacity, access to more resources and greater innovation. Contractors can support this by taking a balanced approach to procurement, looking at everything from health and safety to past performance and environmental credentials. Cheapest isn't always best.
It's important to support suppliers through the tough times, meeting with them and maintaining the relationship even when there has been less work for them. As things improve, they are more likely to stick with you, treat you fairly and go on delivering successfully.
For me, taking an ethical approach is at the heart of everything we do at Skanska. It's about being fair and transparent in all our dealings with employees, customers, stakeholders and members of the public. This applies to suppliers too. Treat them well and they'll want – and choose – to work with you.
Mike Putnam is the president and chief executive officer of Skanska UK