Construction needs a recovery in the general economy to take strong hold before the economic drugs injected into the system start to wear off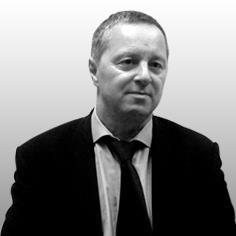 The latest construction output figures provide yet more reasons to suspect that the industry may be pulling itself out of its slough. This evidence is reinforced by the release of the newly-constituted new orders figures.
The construction output data for July show the index of construction activity has risen to its highest level since last October. This measure, which is seasonally adjusted and deflated to account for price changes, stood in July at 95.5 against 100 in 2010. This may not seem that spectacular and it isn't.
But the rise in this index and its relatively higher level over recent months does suggest the industry may be through the worst, at least for now.
I say suggest because the picture does not look quite so positive if we look at what is happening outside of the private new-build housing market. Output in this sector, which accounts for about 15% of all construction output, was over the past three months 8% up on the previous three and 11% up on the same period a year ago.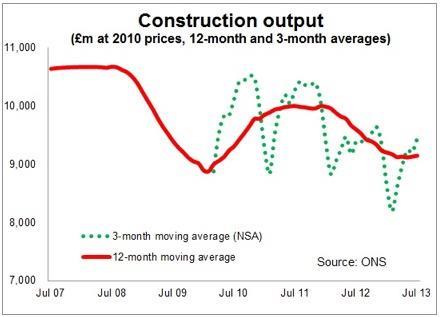 It's also interesting that we saw a slight rise (4%) in private sector housing repair and maintenance over the past three months or so. Whether this is connected to the increased excitement in the housing market is a point of interest. It is a sector worth watching closely as the new-build sector expands.
Residential repair, maintenance and improvement had been in part supported through the recession by people improving their existing home rather than moving. Meanwhile, there is a long-standing view that increased housing transactions also support the sector as people do up homes in advance of sale and when they buy a home.
There will no doubt be much discussion on whether we are now seeing more people doing up their homes in preparation for sale, whether there is just more money around for improvements and the sector is set for growth, whether we should expect a fall in those spending to improve the existing homes rather than more, or whether this is just a blip.
If we look away from both new-build housing and RMI we see that building-related work remains flat if not in decline, while the infrastructure sector is growing gently when measured on a 12-month moving volume basis.
This rather suggests that overall growth in construction is very reliant on housing-related work, which leaves the interesting questions of how far and how fast can this sector go.
Turning to the new orders figures provides more encouragement, if they are taken at face value.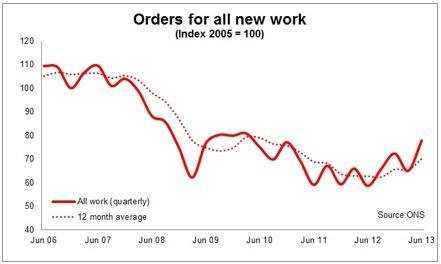 However, this is the first quarter of a new system of data collection, whereby the data is sourced from the information provider Barbour ABI rather than an ONS survey. Any change to the data collection process will have some impact on the results, the precise details of the impact are at this stage pretty unknowable, so I would advise some caution.
(Here I should express an interest in that I undertake some work for Barbour ABI and that it is a sister company of Building Magazine which hosts this blog)
But certainly the picture the latest data present is positive with most sectors seemingly on the up and the recovery seemingly fairly broadly based geographically.
The most reasonable overall interpretation of this latest round of official data is that, failing a nasty knock, the pain should start to ease for many within construction.
However, unless you hadn't noticed there does seem to be some priming of the economy ready for a General Election in less than two years' time, unless I'm misreading things.
With funding pumped up by Funding for Lending, Help to Buy underpinning house buying and with a monetary policy more flaccid than damp tissue we might realistically have hoped for some kind of recovery in investment in construction, particularly in the housing sector. It is hard to know what else you could do to boost the private housing sector and appear sane.
Equally pertinent it seems is the lack of bad news emanating from the Eurozone. This almost certainly will have helped the sector, which is very much reliant on business being confident enough to invest.
At this still fragile point what the construction industry needs is for things to stay quiet on the Eastern front and for a recovery in the general economy to take strong hold before the economic drugs injected into the system start to wear off.
What it also doesn't need is a speculative boom in the property market or anywhere else, if it is looking for the sustainable long-term future needed to rebuild its shredded capacity.
Below orders by region and orders by work type: