With a swelling pipeline of new schemes, Birmingham's build-to-rent sector is belatedly taking off. Aecom's Peter Lakin, Mark Bevan and Sean Cook investigate the sector and provide a cost model to help developers, funders and operators make the most of their investment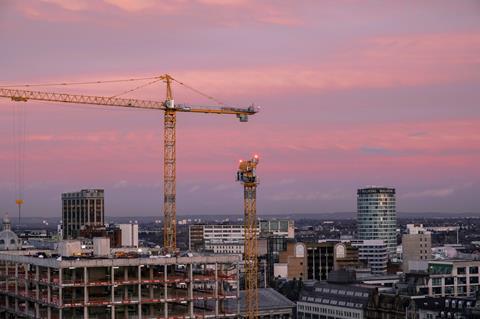 01 / Introduction
Build to rent (BTR) may be booming across the UK, but Birmingham has taken a while to get the message. Now at last that is changing, thanks to a growing population and a bustling, vibrant economy – not to mention a host of high-profile schemes completed, in progress or in planning.
Projects such as Nikal's major city‑centre development Exchange Square 2 and Blackswan's Gilder's Yard are part of an expected pipeline of around 5,000 units around the city. They join existing landmarks such as Exchange Square 1, the Lansdowne in Edgbaston and the Forum in the Chinese Quarter in bringing critical mass to Birmingham's BTR sector.
If there is not quite a BTR scheme in every district, it is not far off. The regeneration of Broad Street will have a new centrepiece in 2022, when Moda's The Mercian (previously 2one2) with its 481 apartments completes. Head south past the Mailbox and see the site of the Invesco-backed Holloway Head, which promises 484 BTR apartments.
Birmingham has been slow to succumb to BTR's charms
Circle back north to the Jewellery Quarter to check progress on the Legal & General-funded Newhall Square development, by Spitfire Urbane/IM Properties, which will provide 220 BTR apartments with ground-floor commercial space, and the 14 storeys of Aberdeen Standard Investments' Lionel House (due for completion in 2021).
Nevertheless, the fact remains that Birmingham has been slow to succumb to BTR's charms. London paved the way, with the post-Olympics transformation of the athletes' village kick-starting half a decade of feverish activity, fuelled by weak supply and strong demand for affordable, high-quality housing. Last year Savills estimated that 34,840 homes would be completed in the UK during the third quarter of 2019, with another 77,466 in planning.
Manchester followed closely behind London, with economics and demographics combining to provide fertile ground for BTR to take root. British Property Federation estimates showed 75,747 BTR units in planning, under construction or completed across the city at the end of 2019.
The good news is that similar factors are finally enabling BTR to flourish in Birmingham, with significant inward investment over the last decade driving the shift. Organisations such as HSBC and HMRC have brought jobs. The rebuilt New Street station, better tram services and upgrades to the M6, M5 and M42 have renewed the transport infrastructure, with HS2 to add more benefits, if and when it completes. A new library and science museum have upped the city's cultural credentials – and hosting the 2022 Commonwealth Games will burnish its credibility even more.
Birmingham's population growth has been steady, prompted by new jobs and the city's five universities, which produce 67,000 graduates a year, 50% of whom stay on after graduation.
Add to this the West Midlands Combined Authority's target to build 215,000 homes over the next two decades, and the result is a big opportunity for BTR funders and developers. Indeed, in this market, the city's relatively late entry may work in its favour, with developers able to capitalise on lessons learned from other, earlier projects across the country.
02 / Taking a long-term view
Institutionally backed BTR projects are all about the long haul, and so cost models need to balance capital and operational expenditure to get an accurate picture of a scheme's returns. This is the difference between BTR and open‑market schemes – even those destined for the private rental sector. With BTR, the organisations and institutions that forward-fund its construction will usually be around for the next 30 years of operation. And while returns on a BTR project are generally lower than for those in the open market, the long-term gains can be substantial.
Equipment such as bicycles increase the appeal, provide more efficient use of space and help to create a feeling of community
To make the most of this, developers entering Birmingham's BTR market need to build up their knowledge and understand the running costs of a building during the design stages. While apartment specifications may not be so different from a comparable layout for a good-quality open-market offer, the specification of amenities and the associated maintenance and management regimes will require extra attention. A gym and a pool may look good in the sales brochures, but their long-term cost can eat into that all-important net operating income.
Placemaking is a key consideration – and an area in which BTR developers could learn from their equivalents in the open-market residential sector. Public realm, communal areas, cafes and even storage for online shopping deliveries and equipment such as bicycles increase the appeal, provide more efficient use of space and help to create a feeling of community. And if a scheme fits neatly into an existing masterplan, that is even better.
03 / Understanding the end users: youngsters and boomers
A clear understanding of a BTR building's end users will also be essential to funders and developers who require a successful return on investment. The standard profile of a BTR tenant as a young, single occupier still rings true here. After all, Birmingham is a youthful city, with 75% of city-centre inhabitants being under 35 years old.
Those students who remain in the city after graduating will want to match the quality and service they have experienced in their student accommodation. Busy, early-career professionals may not have the time or inclination to handle maintenance themselves, preferring the support that BTR accommodation provides.
Common to all will be a need for appropriate amenities, decent transport and a good level of management and maintenance support
That said, the tenant landscape is diversifying. One of the first tenants into the Lansdowne – an early BTR scheme in Birmingham, completed by Long Harbour and Seven Capital in the first half of 2019 – was 51 years old. Knight Frank's UK-wide 2019 tenant survey noted that more than one-third of renters were aged 25-49, living either as couples or sharing with friends. Other survey categories included families, older renters (either single or in couples) still in employment, and retired baby boomers. It is reasonable to assume Birmingham will reflect these nationwide trends.
These varying tenant types will all have different criteria when searching for a rental property, and BTR designs must decide how best to accommodate them. Common to all will be a need for appropriate amenities (including those available in the surrounding area), decent transport and a good level of management and maintenance support. Features such as furniture packs, with a range of options for different tenant groups, or extended warranties for key equipment and components, will bring tenants in and offer a superior user experience.
Standardising for efficiency: go modular
Standardisation of products and components will help bring down the overall cost of a scheme, especially if a developer is looking to build out several schemes in the city.
Approaches such as modular and offsite construction can bring a factory-style methodology to a project. Tools such as 4D or 5D BIM enable teams to standardise building components down to the last detail and integrate the cost plan and maintenance into the digital model. Parametric cost modelling can make the systematic examination of the performance of alternative products and designs more efficient, providing granular detail around different floorplate configurations.
In the operational phase, the consistency of components and products will make it easier to achieve economies of scale in maintenance and management contracts across multiple developments.
04 / Specifying for success
Developers need to remember that the standard one‑bedroom configuration may not always be the best fit for the diverse BTR demographic, despite the efficiency of the net-to-gross ratio for such schemes. Offering homes with more bedrooms and a variety of building typologies, depending on the particular area of a city or its suburbs, may be a better fit for local housing needs and may be more sympathetically received by the council's planning teams.
Nevertheless, the overriding ambition must be to deliver an efficient building with acceptable whole‑life maintenance overheads. In an emerging market, the rush for differentiation may result in showy, expensive buildings that take longer to recoup their build cost.
Tall towers, for example, are attractive as statement buildings, can offer tenants benefits such as stunning views and may enable developers to pack more revenue-generating apartments into a limited footprint. But, as any contractor will tell you, going higher makes the construction methodology more complex and, ultimately, costlier.
Green technology and renewable energy should complement efficient thermal performance
Developers should also challenge design teams to make ease of maintenance and management a critical path from concept design onwards. Consolidating concierge and reception areas, if done cleverly, can mean fewer staff are required cover them once the building is operational.
Developers and operators should also reflect on those elements of residential schemes that occupiers highlight as being important to them. Factors such as acoustic performance (noise is often a complaint) or fire safety will reward special focus.
Sustainability should be an integral part of the design and construction phase. Green technology and renewable energy should complement efficient thermal performance, backed up by responsible sourcing during procurement and construction.
Smart components for mechanical and electrical equipment can provide remote monitoring, smart metering and service alerts. Installing superior IT connectivity will enable users to report faults quickly and get regular service updates via apps, improving their experience.
In any case, fast connections will be expected by tenants to support their IT needs such as home office use, gaming and streaming.
05 / Procurement: routes to the loot
Effective procurement and a first-class supply chain are the key to getting any project delivery right. Simple, straightforward procurement routes are important, along with clear and easily understood risk transfers.
When it comes to procuring BTR schemes, many developers and funders tend to favour competitive, single-stage design and build routes, although this may depend on contractor and supply chain appetite.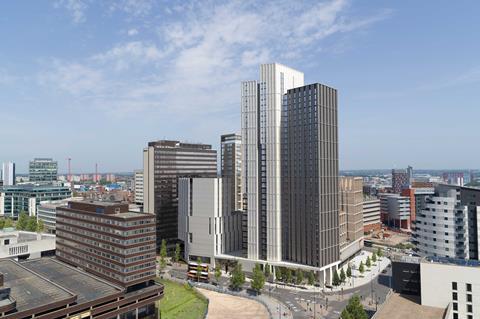 Contractors will tend to prefer two-stage design and build, which gives them some flexibility to influence the design and cost, through the integration of their key subcontractors earlier in the tender process.
Whichever route they choose, developers and their funders will need to ensure they work with contractors who share their mind-set of high-quality, efficient delivery with an awareness of long‑term maintenance and service, and who have a track record to demonstrate this.
Achieving that may be easier said than done. The embryonic nature of the BTR sector in Birmingham means that local principal contractors with the relevant skills and experience can be hard to find. It may be down to the regional offices of the tier 1 contractors to pick up the work, at least in the short term.
99% of businesses across the Midlands region are classed as small or medium-sized enterprises
Contractor-led supply chains will have a different composition from that of standard residential and commercial projects. As well as the usual trades for the construction phase, developers and operators will need to procure cleaners, building managers and maintenance teams to support the long-term running of the asset.
There is, however, the opportunity to bring innovation into the supply chain. Some 99% of businesses across the Midlands region are classed as small or medium-sized enterprises – and 80% of these have fewer than 20 employees. Among these there will undoubtedly be start‑ups, specialists and craftspeople who can do things better, faster and more sustainably than their larger rivals.
The potential to bring knowledge and support to newer businesses in this way and thereby build social value through the construction of BTR schemes should not be underestimated.
06 / About the cost model
This cost model represents a medium-quality BTR scheme in central Birmingham. It comprises a 20-storey residential tower, providing circa 200 units with an average apartment size of 63m2.
The scheme includes ground-floor amenity space with a concierge facility, gym and cafe/lounge area. Gross internal area is circa 16,800m2 (180,834ft2) with a net internal area of 12,600m2 (135,625 ft2), reflecting a net to gross ratio of 75%.
The estimate is based on prices current at Q1 2020 and uses rates taken from similar projects competitively tendered within the local market via a single-stage design and build procurement route.
The cost model assumes traditional bathroom construction and excludes demolition, unfixed furniture, fittings and equipment, operations and services equipment, professional fees, local authority fees and charges, section 106/278 agreements and VAT.
07 / Cost model for medium-quality BTR scheme in central Birmingham
| Substructure | | | |
| --- | --- | --- | --- |
| | Element cost (£) | Cost/m² GIFA (£) | % total cost |
| Substructure | 1,620,000 | 96 | 4.6 |
| Allowance for temporary works | 100,000 | | |
| Foundations; rotary bored piles (900-1,200mm diameter, average 20m depth); incl piling mat: 1,020m² @ £1,100/m² | 1,122,000 | | |
| Excavation and disposal of inert excavated material: 1,475m³ @ £60/m³ | 88,500 | | |
| Allowance for de-watering excavations | 30,000 | | |
| Reinforced concrete ground floor slab; 300mm thick: 1,020m² @ £200/m² | 204,000 | | |
| Allowance for under-slab drainage: 1,020m² @ £75/m² | 76,500 | | |
| Superstructure | | | |
| --- | --- | --- | --- |
| | Element cost (£) | Cost/m² GIFA (£) | % total cost |
| Frame | 2,066,000 | 123 | 5.9 |
| Reinforced concrete frame; comprising core walls, columns and beams: 16,800m² @ £120/m² | 2,016,000 | | |
| Allowance for other structures (eg lift motor rooms) | 30,000 | | |
| Allowance for expansion joints and other sundries | 20,000 | | |
| Upper floors | 2,351,200 | 140 | 6.7 |
| Allowance for 250mm-thick reinforced concrete floor slab; reinforcement at 150kg/m³: 15,906m² @ £130/m² | 2,067,800 | | |
| Duragrid /GRP riser protection system: 336m² @ £350/m² | 117,600 | | |
| Allowance for upstands, plinths, bund walls etc | 50,000 | | |
| Allowance for slab edge detailing: 2,315m @ £50/m | 115,800 | | |
| Roof | 507,600 | 30 | 1.4 |
| Allowance for 300mm-thick reinforced concrete roof slab; reinforcement at 150kg/m³: 983m² @ 160/m² | 157,300 | | |
| Allowance for concrete perimeter upstand: 130m @ £100/m | 13,000 | | |
| Proprietary roof covering and waterproofing system incl insulation: 983m² @ £160/m² | 157,300 | | |
| Flashings, skirtings, aprons and the like | 30,000 | | |
| Extra over for green roof; assumed circa 25% of roof area: 250m² @ £120/m² | 30,000 | | |
| Allowance for enhanced finishes to terrace areas and rooftop amenity space | 50,000 | | |
| Allowance for fall arrest system | 20,000 | | |
| Allowance for secondary steelwork | 50,000 | | |
| Stairs | 330,000 | 20 | 0.9 |
| Precast concrete stairs and landings, incl finishes, powder coated handrails and balustrades: 40 flights @ £7,500/flight | 300,000 | | |
| Allowance for ladders, stepovers and walkways | 30,000 | | |
| External walls | 6,635,000 | 395 | 18.9 |
| Facade; precast concrete panel systemwith inset windows; insulation, steelstructural framing and drylining inner skin:7,800m² @ £750/m² | 5,850,000 | | |
| Glazing curtain walling system to ground-level entrances: 400m² @ £1,000/m² | 400,000 | | |
| Allowance for balustrading | 50,000 | | |
| Lift overrun and core cladding at rooflevel: 300m² @ £200/m² | 60,000 | | |
| Louvred plant screening: 150m²@ £500/m² | 75,000 | | |
| Building maintenance unit cleaning equipment and track | 200,000 | | |
| Windows and external doors | 60,000 | 4 | 0.2 |
| Glazed double doors to main entrances: 2nr @ £20,000 ea | 40,000 | | |
| Allowance for external fire escape doors: 10nr @ £2,000 ea | 20,000 | | |
| Internal walls and partitions | 768,000 | 46 | 2.2 |
| Allowance for blockwork/partitions tocommunal areas and separating wallsto apartments: 9,600m² @ £80/m² | 768,000 | | |
| Internal doors | 180,000 | 11 | 0.5 |
| Allowance for internal doors to shell and core areas: 100nr @ £1,000 ea | 100,000 | | |
| Allowance for riser doors: 160nr @ £500 ea | 80,000 | | |
| Internal finishes | | | |
| --- | --- | --- | --- |
| | Element cost (£) | Cost/m² GIFA (£) | % total cost |
| Wall finishes | 218,000 | 13 | 0.6 |
| Allowance for wall finishes to circulation and reception areas: 4,200m² @ £40/m² | 168,000 | | |
| Allowance for enhanced finishes to entrance areas | 50,000 | | |
| Floor finishes | 292,500 | 17 | 0.8 |
| Allowance for floor finishes to circulation areas: 3,900m² @ £65/m² | 253,500 | | |
| Allowance for floor finishes to ground-floor entrance areas: 300m² @ £130/m² | 39,000 | | |
| Ceiling finishes | 168,000 | 10 | 0.5 |
| Allowance for ceiling finishes to circulation areas:4,200 m² @ £40/m² | 168,000 | | |
| Fittings, furnishings and equipment | 113,600 | 7 | 0.3 |
| Concierge desk | 10,000 | | |
| Allowance for landlord back-of-house areas incl refuse, cycle parking etc | 50,000 | | |
| Communal letterbox/parcel storage: 200nr @ £100 ea | 20,000 | | |
| Allowance for wayfinding and statutory signage: 16,800m² @ £2/m² | 33,600 | | |
| Services | | | |
| --- | --- | --- | --- |
| | Element cost (£) | Cost/m² GIFA (£) | % total cost |
| MEP services installations | 3,696,000 | 220 | 10.5 |
| MEP services installations to shell and core incl builder's work in connection: 16,800m² @ £150/m² | 2,520,000 | | |
| MEP services installations to circulation areas incl builder's work in connection: 4,200m² @ £200/m² | 840,000 | | |
| Allowance for sprinkler installation incl builder'swork in connection: 16,800m² @ £20/m² | 336,000 | | |
| Vertical transportation | 588,000 | 35 | 1.7 |
| Allowance for passenger lift installations incl builder's work in connection: 16,800m² @ £35/m² | 588,000 | | |
| Total shell and core | 19,594,900 | 1,166 | 55.8 |
| Internal fit-out | | | |
| --- | --- | --- | --- |
| | Element cost (£) | Cost/m² GIFA (£) | % total cost |
| Residential fit-out | 7,467,600 | 445 | 21.3 |
| Metal stud partitions within apartments: 12,000m² @ £60/m² | 720,000 | | |
| Apartment entrance doors: 200nr @ £1,000 ea | 200,000 | | |
| Apartments' internal doors: 1,000nr @ £650 ea | 650,000 | | |
| Skim and emulsion paint to metal stud partitions: 35,640m² @ £10/m² | 356,400 | | |
| Wall tiling splashbacks to kitchens: 1,000m² @ £60/m² | 60,000 | | |
| Wall tiling to bathrooms: 4,000m² @ £60/m² | 240,000 | | |
| Allowance for levelling screed and acoustic layer: 12,600m² @ £15/m² | 189,000 | | |
| Engineered timber flooring: 7,560m² @ £150/m² | 1,134,000 | | |
| Floor tiling: 5,040m² @ £55/m² | 277,200 | | |
| Plasterboard and skim ceilings incl decoration: 12,600m² @ £35/m² | 441,000 | | |
| Kitchen installation incl appliances: 200nr @ £6,000 ea | 1,200,000 | | |
| Wardrobes, cupboards, vanity units, bathroom fittings etc: 200nr @ £2,000 ea | 400,000 | | |
| MEP installations to apartments incl sanitary fittings and builder's work in connection: 200nr @ £8,000 ea | 1,600,000 | | |
| Gym fit-out | 140,000 | 8 | 0.4 |
| Allowance for fit-out excluding equipment: 400m² @ £350/m² | 140,000 | | |
| Cafe fit-out | 0 | 0 | 0.0 |
| Excluded – assumed by operator | 0 | | |
| Total fit-out | 7,607,600 | 453 | 21.7 |
| External works | | | |
| --- | --- | --- | --- |
| | Element cost (£) | Cost/m² GIFA (£) | % total cost |
| External works | 525,000 | 31 | 1.5 |
| External works allowance | 150,000 | 9 | 0.4 |
| Hard and soft landscaping;fencing, railings and walls; external fixtures; signage and street furniture | | | |
| Drainage | 150,000 | 9 | 0.4 |
| Allowance for foul and storm drainage incl sewer connections | 150,000 | | |
| Incoming services | 225,000 | 13 | 0.6 |
| Allowance for substation and connections | 100,000 | | |
| Allowance for gas booster and connections | 50,000 | | |
| Allowance for water connections | 50,000 | | |
| Allowance for communications | 25,000 | | |
| | | | |
| --- | --- | --- | --- |
| | Element cost (£) | Cost/m² GIFA (£) | % total cost |
| Subtotal | 27,727,500 | 1,650 | 78.9 |
| Preliminaries | 4,436,000 | 264 | 12.6 |
| Main contractor's preliminaries @ 16% | 4,436,000 | | |
| OH&P | 1,287,000 | 77 | 3.7 |
| Main contractor's OH&P @ 4% | 1,287,000 | | |
| Risk allowances and design reserve | 1,673,000 | 100 | 4.8 |
| Risk allowances and design reserve @ 5% | 1,673,000 | | |
| Total out-turn cost | 35,123,500 | 2,091 | 100.0 |
Acknowledgments
The authors acknowledge the contribution of Aecom's Stuart Cox and Simon Deakin