An area of growing focus for NHS investment is the improvement of primary healthcare buildings. Aecom explores how they can provide modern, fit-for-purpose care environments, giving a cost breakdown for an example fit-out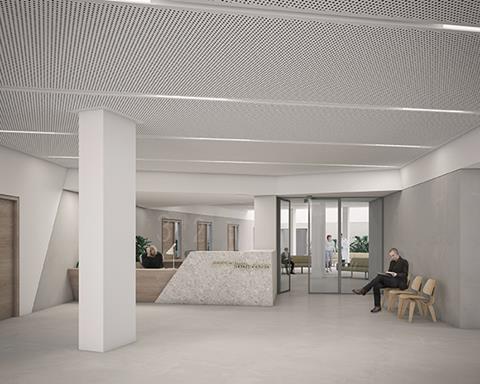 01 / Introduction to the primary healthcare sector
The NHS is under immense strain. It is battling staff shortages, historic underfunding, and a growing UK population with complex health needs. The majority of spending so far has been applied to areas in acute clinical need and day-to-day running costs. But attention is now turning to improving primary care buildings.
If someone has a health concern, their first point of contact is likely to be a primary care service. Acting as the front door of the national health service, these services include GPs, community pharmacies, and dental and eye health services. Such services have often operated separately from one another. However, the NHS Long Term Plan, a 10-year blueprint for the national health service, sets out commitments that will fundamentally change how these services are delivered.
Across England – the geographical area on which this article and the cost model are focused – primary care services are planned, bought and budgeted for by 135 clinical commissioning groups (CCGs), which are responsible for clusters of local general practices. In future, these clusters of GPs, typically covering 30,000 to 50,000 patients, will be expected to work together across practices to provide more adaptable physical spaces, improving efficiencies and offering a mix of joined-up local services and care.
The Long Term Plan's goal is defined as "the creation – for the first time since the NHS was set up in 1948 – of fully integrated community-based healthcare". It is a concept designed to make physical assets work harder and more effectively, and also to encourage a more holistic, preventative approach to the nation's health.
The NHS has also called for a complete overhaul in how primary care is accessed, with a digital-first approach. One of the cornerstones of the Long Term Plan is for every patient to have the right to online GP consultations by 2023. The goal when designing physical primary care assets is to be able to integrate these ambitious demands.
The current situation in the sector is that primary care has suffered from long-term underfunding, despite its vital role and the value for money it represents. For example, a year's worth of GP care, per patient, costs less than two A&E visits. Yet for the past decade funding for hospitals has been growing twice as fast as that for family doctor services, according to NHS England.
Primary care funding is now on the rise, in part to relieve the burden on acute health services such as A&E and hospital care. The planned distribution of NHS funding for 2019/20 will see the majority of the funding (almost £80bn) allocated to CCGs for commissioning local health services.
This represents a chance for primary healthcare buildings – ranging from mental health services, to obesity management clinics, to diabetes prevention services – to receive the investment they need in order to meet localised healthcare demands, which vary from region to region, and from community to community.
02 / The digital task – and opportunity
Successfully integrating digital services into physical infrastructure is perhaps the biggest task facing developers of new primary care projects. To make digital consultations become the new normal, primary care physical assets now need to enable this. Digital check-in points, for example, will replace the need to queue for a receptionist. Instead of walking into a doctor's surgery and waiting perhaps hours to be seen, users will be directed to schedule an initial telephone screening or appointment online. A video consultation can be booked via an app, and online waiting rooms can increase efficient use of patients' time.
Shortening the patient journey through the physical health space via digital technology can have major health implications. Digital-first primary care can reduce the time spent dealing with a health issue. Making sure patients are triaged before presenting in the physical primary care space can also save valuable time and improve accuracy of diagnosis. For the elderly and vulnerable, being able to access healthcare from their homes can provide reassurance and convenience, making for better overall health outcomes.
Reducing the time spent waiting in physical buildings also boosts patient satisfaction, and reflects the direction of travel for services in society in general. Among the younger demographic in particular, there is a growing expectation that healthcare services should be accessible via apps and smartphones.
Getting this right can pay off hugely. Effectively incorporating digital services into physical assets can help mitigate some of the biggest issues facing the NHS: namely, staffing and funding shortages. There is a well-publicised shortage of staff across NHS primary functions, particularly among nurses and GPs. And while funding is increasing, the NHS is still seeking efficiencies. There are plans to cut £700m from administrative costs, such as receptionist staffing, which digital appointment systems can assist with.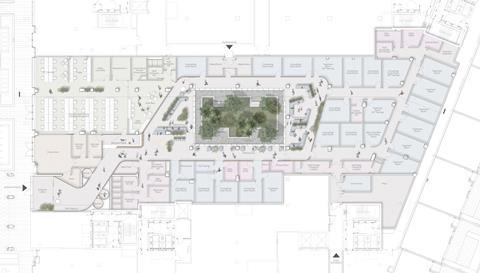 03 / Flexibility is imperative
Traditionally, as many rooms and as much people capacity as possible would be incorporated into primary care assets. There is now a shift towards bigger, more flexible and interactive buildings that can be quickly repurposed. A primary care building could become a community meeting space in the evening, for example. Flexible spaces mean if there is a sudden, pressing need – say, more consultation rooms are required, or there is high demand for evening appointments – then the community engagement and involvement during this time can be reduced and the space freed up for treatment.
As the covid-19 pandemic has made clear this year, there is a public health imperative to be able to rapidly reduce or expand the number of people visiting physical primary care facilities. Being able to adjust footfall into surgeries not only reduces the risk of contagion but also allows for better resource management when primary care services come under immense strain.
That said, designing in such high levels of mutability brings challenges. For example, flexible spaces still need to be able to offer appropriate levels of containment and privacy quickly so that healthcare providers can engage with their patients one-on-one or in confidence if required.
Designing in equality
Reducing inequalities in the care provided is a key tenet of the NHS Long Term Plan. Building design can help meet this goal by providing flexible community spaces (see left), but there are other ways design can help. For instance, good use of colour and making clear visual pathways through a facility enable intuitive use of the building, which helps overcome potential language and cultural barriers.
Primary care spaces can be designed to be zoned, making for a simpler, faster, self-led patient journey through the building. Self check-in, self health-check pods and triage call centres can empower people to access care and advice at their own pace and in their preferred language, reducing reliance on receptionists. This approach, by preventing physical crowding in reception and waiting rooms, also helps reduce contagion risk and improve patient satisfaction.
04 / Cost influences
Clinical commissioning groups were launched in part to reflect the varying health needs of different local communities. An urban area with a predominantly young, multicultural population, for instance, will have very different needs from those of a rural, isolated region with a large number of older people. The design of primary care services' physical assets must reflect the communities served.
Different CCGs have different priorities and budgets, meaning roll-out of the concepts in the NHS Long Term Plan could be uneven. Geographically, some parts of the NHS are forging ahead and embracing the integrated, local, network-of-services model ahead of others. NHS Wales, for example, set aside £68m in 2017 for 19 new health and care centres, to be delivered by 2021. These will be a mix of new-builds, refurbishments and redevelopments.
Location can influence costs and will also affect the pace of adoption of new models of care. CCGs operating in areas of high smartphone penetration may find their patients adapt more quickly to digital consultations, expediting a need for call-centre style spaces where nurses, doctors and healthcare providers can talk easily and discreetly to their patients. Some CCGs may have a greater need for examination and treatment rooms, which can create significant loadings on plant and ventilation, driving up costs.
Whatever the geographical location, prioritising investment in resilient IT infrastructure will be key. This will improve efficiency, effectiveness and service continuity for both staff and patients, satisfy privacy requirements and ensure sufficient capacity to accommodate future needs.
05 / Building types and materials
The quality of materials used in physical primary care assets can have a huge impact on user experience, potentially influencing health outcomes. Examples include the use of softer materials such as timber cladding for interior spaces, deployment of more robust and high-quality resin finishes for desk areas subject to high levels of use, and installing acoustic attenuated ceilings to improve unwanted noise in waiting areas. The NHS Long Term Plan emphasises a need for preventative as well as curative healthcare, and creating welcoming, highly functional spaces can help facilitate this.
The importance of designing spaces that meet the needs of staff cannot be underestimated. The NHS has suffered critical issues with recruitment and staff retention in recent years. As the covid-19 pandemic has illustrated, protecting staff health is vital. When parlaying this into the design of physical workspaces, Tower Hamlets CCG estates manager Jack Dunmore (see right) summarises this as being about "good light, good air and basically good social interaction for the staff". One project Dunmore was involved in saw a primary care building seating area constructed around a central garden space.
It can be harder to meet such aspirations when refurbishing existing buildings, which can bring significant constraints. Older buildings often have structural, access and services issues that must be overcome to make the space safe and compliant with current standards. In addition, NHS building stock includes listed buildings, and the refurbishment of these can come with multiple caveats and atypical needs, adding to the cost of the project.
Perspective from a clinical commisioning group
Jack Dunmore, strategic estate manager at Tower Hamlets CCG:
"We're finding more and more services are being pulled into the primary care setting – from mental health work to social prescribing. Looking ahead, it's about providing an all-round care package for the community, where practitioners may not be based in the practice all the time but may use the building on a sessional basis.
"The ideal scenario is that when someone walks in the door, the primary care provider has already spoken with the patient and has a firm understanding of why they're coming into the building. This is a shift from the old-school model, where the patient walks in and that's the first time the primary care provider knows what care the patient requires.
"Ultimately, it's about ensuring your estate and physical assets are used in their best capacity – for physical care and interactions between patient and provider. Not just for, say, having conversations that can take place by telephone or text message. Integrating digital technology allows these "soft" services to be carried out at a time that suits the patient, and in a way that allows the primary care provider to best manage its patients' care.
"The impact of covid-19 has demonstrated the need for primary care services to be able to adapt to change in a matter of days, not months or years. The technology roll-out and the changes in the way that GP practices are interacting with patients has been unprecedented in its speed. At the height of the pandemic, 100% of GP appointments in Tower Hamlets were carried out remotely. This demonstrates real change in primary care, and how strategies that have been talked about for years can be rolled out quickly at the point of need."
06 / Sustainability
NHS England reports that the health and care system in England is responsible for an estimated 4% to 5% of the country's carbon footprint. It also says that almost 18 million patients attend a GP practice in an area that exceeds the World Health Organization's air pollution limit. NHS England chief executive Simon Stevens said of the NHS's carbon challenges in January 2020: "As the biggest employer in this country, comprising nearly a 10th of the UK economy, we're both part of the problem and part of the solution."
Sustainability is therefore now a key driver of change in the design and costing of the NHS's primary care assets. New-builds have different sustainability criteria from refurbishments: new-build facilities need to achieve a BREEAM Excellent rating, while a refurbished scheme must achieve Very Good. A typical intervention could include replacing existing switch‑based lighting with energy-efficient timed lighting, which is activated by infrared sensors and turns off after a period of inactivity. In the primary care space, the challenge is introducing these energy- and cost-saving measures in a way that is clinically sound.
New models are emerging to improve the sustainability of all asset types. Community Health Partnerships (CHP) is a body that works with commissioners and local partners across England with the aim of delivering savings, increasing service integration and driving optimal use of the primary and community health estate. Recognising that the current trajectory of developing and running inefficient primary care buildings is unsustainable for the NHS, CHP has spent more than three years working with a team of advisers, including Aecom, researching the potential benefits of ultra-sustainable design not only to improve the user experience but also to reduce whole-life cost of ownership. This research has resulted in CHP commissioning the design and modular construction of the UK's first Passivhaus-accredited health centre, which is scheduled for completion by the end of this year, in the Foleshill area of Coventry.
The Passivhaus standard aims to bring down lifecycle costs and create facilities that are more natural and pleasant to work within. Passive sources such the sun, human occupancy and heat from extract air are utilised to meet heat demand. Principles include accurate design modelling, very high levels of insulation, airtight building fabric and mechanical ventilation systems with ultra-efficient heat recovery.
As environmental scrutiny is heightened and zero‑carbon goals emerge, such standards have rapidly shifted from design nice-to-haves into essentials. NHS England is thought to be the only healthcare system in the world that is routinely reporting on its greenhouse gas emissions. This year it is due to release a report examining the scale of its carbon footprint, which will also provide a timeline and plan towards the organisation achieving net-zero carbon emissions. It follows that clinical commissioning groups will be increasingly expected to account for and reduce their energy usage and carbon output.
07 / About the cost model
The cost model is for a Category A fit-out of a shell-and-core development into a primary care health centre, for GPs, community nurses, midwifery services, mental health services, social services and support services. The facility has a gross internal floor area of 1,550m2 and is located in Greater London. The shell‑and-core development is aiming to achieve a BREEAM rating of Very Good and the primary care health centre is under the terms of a green lease.
Costs are based on Q2 2020 and include group 1 and fitting of group 2 furniture, fixtures and equipment, but exclude substructure, most of the superstructure (frame, upper floors, roof, stairs, external walls, external windows and doors), external works, utilities, design/construction/client contingency, professional fees, surveys and VAT.
The costs reflect a single-stage competitive tender and a standard traditional building (without quantities) contract. The cost model excludes cost and programme implications from social distancing and restricted materials supply caused by the covid-19 pandemic. The rates may need to be adjusted to account for specification, site conditions, procurement route and programme.
Download the cost model using the link below