The need for laboratory space is soaring, driven by the booming life sciences sector. For developers and landlords hit by declining demand for offices, this provides an opportunity. Aecom's Alison Wring assesses the cost considerations of repurposing offices for laboratory use and provides a typical cost breakdown
01 / The growing demand for laboratory space
Life sciences is the third most likely sector to see investment grow this year, according to the European Emerging Trends in Real Estate 2021 from the Urban Land Institute and PwC. From a UK perspective, several factors have brought this sector into the spotlight:
There is a severe lack of supply, particularly in London, Cambridge and Oxford. This has been accentuated over the past year because of covid-19, which has meant scientific and medical businesses needing even more space, and that income in the sector is largely protected compared with, say, retail.
UK plc needs to boost return on investment by attracting and retaining world-class talent across government, academia, universities, research institutes and technology organisations.
The increased pace of digitalisation is driving up floorspace needs for scientific use. This greater focus on AI and digitalisation to analyse and predict outcomes from research, rather than the more traditional biological and chemical experimentation, also influences data infrastructure requirements.
The government has produced a 10-point UK research and development roadmap showing its increased commitment to R&D and the steps it will be taking to boost the UK's innovation potential in every region.
In the most recent budget it committed to doubling funding for life sciences to 2.4% of GDP until 2027, as well as specific investment in animal health research and a new R&D facility specialising in critical security/defence.
The spotlight is on life sciences as never before, as organisations from global pharmaceutical companies to the Department of Health, Public Health England, academia and science parks collaborate to develop vaccines and treatments for covid-19.
Biotech, medtech, pharma and digital health are at the core of demand, supporting interested parties from suppliers, investors, consulting and services and public sector/not-for-profit organisations, with space being required for teaching, research and development, diagnostics and manufacturing.
A May 2020 report for Forbes by Kath Mackay, managing director of Bruntwood SciTech Alderley Park, highlighted the importance of the UK life sciences sector to our economic prosperity. In the first lockdown, for instance, we saw the SciTech/L&G Future Cities joint venture complete a major investment in Liverpool Science Park, while many developers worried about the future of the offices sector.
The commercial office market is being tested to its limits in the wake of the pandemic, which has created major issues for developers and landlords, in obtaining rents from tenants and in the uncertainty of future space needs.
Meanwhile already stretched universities and healthcare trusts have faced major challenges on capital improvements and backlog maintenance associated with their estates.
Institutions are looking to improve or relocate key parts of their estates while disposing of more obsolete sites, often considering commercial partners to support with financing while retaining ownership of land.
Both private and public sector estates can benefit from the opportunity to provide much-needed high-quality space for life sciences. The demand for research facilities is soaring across the UK, particularly in areas where clusters or innovation districts are established or emerging, such as in King's Cross, west London, Cambridge and around other Russell Group universities.
Where major healthcare trusts also exist locally, there is an opportunity to combine academics with clinical staff and R&D partners to create a life sciences ecosystem. This can make property in the area highly desirable. Potential rents for lab space range from £70 to upwards of £100 per ft², compared with £57.50-£70 for offices.
From a sustainability perspective, refurbishment can deliver a 56% reduction in carbon emissions compared with a new-build facility – giving strong eco-credentials that may be attractive to prospective tenants. There are also gains in terms of speed to market.
Here East, formerly the Media Centre for the 2012 Olympics, is a good example of an innovation and technology campus for start-up companies. Granta Park, a science park in Cambridge, has also undertaken studies into repurposing its existing space.
Financial incentives
There are specific tax benefits associated with research and development. The capital cost of construction works to create dedicated research facilities for owner-occupiers benefits from 100% capital allowances.
Any innovative design or construction solutions to overcome site-specific scientific or technological uncertainties may qualify for R&D tax credits. These provide an enhanced (or super) deduction of 230% for eligible staff costs for SMEs, or a 13% above-the-line credit for large companies.
02 / Trends in location and demand
London is at the heart of life sciences, with the Knowledge Quarter at King's Cross/Euston and across to Bloomsbury, Imperial College's Innovation District at White City, and emerging areas around other science or tech companies such as on the South Bank, the Silicon Roundabout and across to Hoxton/Whitechapel and even Stratford as an emerging district, blending traditional science with tech and digital science.
Other areas under the spotlight are those with major infrastructure improvements, such as along the Crossrail line, the Oxford to Cambridge train link and major hubs off HS2, as can be seen with Bruntwood SciTech's investment in Birmingham, Alderley Park, Liverpool and Manchester, as well as Edinburgh with its Bioquarter campus plans.
Across the water to Ireland, Trinity College Dublin has just announced Savills as property advisers on its Silicon Docks technology campus. The whole of the UK and Ireland can benefit by creating economic growth in localised areas from the life sciences sector, not just the Golden Triangle of London/Cambridge/Oxford.
Demand is for a range of accommodation – from small start-up space to larger combined lab and office space for more mature companies that may want to be close to potentially successful start-ups in order to invest in them. Major pharmaceuticals are looking to relocate to areas of growth.
According to lab fit-out specialist Galileo Labs, "The nature of life science research is shifting to a collaborative model where co-location and open and accessible facilities for smaller science companies is required. Combining the academics with clinical staff as well as research and development partners creates a unique ecosystem, making property in the area extremely sought after."
Life science companies are moving more towards enhanced office environments with smaller areas of wet/dry lab content, as traditional analysis methods are being replaced by smart, advanced technology. This is good news for those looking to repurpose existing facilities, because less of the floorspace requires the structural and services modifications to accommodate wet/dry lab areas.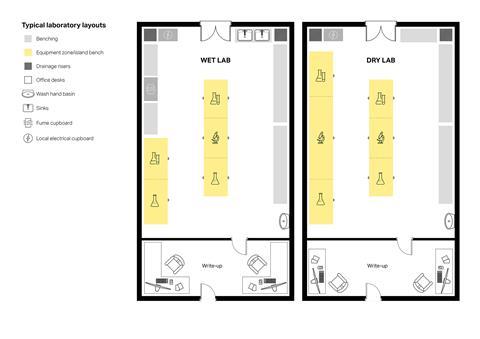 03 / Key considerations in repurposing office space for labs
There are several key considerations when refitting office space to provide a laboratory environment.
Structural considerations
The foremost of these is slab heights and risers. An initial viability assessment is needed to quickly determine the slab-to-slab height of a building to establish whether there is enough height to bring in additional services, such as risers.
Typically, a lab storey height would be 4.1m to 4.5m high (top of slab to soffit), allowing for the vertical distribution of air across the floorplate, whereas an office storey tends to be 3.6m to 4.2m. Older properties such as telephone exchanges, banking halls and other financial institutions lend themselves well to lab conversion, due to their dense frame and generous storey heights. Equally, warehouses, industrial premises and even shopping malls could be considered.
A solution for buildings with lower storey heights is to create greater density of internal risers and plant room space. Existing basement provision can also be used to house plant.
Other structural alterations or strengthening works may be required, as well as potentially facade replacement.
Wellbeing features
Facilities with roof terraces and other recreational zones will be highly sought after, especially in urban areas. Scientists work in controlled environments so breakout areas such as wellness areas or contemplation rooms as well as outside spaces will be in demand. These spaces can also be safely adapted to serve a variety of functions in line with government distancing guidelines.
Lifts
The increased cellularisation required to convert an open-plan Category A office into multiple start‑up/incubator type labs means additional lift cores may be required, depending on the size of the floorplate and the targeted number of tenants. Buildings with multiple existing lift cores may be able to provide access to multiple tenancies without such modifications. Having multiple lifts allows each tenant to have a separate access and a place to apply their entrance branding, giving them a clear presence.
Services
There must be suitable plant and riser space for lab gases, specialist fume extract and steam generation. The need for these services differs depending on the type of research being carried out and therefore will be unknown until a tenancy agreement is struck.
It is common for such systems to be either instructed during construction once a tenant has been found, or installed after completion of the main fit-out.
Hazardous waste disposal may be needed but will be addressed by the tenant if hazardous chemicals are to be used.
Legal considerations
Planning issues may arise regarding any additional rooftop plant, as well as if increasing the height of the building itself. There may also be heritage issues to consider, as well as potentially the removal of asbestos in older properties.
04 / Fit-out options
Level 1: Shell and incoming utilities supplied only
Building in basic form, with incoming utilities only
Core utilities to be capable of supporting expansion
Level 2: Shell provided and core (landlord) areas fully fitted out
Building landlord areas only fitted out, with incoming utilities provided to cater for expansion
Tenant to fit out with plant and services to tenant demise
Level 3a: All plant and services risers provided for the building
Main plant provided to service entire building to agreed capacity
No requirement for additional tenant plant unless for specific requirement (such as for additional cooling or air)
Space for additional tenant plant provided if required
All services in risers provided and capped off ready for connection into ceiling void
Space (including ceiling void) to be fitted out by tenant
Level 3b: All plant, services risers and ceiling voids provided for the building
As with 3a but fit-out services in the void
Lights, grilles and ceilings could be provided
Level 4: Building fully fitted out and ready for occupation
Fully fitted-out building ready for occupation and use

Space for tenant plant not required
Level 1: Shell and incoming utilities supplied only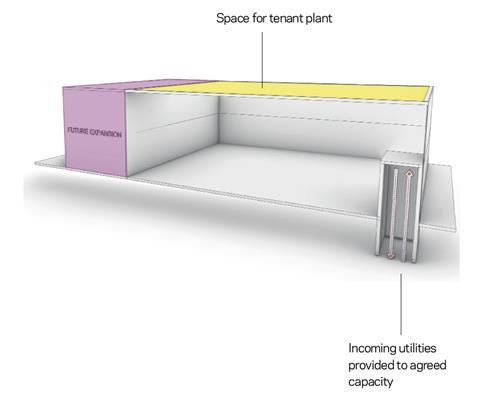 Level 2: Shell provided and core (landlord) areas fully fitted out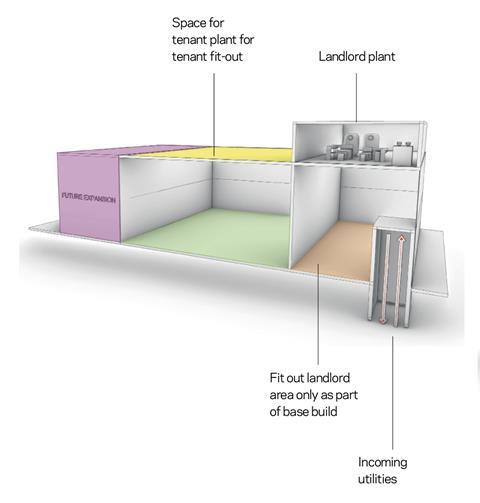 Level 3a: All plant and services risers provided for the building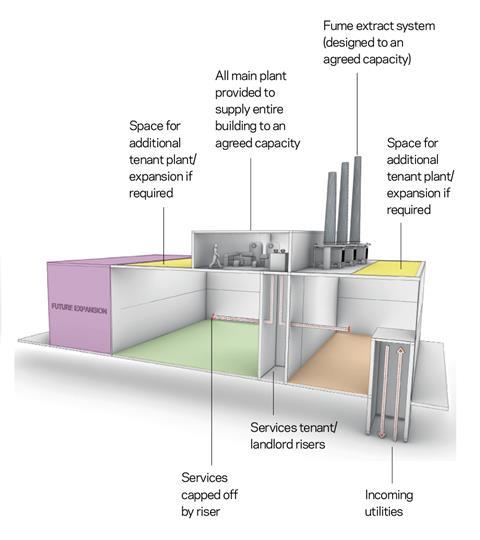 Level 3b: All plant, services risers and ceiling voids provided for the building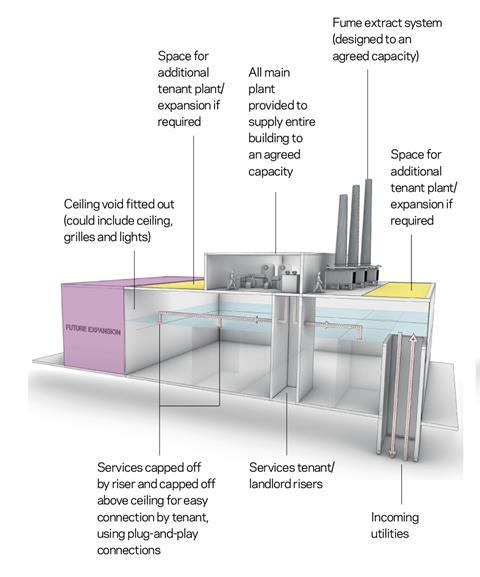 Level 4: Building fully fitted out and ready for occupation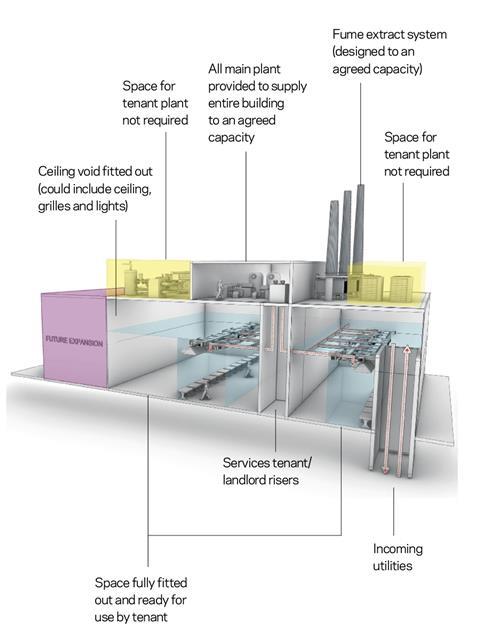 05 / About the cost model
This cost model captures the full refurbishment of a 10-storey 1990s office block in Greater London repurposed to suit a laboratory environment, with a gross internal area of 22,500m² and net internal area of 15,648m², split 50:50 wet/dry lab space. It assumes that the mechanical and electrical services have reached the end of their useful life and require complete replacement.
The model assumes abnormal costs associated with foundation strengthening and minor additional vibration/loading requirements to accommodate the wet lab area, as well as the provision of an additional lift shaft and two lift carts.
Costs are based on a Greater London location, at 1Q 2021. Loose furniture and fittings, professional fees and VAT are excluded from the model. The building is designed to meet British Council for Offices 2019 equivalent and BREEAM Excellent standards.
Download the cost model using the link below