Its multibillion-pound roads programme may have hit the slow lane, but Europe's seventh biggest construction market is still making significant investments in infrastructure
01/ Economic overview
Poland's construction industry was worth £34bn in 2011 and is the seventh largest construction market in Europe. The market is dominated by infrastructure, with 60% of expenditure in 2011 being focused on the transport, energy and utilities sectors. Given the importance of public sector spending, there is a concern as to whether high levels of activity can be sustained. The Polish government is restricted by constitutional limits on borrowing, and EU budgets from 2014 onwards have yet to be settled.
When Poland joined the EU in 2004, the construction sector started its steady rise and almost all stakeholders were benefiting from new, prosperous market conditions. Heavy EU funding became available, predominantly for public infrastructure, and gave Poland a vast boost ahead of the world downturn in 2008. Poland did not suffer as badly as some countries, but did not go unaffected, with commercial investments, residential and office developments, retail and logistics all experiencing a significant fall.
The construction market was very much protected by the decision, in 2007, to award the European 2012 football tournament to Poland and the Ukraine. To say that Polish infrastructure was basic at the time of the award would be an understatement. Even after recent investment, Poland's road density is only 5% of the UK's.
Among other projects, four host cities of Gdansk, Poznan, Wroclaw and Warsaw, received new stadiums with a cumulative value of £830m, including a National Stadium in Warsaw for a record sum of £370m. Railway stations in Kraków, Wroclaw and Warsaw were modernised, and two airports were built in Modlin and Gdynia. Moreover it is estimated that road construction projects ahead of Euro 2012 were worth about £10bn.
02 / The economic outlook
From the European perspective, Poland is one of the few countries with positive economic growth which is forecast to rise by 2.6% in 2012 and by a further 2.7% in 2013. Only Russia, Turkey and Norway have growth expectations which could be compared to Polish levels.
Seen from a Polish perspective, however, the view is that the economy will see a relative slowdown, which feels like a recession. Polish analysts and practitioners still remember GDP growth at 4.4% per year in 2011 and construction growth of 17.2% in real terms in the same period.
Nevertheless, Poland remains one of the most attractive investment destinations in Europe. Its Foreign Direct Investment (FDI) volume is expected to remain at 2011's level at around £8.3bn.
Funding
According the Polish banks, development lending is expected to drop as the risk and cost of financing rises. Many Polish banks are closely linked to their western parents and are under similar pressure.
Due to constraints on public sector borrowing, there is growing interest in PPP as a route to finance and operational expertise. PPP entered the Polish legal system in February 2009. The Polish law system distinguishes between two main models for the co-operation between the public and private sectors under the PPP model: a "pure" PPP model where the public entity bears most of the economic risk relating to the project, and a "concession" model where most of the risk relating to its implementation is transferred to the private entity.
According to the Ministry of Economy, there are 23 PPP projects under construction and 66 projects at planning stage in Poland at the moment and there is a growing trend for PPP projects in health care, including plans with a total value of about £240m.
03 / the construction market
The rate of growth in the Polish construction market, combined with the scale of the Polish contracting industry, attracted many international contractors into the market after 2004. These firms recognised the opportunity of numerous projects secured by EU funds which could be accessed via the public procurement process. As a result, multinationals such as Hochtief and Skanska are now established in the market.
High levels of international competition for Polish contracts intensified after the 2008 downturn, with European contractors bidding very competitively to secure workload. This problem was made worse by the practice, in the public sector, of awarding contracts based solely on lowest price.
The unfortunate effect was that contractors drove down margins and were then caught out when prices of labour and materials rose. This affected foreign firms that came to Poland for quick gains out of Euro 2012, but the main casualties have been Polish main contractors and subcontractors, which do not have access to diversified markets. Some of the Polish subcontractors working on road projects that were tendered at very low prices are still waiting to be paid for their work. More than 100 have gone bankrupt.
The construction market is at a turning point in 2012. Data from the Central Statistical Office shows that construction-assembly from January to April was 13% higher than the same period last year; however, activity levels fell in June and July.
Output forecasts are mixed. Consultant PMR reports that the construction market, which increased by 16.3% in 2011, will rise by another 5% in 2012 followed by a downturn in 2013-14. Other forecasters, such as BMI, are more positive about future growth. Local entrepreneurs however are much more negative, expecting a contraction in 2012 and 2013. Whatever the forecast, prospects are definitely not as rosy as in the days of heavy EU funding, but there are public infrastructure projects in the pipeline and growth in energy and rail sector should compensate for the slowdown in road projects.
Infrastructure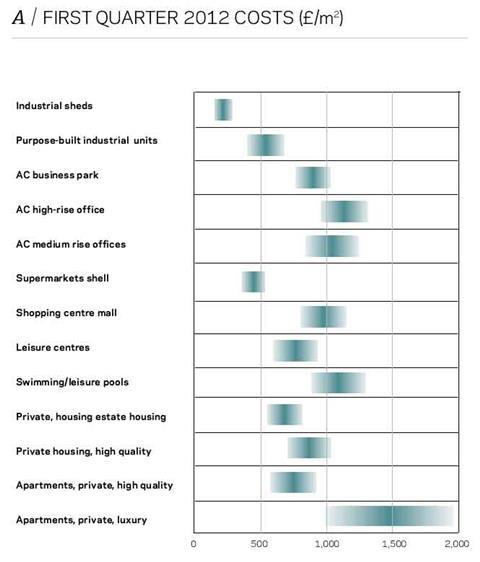 There is a significant gap in the standard of Poland's infrastructure compared to countries in western Europe. The motorway and rail network are in poor condition and remedying this situation has seen spending on infrastructure steadily rise since 2006. Construction spending in 2011 accounted for 44% of the total infrastructure spend.
The infrastructure sector is facing a significant slowdown as the EU 2007-13 budget period and the Euro 2012 effect come to an end. It is generally expected that there will be a slowdown in road projects and growth in the power and rail sectors. Although there is significant uncertainty associated with the 2014-20 EU budget, the Ministry of Transport has said that there will be more than £1bn allocated to road and rail projects in the 2013 state budget.
Roads Road construction was the strongest sector of the economy in 2008-11. Due to its geographical position, Poland acts as a transit country between east and west (the western part of EU and Russia) and north and south (the Nordic EU members and southern Europe). The long term goal of the Ministry of Transport was to deliver 2000km of motorways. In 2010, the market for roads and bridges was estimated at £4bn, but part of those plans did not materialise.
Rail Investment in rail has been neglected for decades and although some projects are under construction a number of others have been delayed or postponed. PKP PLK, the Polish rail operator, announced a record £3bn investment in rail for 2012-13, but nevertheless the government has postponed the landmark £4.2bn high-speed line project connecting Warsaw, Lodz, Poznan and Wroclaw in order to concentrate on more down-to-earth needs. The high-speed line will be developed in stages between 2014 and 2020. The Ministry of Infrastructure records that 38 out of 110 defined investment projects will be delivered beyond 2013, providing some certainty of workload.
Energy Energy consumption in Poland has increased dramatically within recent years and the shortage of power plants is being remedied by new construction including tenders worth around £11bn for projects which started in 2010-11. These are intended to deliver around 11GW and will sustain workload over an extended period. Longer term, the first nuclear power plant in Poland is planned for 2016-23, with an estimated project value of £7-11bn.
Building workload
Offices Poland's office market is divided into three markets: Warsaw, where 65% of modern offices are located, Wroclaw and Krakow, which between them account for 15%, and the rest of the country, where the remaining 20% is spread among other cities. Office construction has slowed compared with previous peak years but some investors are continuing to build and demand for office space in central Warsaw is rising. However, the market has stabilised on a low level to respond to lower demand.
Retail The retail sector accounted for 57% of all investment deals reached in the last six months. According to Jones Lang LaSalle, a third of existing shopping centres have already been modernised and around 100 more will need work done before the end of 2014. The sector remained strong in the first half of 2012. There are a number of shopping centres being planned and built, which were previously ignored by investors.
Industrial The warehouse sector is relatively stable with subdued growth in the first half of 2012, compared with last year. Cushman and Wakefield reported that leasing volume dropped by nearly 72% in the first half of 2012 when compared to the end of 2011. A general trend of investment cautiousness prevails.
Residential The price of homes in Warsaw and other big cities doubled between 2004 and 2008, but has fallen since; it is now a buyers' market with little residential construction activity taking place. The end of a government programme to help young couples by subsidising their mortgages for their first apartment has also contributed to a slowdown in the market.
Nevertheless, the Central Statistical Office reported that in the first half of 2012, 79,538 flats were completed and released onto the market, 22% more than in the same period of 2011. The Central Statistical Office also noted that there was a small fall in planning permissions granted between January and June 2012 and the number of residential projects started in this period dropped by 3%, when compared to 2011.
Labour and materials
Building labour rates in Poland are among the highest in central and eastern Europe - well above the rates in the Czech Republic, Hungary and Romania. Nevertheless, compared to western European countries, rates in Poland are very competitive, with site rates for skilled workers currently at around £40 per day.
Materials' prices in Poland ramped up during the boom years when the market overheated, and at one point the cost of
some materials was higher than in
Germany. However, prices since then have fallen and are down to where they were before 2006-08.
Tender conditions
International competition for work remains very high and contractors are once again underbidding in order to secure workload. Where this occurs there is the danger of contractors loosing liquidity, which is currently a major concern for investors.
With tender prices low, it is a very good time for investors to build, providing that the funds are secured and a good quality supply chain is in place.
b / key data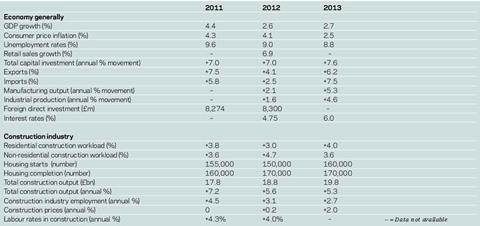 04/ acknowledgements
Thank you to Maciej Kryscinski, Paul Moore and Simon Rawlinson.