Contractors that specialise in techniques of off-site manufacture are well placed to contribute to the cost-effective, high-quality construction that the UK needs in the age of austerity
01 / Introduction
Off-site manufacture is a relatively small but increasingly well organised sector of the UK construction industry, and one that looks likely to make a large contribution towards the government's drive to cut waste. Well publicised investments by major contractors such as Laing O'Rourke in OSM plant, the continuing health of the specialist sector and growing interest from clients in the potential of OSM solutions suggest that OSM firms could emerge from the recession in a position to contribute to a more efficient and cost-effective construction industry.
There are few aspects of construction that have not been delivered using an OSM approach. However, most UK construction continues to rely on site assembly. According to Buildoffsite, a trade body for the OSM sector, OSM accounts for between 6% and 10% of the value of the UK construction industry. This assessment takes into account everything from trussed rafters through modules and unitised curtain walling to sophisticated pre-engineered components such as serviced wall panels or multi-service beams. This finding shows that although much construction work is concerned with the assembly of factory-made components such as steel frames, doors and ceiling tiles, most of the work of integration takes place at the on-site work face and therefore involves waste and reliance on expensive site labour, as well as uncertain quality control.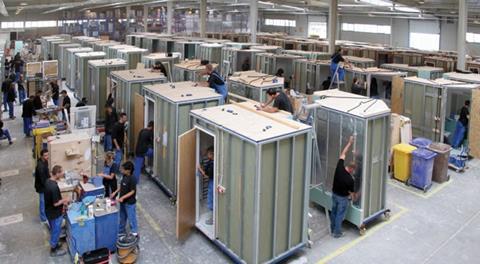 Like the construction industry, the OSM sector operates at differing degrees of sophistication and integration. Most players in the wider industry are familiar with the concept of integrating elements such as pods or unitised curtain walling into more traditionally organised projects, but there is less familiarity with, and fewer examples of, extensive and integrated OSM based on both a greater proportion of OSM in the finished building, and a greater use of a standard kit of parts. Through developments in design technologies such as BIM (Building Information Modelling) and automated manufacturing such as CNC (computer numerically controlled), the vision of "mass-customisation" is probably closer than it has ever been, but there remain a number of barriers to adoption - including the relatively low level of recognition by clients and designers of the range of opportunity available and the difficulty of generating enough volume to justify the investment.
The successful delivery of large projects such as the Ministry of Defence's accommodation programmes, as well as the development of OSM's capabilities over many sectors, has laid the foundation for its wider adoption. Furthermore, initiatives such as Buildoffsite's accreditation scheme, which is backed by Lloyd's of London, will give clients greater confidence with regards to a company's technical competence, effective methodology and commitment to safety. In the meantime, however, competitive pressure in many OSM sectors is very high, and clients and contractors do not necessarily procure these specialist contracts in ways that gives them the opportunity to fully contribute to the development of the optimum, holistic solution.
One of the challenges of the industry is to communicate to end-users the full range of applications that could potentially be delivered using an OSM solution, and to demonstrate short-term and long-term value propositions. A closer relationship between client and specialists will drive this performance leap. Furthermore, the need to drive waste out of the construction process and the opportunities offered for supply-chain integration through BIM are two examples of the additional benefits that could be delivered through the wider adoption of the latest digital technologies.
02 / The dimensions of OSM
The popular image of OSM is of modules, largely because they have been used widely in projects such as residential, student accommodation and hotels. During the recent boom, when all of these sectors grew at a great rate, modular manufacturers expanded and innovated. Probably the most visible developments came through innovation in structural design, enabling ever-taller buildings to be constructed using modules. A 25-storey scheme built by Fleming for the University of Wolverhampton is the tallest all-modular development in the world. Other product developments by modular manufacturers have increased the speed of the erection cycle, or have enabled pods to make a greater contribution to the acoustic and fire performance of otherwise conventionally designed and constructed buildings.
However, there are inherent limitations to designs based on modules, including size, shape and weight, which is prompting development of pre-engineered "2D" components. Wall panels, for example, are available as fully engineered components with building services integrated and ready for plug-and-play assembly. Not only can these be used in isolated applications such as washrooms or as hospital bed-head units, but they also have the potential to form the basis of the kit-of-parts approach, which is necessary for a more flexible approach to the mass customisation of complete buildings. The multiservice chilled beams developed by M&E specialists such as Trox also integrate structure, services and finishes.
2D components such as these can provide further opportunities to make use of the expertise developed in the offsite assembly of building services distribution and so on.
In industry sectors where there is the potential for explosive demand, such as the support infrastructure for nuclear energy, and potentially even institutionally funded private housing, the 2D approach may provide the most cost-effective and resource-efficient means of expanding construction capacity.
The offsite sector also includes a significant component of heavyside structural work. Precast concrete columns, edge-beams and floor slabs are widely used, as are tunnel segments, platform units and so on. Further innovation has taken place in the development of ground beams, structural wall panels and roofing units which could further reduce the extent of on-site work associated with the assembly of the shell.
03 / Current capability
The OSM industry is characterised by a small number of specialists with a reasonably large manufacturing capacity, such as pod specialist RB Farquhar, larger contractors with an OSM capability such as M&E contractor NG Bailey. There is also a second tier of smaller-scale businesses. However, compared with other specialist sectors with a manufacturing base, such as steel fabrication or unitised curtain walling, enterprises are relatively small and are focused mainly on the UK market.
To address the issue of scale, businesses in the sector have historically collaborated to deliver the largest opportunities. The biggest of them all was probably the £1bn SLAM project for the Ministry of Defence, which replaced communal barracks with single rooms, using modular units; this involved a joint venture between Corus, Rollalong and Terrapin.
Joint ventures will continue to be established to respond to large projects, but with the entry of large contractors such as Laing O'Rourke into the OSM arena, capacity should grow substantially - assuming of course that the construction industry recovers over the next two or three years. In common with the rest of the industry, there have been a small number of corporate failures, albeit fewer than might have been expected given the speed and depth of the recession, affecting core markets such as residential.
Many specialist contractors had a successful period up to 2008 and were able to invest in modern plant on the back of high levels of demand - sometimes in low-cost locations in eastern Europe. After 2008, the sectors that had driven most growth, particularly residential and commercial, came to a screeching halt. Investment did continue in infrastructure and public non-housing, which offered opportunities for "heavyside" OSM specialists. And prior to its scaling down of the programme, Building Schools for the Future, for example, was presenting many opportunities to expand the scope of the use of OSM techniques through a settled, fully integrated design and construction supply chain.
Looking forward to future development, OSM specialists are being forced to explore overseas markets as well as the UK in order to secure workload. More effort is also being put into industry bodies such as Buildoffsite in a strategic initiative to develop clients' understanding of the potential of OSM and just what modern factories can deliver. This initiative is important. Swift Horsman, the interior fit-out specialist, can execute sophisticated designs for laboratories and office washrooms (which are one of the most high-profile and design-sensitive areas of office development); however, most enquiries for their panel-based systems come from main contractors rather than clients.
Initiatives undertaken by Buildoffsite include a wide range of industry briefings and stakeholder events, the publication of case studies and the development of industry standards. Buildoffsite is also developing a cost comparison tool that will enable clients to understand all dimensions of the cost comparison between design solutions at an early stage. This addresses a serious sticking point for many clients, and will allow them to make an informed decision on cost and value early enough to avoid redundant design work.
04 / Value added
The benefits of off-site manufacture are well established. They include the following:
Significantly improved programmes times owing to concurrent manufacture and the reduction of on-site assembly
Greater certainty of programme, quality and commissioning
Assembly in factory conditions and the avoidance of damage on site improves quality and product consistency. Cost-effective quality is made possible using just-in-time logistics
Design for manufacture reduces waste and increases integration of the supply chain
Improved working conditions and safety
Maximisation of volume discounts through a consolidated supply chain
Increased potential for deconstruction and reuse of OSM components such as modules
Some specialist contractors have also adopted BES 6001, the standard for the Responsible Sourcing of Construction, which requires documentation of the entire supply chain - a task that is much easier for a manufacturing process than for construction based on on-site assembly.
With the growing importance of corporate social responsibility for many clients, the value of benefits such as waste reduction, operative welfare and custody of supply chain have assumed greater significance. Clients such as British Land have chosen to adopt aspects of OSM in support of their CSR policies.
Integration
Closer integration with the supply chain is one of the potential benefits of OSM. Specialists in the field tend to do most of their materials handling and assembly themselves. Accordingly, the benefits of integration are secured through simplified processes, design for manufacture and just-in-time delivery. Simplified processes include the elimination of duplicate design work, materials scheduling and so on. Design for manufacture might involve the use of pre-cut, outsized panels to minimise waste and on-site activity such as taping and filling; just-in-time delivery helps to minimise inventory costs for all involved.
Design and information systems such as BIM are being widely adopted in the OSM industry to support this level of integration. BIM offers many benefits to general construction, but in OSM it has specific benefits related to areas of practice, including:
Design optimisation to minimise number of variants or number of units
Parametric design of interfaces between each OSM product
The use of the manufacturer's detailed product information in the model
Automated scheduling and call-off of constituent components.
Sequencing and simulation of assembly and on-site construction work.
Firms such as Swift Horsman and Laing O'Rourke have been able to make significant advances in the integration of BIM technologies into their production processes, providing clients and design teams with further benefits related to visualisation, quality control and effective information exchange.

Cost
Cost remains an important dimension and the OSM industry argues that its products achieve parity with conventional solutions, although this is difficult to establish as there is rarely a like-for-like comparison to be made. However, the level of uptake of OSM technologies in cost sensitive markets such as housing, hotels and student residences suggests that OSM solutions were competitive in the upturn.
Another problem is that OSM is rarely allowed to achieve its maximum potential as many of its applications involve integrating pre-engineered elements into an otherwise conventional project. This means that the critical mass necessary to achieve full benefits - typically 50% of total project value - is difficult to generate on many projects.
In the current market, where there is excess capacity in areas such as pod manufacture, price competition is intense. This is in many cases as a result of general tendering by clients or contractors across a framework rather than the development of a bespoke solution through negotiation with a single supplier. Competitive tendering between suppliers of standardised products may mean that some aspects of quality and performance vary unless the specification is highly prescriptive. But even though quality may suffer as the result a reduction in the quality of the specification of finishes and so on, the fundamental benefits of assembly in factory conditions as opposed to site working should continue to be secured by the client.
05 / Procurement
There are an increasing number of examples of where the early consideration of the potential of OSM can transform the way a scheme is designed, procured and assembled. However, schemes of this nature typically need the prospects of assured volume to motivate the initial investment in product development.
Surprisingly, the OSM elements of many projects are procured by way of a convention competition, with little early exchange of information between the design team and the OSM specialist, and limited opportunities for any adjustments of the design to take advantage of the properties of the specified OSM system. A good example of this is the contribution that bathroom pods can make to fireproofing and acoustic performance in cellular buildings such as hotels, if the requirement is considered early enough in the design process.
In the current market, even strategic partners are being required to competitively tender for projects based on proprietary solutions, so the full benefits of product integration are not being secured.
Another aspect of procurement that clients should consider carefully is the extent to which performance specification are used. They are an essential tool in setting out a client's requirements for OSM, and they enable the specialist to propose proprietary solutions or to innovate to meet requirements for dimensional accuracy, economic life, acoustic
performance, regulatory compliance, or whatever it may be. However, in the current market, where cost pressures are encouraging a degree of downward creep in specification standards, it may be useful for the client to incorporate elements of a prescriptive specification for critical elements such as finishes and fittings so that the visual intent is assured, and product quality is not compromised.
The financial stability of specialist contractors is a paramount concern to all clients and all suppliers across the industry are being subjected to a high degree of scrutiny. In this respect, OSM specialists are no different to any other subcontractor.
An increasing proportion of construction work is proprietary and subject to extended lead-in periods, so the risk presented by the OSM specialist is similar to those involved in steel structures, curtain wall and elements of M&E services. Clearly measures need to be taken by clients to obtain assurance with regards to the financial strength of OSM firms, but the risks associated with the adoption of an OSM-based strategy are no higher than those associated with a conventional high-tech construction project.
Looking forward to a more stable market and the wider adoption of elements of OSM, procurement approaches based on the early appointment of specialist contractors are to be recommended. The pre-contract services agreement commonly used for the early design development and procurement of unitised curtain walling is a useful template. It addresses issues such as:
The allocation of design responsibility
Responsibility for the management of site works and integration with other trades and systems
Early confirmation of the suitability of any proprietary OSM solutions.
Confirmation of available manufacturing capacity to meet the programme.
The capability of the main contractor to manage effectively the integration of OSM specialists will be particularly important if the scheme involves more than one of them; this should be considered at the outset of the project.
Acknowledgements
We would like to thank Richard Ogden of Buildoffsite, Kelly Fraser of RB Farquhar, Peter Caplehorn of Scott Brownrigg and Philip Brown of Swift Horsman for their assistance in the preparation of this article.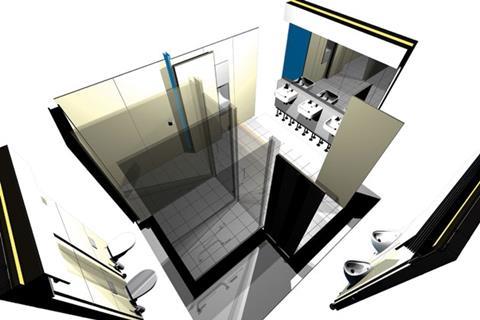 06 / Indicative costs and programme
The bespoke nature of most OSM components make them difficult to summarise because of dimensional differences as well as specification variations in many OSM products. Modules such as bathroom pods are fairly generic and are relatively easy to compare. Other, more project-specific applications such as M&E assemblies, multi-service beams or WC panels are presently more difficult to compare on a like for like basis. The indicative costs of typical modular assemblies are as follows:
Shower module for student accommodation - £2,000-3,000 each
Bathroom module, business grade hotel - £4,500-7,500 each
Bedroom module, business grade hotel - £20,000-25,000 each
Bathroom module, affordable housing - £4,500-5,000 each
Costs are for fully finished modules including site installation but exclude main contractors attendances and completion works such as external cladding and finishes outside of the module. Typical lead-in times are 14 to 20 weeks. Depending on whether a prototype is required for approval prior to final sign-off.