Water companies will have to adopt a 'one-water' strategy if they are to overcome the complex challenges of water quality and availability, and data will be at the core of this integrated approach. Simon Rawlinson and John Lloyd of Arcadis examine the digital transformation of the water industry
01 / The water challenge
With the UK's water sector under huge scrutiny, the submission of water companies' PR24 business plans to Ofwat in October 2023 is an important milestone. If they are to successfully address the parallel challenges associated with water quality and availability, system resilience and affordability, the water companies will need to adopt a joined-up, "one-water" approach – and, increasingly, data will be part of that, supplementing hard infrastructure.
At present, the water sector finds itself between a rock and a hard place. Public disapproval of water quality and water company performance has never been greater. Financial pressures are approaching crisis point for some firms, because of high interest rates. However, even as water companies are held to account for their unauthorised sewage spillages, both Ofwat and the Environment Agency are also under fire for their passive approach to regulation and enforcement. The Environment Act has created new priorities such as biodiversity net gain, more challenging targets, and stricter control regimes. Even as £1.6bn of capital spend is brought forward to address priority issues including sewage overflows, the increasing cost of finance is making water infrastructure a less compelling proposition for investors.
The UK's water system is a mature network. Water companies are responsible for over 200,000 miles of pipework, including 62,000 miles of combined sewers. In addition to the challenges of improving the existing network, which loses a trillion litres a year through leaks, water companies also must plan for the impacts of climate change, and for increased demand.
New targets designed to eliminate combined sewage overflows from sensitive sites including bathing water could, according to the government's Plan for Water, potentially require over £50bn of investment in "grey and green infrastructure" by 2050. Grey infrastructure is the network of physical assets that manage the water cycle; green infrastructure refers to features in the natural environment that can also be harnessed to manage water.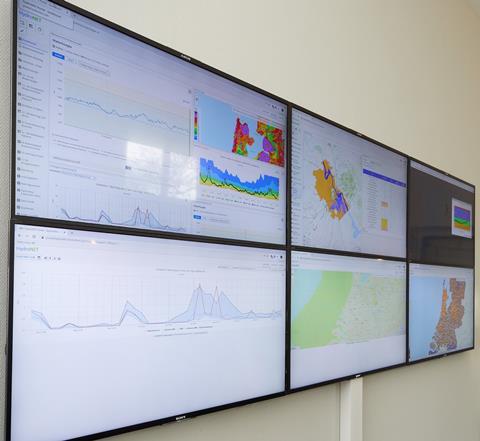 Such challenges demand a change of thinking, and there are encouraging signs that both Ofwat and the UK's water companies are adopting a system-based "one water" approach to integrated catchment management and planning. Such an approach looks at the entire water cycle, thinks of fresh water, wastewater and solids as a resource, and includes regulated and non-regulated elements of the water system within its scope. This change in approach potentially means that water quality issues can be addressed through interventions in farming practice and nature-based solutions (NBS) as well as through changes to the design and operation of the physical wastewater network. Examples of NBS include landscape interventions that "slow the flow" as well as storage features including constructed wetlands.
However, a system-based approach will not work without data or models. Considerable progress has been made in creating a basic data network with, for example, 90% of the UK's combined sewage outfalls now being monitored automatically. As the cost of sensing falls, as AI facilitates the use of large datasets and as modelling capabilities expand, the potential for data-enabled decision support systems to optimise catchment management will increase. Access to more data will also facilitate the development of NBS by improving understanding of how water catchments work and enabling the modelling of more complex interventions over longer timescales.
In summary, the conventional silo-based approach to fresh water and wastewater management is no longer appropriate to meet the challenges faced by the UK's water network. Integrated, multi-party approaches are needed to address problems such as nutrient neutrality and water availability at source. Digital and data systems will provide much of the glue needed to bring these systems together, as well as the intelligence to run them at their best.
02 / AMP8 – accelerating long-term investment
Preparations are well under way for AMP8, the water industry's asset management period covering 2025 to 2030.
The background is difficult for all parties. Substantial fines have recently been levied against some water companies for operational failures, and there is a wider investigation in connection with the legality of discharges from combined sewer systems. Covid-19 and a price control challenge by four water companies disrupted the start of investment during the current AMP7, meaning that enhancement programmes are behind schedule. The final determination for AMP8 will undoubtedly see an increase in investment but will also mean a tough settlement with respect to many matters including returns on capital, dividend policy and even the payment of bonuses.
As highlighted in the introduction, as well as keeping the taps flowing, the industry is operating in an increasingly challenging and dynamic business environment.
Ofwat, the industry regulator, has set four areas of focus, which cover:
Protecting and improving the environment in the context of climate change
Achieving public confidence and affordability in the face of cost pressures
Innovating and collaborating to transform performance for customers
Anticipating and adapting to uncertainty and change.
An effective response to these big challenges demands a change in thinking.
Firstly, AMP8 will include a 25-year planning dimension as well as a five-year investment cycle to address the climate change dimension. This will require a new adaptive planning capability using models to optimise a wide range of nature-based and infrastructure-based solutions.
Secondly, the focus on environmental and social value is likely to encourage more partnership-based solutions, including working with farmers to manage unregulated effluent flows and with planners to facilitate housing development without upsetting nutrient neutrality.
>>>Also read: The innovations to tackle construction's carbon problem
>>>Also read: Why don't we think of water as part of the sustainability crisis?
Thirdly, the continuing need for performance improvement is likely to drive an acceleration in digital transformation using open data and customer data to explore every option to use water and the water network more effectively.
Finally, the customer relationship will become even more acute, with the public much more interested in water company performance but also at the same time being expected to play their part by changing consumption patterns.
Ofwat does not plan in isolation, and with the public getting more concerned about water quality issues, the government has stepped in with its long-term Plan for Water, which was published in April 2023. Its publication coincided with an announcement of £1.6bn of accelerated investment in environmental management.
The Plan for Water highlights steps already taken that contribute to the new systems approach, such as legally binding pollution targets and the implementation of the Sustainable Farming Incentive.
The plan has three key components:
Promotion of integrated catchment management (the one-water approach)
Pollution reduction
Additional supply, facilitated by new capacity, leakage reduction and demand management.
Whether needed to support the adaptive modelling of new solutions, operational optimisation, or demonstration of the achievement of objectives, data-based solutions will clearly have a critical role in enabling the effective management of one-water solutions.
03 / One water – implications of the catchment management approach
Although the ownership and management of the UK's water networks is organised by catchments, the day-to-day management of the water system is structurally fragmented. Water companies are responsible for the management of the regulated network and the water flows within it. Rivers are managed by other bodies including the Department for the Environment, Food and Rural Affairs (DEFRA) and the Environment Agency. Local authorities and other organisations including National Highways manage and maintain storm water drainage assets. Other stakeholders such as farmers also play a key role in managing water quality and overland flows.
A one-system view focuses on the management of water and waste assets at all stages of the water cycle, and on the use of a whole range of green and grey infrastructure, including nature-based solutions and water networks to store, transport and treat water.
In the face of a climate and ecological emergency, a fundamental change to an integrated water management methodology is required. The consequences of silo-based working are becoming clearer as water scarcity worsens and as environmental stresses such as nutrient pollution or wastewater discharge rise up the agenda. Emergent issues such as PFAs, the family of "forever chemicals" that leach into groundwater resources, will also require a multi-party approach to mitigate the effects.
One-water thinking is well advanced in the US, where water networks are even more fragmented than in the UK, and where water scarcity is driving a much more proactive approach to water recycling as well as storm water management.
Common traits of the one-water schemes that Arcadis has worked on the US include:
Integrated planning across the entire water cycle, including water recycling
Use of whole-life cost planning in option appraisal
Preference for the adoption of closed-loop solutions that combine, for example, energy recovery and nutrient management to deliver better water quality outcomes
Widespread adoption of NBS as an integral part of new water investments
Core role of data and technology as an enabler.
A good example of a one-water approach in action is the Harvest Water scheme, developed by Regional San in Sacramento California. Once operational, it will supply recycled wastewater for agricultural irrigation for 16,000 acres of farmland and habitat.
The one-water principles that the scheme illustrates include use of wastewater as a resource, increased groundwater storage, improved climate change resilience and a wide range of ecological benefits including habitat creation and reduced river salinity load. Harvest Water is currently in the late stages of design and should be operational by 2025.
Combined sewer overflows – how data and technology will help mitigation of impacts
One of the most controversial aspects of future investment in the water network is the programme to eliminate storm water overflow discharges.
Combined sewer overflows have been a feature of the UK water network since the Victorian era, ensuring that during intense periods of rainfall people's homes and property were not at risk of flooding from an at-capacity wastewater system. Most modern-day water networks now seek to separate waste and surface water flows, accounting for the pressures introduced on combined systems by growing populations and more frequent, higher-intensity storms. Overflow discharges release untreated sewage into water bodies and are part of why only 16% of water bodies are rated good against the UK's exacting environmental standards.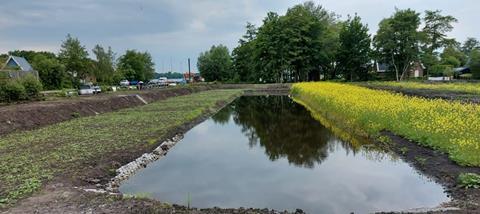 The storm water overflow controversy has developed partly due to a lack of transparency. Although there has been significant investment in upgrading the network since 2010, comprehensive monitoring was not introduced until 2020, at which point the scale of the problem, involving 2.7 million hours of discharge in 2021, became apparent. A range of solutions that slow, store or separate storm water flows from the sewer system will be needed to address the problem and could cost over £50bn to deliver by 2050.
Data and modelling will play a key role in addressing the problem, partly in providing the evidence that water companies are complying with regulations and that targets are being met, as well as in identifying the best combination of grey- and green‑infrastructure solutions to eliminate future overflow events.
Solutions will need to be developed on a catchment-wide basis. With NBS in particular, many of the new assets will not be part of a water company's asset base and a far more extensive data model will be required to design and operate water catchments as a single entity. As our WiSDM-O case study illustrates, models fed by real-time data and supported by machine learning are already enabling water catchment managers to predict and respond to changes as they occur.
Having this level of data will be essential to deliver the programme. Ofwat is clear that investment programmes cannot really be accelerated until the evidence is available to confirm that planned measures are having the desired impact. Good-quality comprehensive data will enable spend to be brought forward by demonstrating that it is delivering results.
04 / How data and modelling enable a systems-based approach
Among the main blockers to the one-water approach, the most common and intractable are the siloed ways of working that affect the development of new solutions as well as the management of existing assets. Data has a critical role in enabling working across silos. This can be seen in connection with water quality monitoring, where there is not enough data available to separate the impact of different pollution sources. Better-quality, more complete data will help to identify the best combination of interventions, ranging from slurry containment on farms and physical improvements to wastewater works as well as changes to rainwater discharge routes.
While the ultimate aim of a catchment level data system might be to enable complete integration of asset and operational data with field operations such as responsive repairs, the current focus of data initiatives for PR24 is more on the development of complex and dynamic catchment management models. These can be used to support and record the basis for decisions in connection with both short-term operational needs and longer-term investment planning. Examples are given in the case studies opposite.
These developments highlight that expectations for data management have changed for PR24. Ofwat expects that data will be available to explain and justify investment decisions. There will also be a big shift from laboratory-based analysis to real-time monitoring. As a result of changed expectations, digital capability is becoming an area of frontier performance, with the leading water companies expected to demonstrate their ability to model changing user needs, climate change impacts and optimised expenditure scenarios.
Another area of change is the wider adoption of open data. Ofwat is actively promoting open data as part of its PR24 preparations. Ofwat sees open data as a catalyst for innovation in new business models, an efficiency driver for catchment wide challenges and a source of transparency, providing customers with more data on asset performance. As an example of how open data can be used to increase customer engagement, DC Water, the water utility for Washington DC, operates a portal (dcwater.com/open-data-portal) that provides easily accessible granular data on network condition, capital programmes, sewer overflow events and even the operational status of fire hydrants.
For PR24, Ofwat's main focus is on environmental protection and climate change adaptation to ensure long-term water supply as well as meeting customer expectations. Portals like that developed by DC Water could go a long way to increasing customer trust as well as enabling customer services.
Barriers to the successful adoption of technology solutions are well known, including the quality and interoperability of data, the analytical capability of water companies and their teams and, of course, the willingness to share data. Ironically, another barrier is the absence of compelling use cases. Data that is collected but which is not used is a wasted resource. The case studies opposite highlight very specific data applications, demonstrating how a one-water approach can be supported by well-focused digital solutions.
Case study applications
HydroNET
HydroNET is a digital decision support system, part owned by Arcadis, which is designed specifically to address integrated water resource management requirements. It was originally developed to support the management of the complex system of rivers, canals and polders found in the Netherlands and now has over 8,000 users worldwide.
HydroNET is used to address water system challenges including extreme weather events, urbanisation, pollution and ecosystem loss. The system integrates historic and real-time data, applies a wide range of water intelligence applications based on models, rules and AI and provides a full suite of reporting and visualisation tools (pictured below).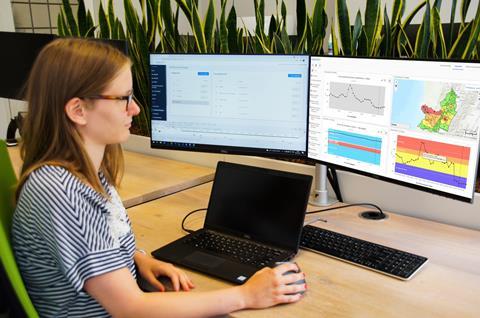 Digital water control rooms integrating climate, weather, water and system data, combined with alerts and suggested actions equip, support and record the basis for operational, tactical, and strategic decision-making. Use of HydroNET enables operators to minimise damage from floods and other events, saves operational and capital costs through decision optimisation, and saves time by automating the capture of weather, SCADA (supervisory control and data acquisition) and telemetry data. Further details can be found at www.hydronet.com.
Port Authority New York New Jersey asset resilience modelling
Arcadis was commissioned by PANYNJ to undertake a detailed assessment of the vulnerability of surface assets to flooding risk related to climate change. The model developed by Arcadis accounts for the precise height of flood protection, predicted water movements within a tidal basin in response to storm events and a system-wide model of the cumulative impacts of different combinations of asset failure.
Profiles of the risk to the network associated with each asset are built using Monte-Carlo simulation. The model identifies the optimum combination of flood protection investment with respect to inclusion in the programme and sequencing. Different combinations of investments can be assessed to validate their effectiveness in managing long-term risk.
WiSDM-O
WiSDM-O is a data-enabled catchment management system implemented by Arcadis and a UK water company. The system was implemented in response to climate change issues and changes in water usage. WiSDM-O combines detailed water asset and water network models with weather data and area-based water usage data to ensure that water demand requirements can be met. They system enables the water company to predict local water demand and water flows to 99% accuracy, enabling it to optimise water asset management.
05 / Conclusions
One-water principles will define the future management of water assets in the UK. The only way in which future supplies can be assured, water quality can be improved, and the system can be future-proofed against climate change is to consider all aspects of the catchment – from the rills and streams at the headwaters to the "end of pipe" solutions provided by water companies. Knowing which interventions are the most effective is fiendishly complex. Ofwat is promoting adaptive planning until climate change and water system performance can be better understood. What is clear is that data and digital systems will play a crucial role in the future management of catchments by providing data, by modelling options and by providing a record of the basis on which decisions were made.
The challenges of the AMP8 management period will be formidable; many water companies are investing record sums in their capex programmes and the margins for error have, arguably, never been so slim. Meeting this challenge requires a solid strategy based on evidence and understanding. To maximise impact, the industry must work with all stakeholders, building trust and securing support. Digital solutions do not hold all the answers, but can be a catalyst for change, providing a compelling narrative for modernisation, optimising investment and delivering results for communities and nature.