Hall McKnight claimed the Architect of the Year Award, while Sanchez Benton Architects is named Young Architect of the Year for 2023
The winners of the Architect of the Year Awards 2023 have been revealed.
At a ceremony held at The Brewery in London tonight, 15 practices shared out 17 awards, with Hall McKnight claiming the coveted Gold Award – the prize for the 'best of the best' selected from the winners of the other categories.
Sanchez Benton Architects won the prestigious Young Architect of the Year Award, which recognises practices where the majority of principals have been practising for 12 years or less.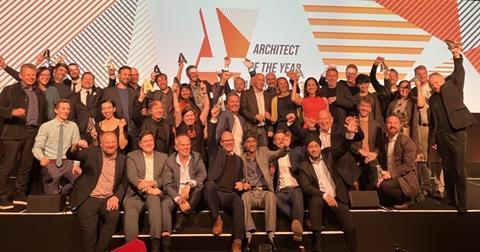 Hosted by comedian and TV personality Alexander Armstrong, the evening saw the best of the architecture sector gather to celebrate the winners.
Other practices to claim awards included Bell Phillips, Coffey Architects, Morris + Company and Piercy & Company.
Chair of the judging panel Thomas Lane said: "This year's entries reflect the growing trend of reusing buildings rather than building anew. There were plenty of examples of the inspiring, imaginative repurposing of buildings from all periods including the work of our Gold Award winner, Hall McKnight, who carried off the trophy for refurbishment architect of the year too.
"And in a related vein, there was a lot of competition in the net zero category The winner, van Heyningen and Haward, showed the value of comprehensive carbon data and applying the lessons learned from earlier projects to subsequent work."
View all the winners in the list below.
Architect of the Year 2023 winners
Higher Education Architect of the Year - Sponsored by Carlisle - MCW Architects
Interior Architect of the Year - Sponsored by Zentia - Piercy & Company
Office Architect of the Year - Morris + Company
Industry/Manufacturing Partner of the Year - In partnership with Construction Products Association - Future Joinery Systems
Public Building Architect of the Year - Sponsored by Vandersanden - Hugh Broughton Architects
Private Housing Architect of the Year - Howells
Social Value Architect of the Year - Jan Kattein Architects
Young Architect of the Year - Sponsored by Ryno - Sanchez Benton Architects
Net Zero Architect of the Year - In partnership with the UKGBC - van Heyningen and Haward
Public and Social Housing Architect of the Year - Bell Phillips
Refurbishment Architect of the Year - Hall McKnight - Highliy commended: Mikhail Riches
Education (nursery to 6th) Architect of the Year - NVB Architects
Best Architect Employer of the Year - Holland Harvey
One-off Small Project Architect of the Year - Hall McKnight - Highly commended: Studio Weave
Individual House Architect of the Year - Coffey Architects
Retail & Leisure Architect of the Year - Hollaway Studio
Gold Award - Hall McKnight