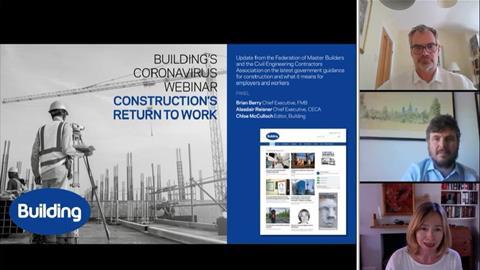 Get a construction update as the industry returns to work from two key trade organisations, the Federation of Master Builders and the Civil Engineering Contractors Association, explaining what all the latest government guidance means for employers and workers.
At 3pm on Tuesday 19 May Brian Berry, chief executive, FMB, and Alasdair Reisner, chief executive, CECA, shared insights on the challenges and opportunities ahead, including:
Latest government guidance for businesses on how to operate safely
What firms have been doing during the lockdown phase and how lessons can be applied as the industry restarts at scale to help drive the economy
How businesses – including SMEs – can start to increase activity levels while protecting cashflow and the government support schemes available to them
How to engage effectively with employees and customers to increase confidence in new ways of working
The role of public and private sector clients in providing a visible pipeline of work and in protecting the supply chain during a time of uncertainty.
This webinar was chaired by Chloe McCulloch, Building's editor.
Register now to view this webinar.