During the covid-19 outbreak Building's Proud to Help campaign has highlighted construction's work with the NHS to build healthcare facilities smarter, quicker and cheaper. Join the project team behind the £350m Grange University hospital that was more than halfway through the build programme when the coronavirus hit and hear how they were able to open up parts of the building ahead of schedule for recovering patients.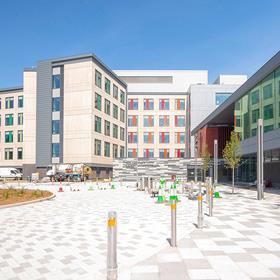 Laing O'Rourke, Gleeds, BDP and the Aneurin Bevan University Health Board share how the use of offsite manufacturing on the Grange University Hospital in Gwent, South Wales, saved time, reduced the number of site workers and created a collaborative environment to work together to solve problems.
They also talk about how the flexible design allowed spaces to be rapidly repurposed.
The discussion covered:
• The client's original brief for new healthcare facilities providing specialised acute services
• The collaborative framework in which the project was set up
• The specific design and construction methodology used
• How the team had to adapt and respond to the pandemic
• Lessons for the next generation of NHS hospitals
The speakers on the panel are Mike Lewis, project director, Laing O'Rourke, Adrian Hitchcock, architect director, BDP, Nicola Prygodzicz, executive director of planning digital and IT, Aneurin Bevan University Health Board, and Victoria Head, project director, Gleeds.
This webinar was chaired by Chloe McCulloch, Building's editor.