Keepmoat has had a choppy 12 months since its merger with Apollo. But new boss Dave Sheridan is confident that the wind is changing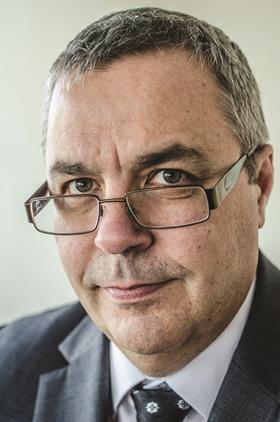 A year ago this month, a new £1bn-turnover contracting giant was formed from the merger of social housing builders Apollo and Keepmoat.
The merger wasn't made in the most ideal of circumstances. Beforehand, both businesses were, through no fault of their own, suffocating under a £700m combined pile of debt taken on before the recession to finance their respective management buyouts - a situation the deal did little to alleviate. So despite the management's rhetoric of growth, it wasn't much of a surprise that the first act of the merged body - which has taken the Keepmoat name - was to make more than 200 staff redundant. Then just six months later the manbrought in to lead the merged business, former Taylor Wimpey director Ian Sutcliffe, left without explanation, one of 10 directors to depart both businesses in 2012.
Despite this troubled year, the man to take over from Sutcliffe, former Apollo chief executive Dave Sheridan, seems to have a spring in his step. The reason? A refinancing in October 2012 that saw Lloyds Banking Group swap £348m of the debt pile for a majority stake in the business, more than halving its interest payments. With the major restructuring over and this new financial settlement, Sheridan says the company is finally able to start looking forward again. "The business has been through tremendous change.
With the clarity around the regional structures now people can see where they fit - there are no longer people turning up with redundancy slips, there are people turning up talking about what work they're going to win, where we're going to go next, and investing in bid teams to go and chase work. The biggest success is seeing smiling faces around theoffice."
Nevertheless, a firm that gets 98% of its business from the public sector clearly still has serious challenges in the continuing climate of austerity. So what is Sheridan's vision for the future of the business? And how will he approach the issue of underbidding that has dogged contractors in the social housing world for so long?
In the genes
Given the recent history of social housing contracting, you couldn't blame Sheridan were he to look elsewhere for work - the sector has been subject to three of construction's biggest corporate failures, in Connaught, Rok and Kinetics, and deep public funding cuts by the government, which ultimately pays for much of the work. But the former QS, brought up on a social housing estate in Middlesbrough, is having none of it: "I'm having fun, so long may it continue. Communities and people are what drives me, I get my energy from people. I've been in social housing for longer than I can remember now. It's in my DNA."
Sheridan, who was initially made managing director of the northern business after the Keepmoat-Apollo merger, could be thought of as doubly lucky to be in the top job: as well as benefitting from Sutcliffe's shock departure, he had only become chief executive of £300m-turnover Apollo after the premature exit of that firm's chief executive Rob McGregor in 2009. At just 50, it has been a dizzying rise to the top for the former Kier building maintenance northern managing director. One industry source from a competitor organisation says: "Everyone knows this is a big job for Dave, but he's got a lot of respect from the workforce and is a decent bloke. Since his arrival, Keepmoat's reputation has been on the rise."
There are no longer people turning up with redundancy slips, people are turning up talking about work they're going to win
If last year's refinancing was an ordeal, it at least gave Keepmoat a balance sheet that allowed it to be more candid about the value of its business: the accounts of its holding company, Lakeside 1, show the refinancing was possible only after a £340m write-off of the estimated value of the merged companies. With the departure of Sutcliffe, who one source suggests was more interested in change management and deal-making than the nitty-gritty of running a social housing contractor, went also the "wildly optimistic" - in Sheridan's words - predictions of a doubling of turnover in five years. In came a "sensible, gradual" growth plan agreed at the refinancing. Sheridan says: "We took a reality check. Our clients are grounded in reality, they're having to face challenging decisions every day. For us to go and sing a song of blue skies and rainbows would be wrong.
"At the time [of the merger], Ian was quite correct to be ambitious for the business, but I don't think the government cuts were fully understood, and I think the mechanics of puttingtwo businesses together - there were a few more complications than were foreseen."
If Sheridan knows why Sutcliffe left, he's not saying. "I think Ian achieved two primary goals, which were the refinancing and the merger of the business. He can be proud of what he achieved. Like all these things there probably is a story there but I've never bothered myself with it. If I did you start becoming a gossip-monger, which is definitely not the business I'm in."
Where's the growth?
So now he's in charge, what is Sheridan's vision? Keepmoat's core business, he says, will remain in major refurbishment work to social housing - business that made up about 60% of its £1.04bn turnover in 2012. However, he admits that, with the ending of the Decent Homes programme, workloads will reduce. "It's about consolidation in that sector," he says.
Growth, Sheridan says, will principally come from three areas: first, responsive maintenance, where Keepmoat's work has already risen from £7m to £35m annually and ispredicted to reach £50m next year; second, social housing new build, particularly in the south of the UK; third, in providing facilities for care for elderly people.
Sheridan says growth in both the new build and refurbishment market will require Keepmoat itself to stimulate opportunities by offering innovative financing arrangements to local authorities that have big ambitions and surplus development land, but limited cash. It is also looking to grow - "at a sensible incremental rate" - its private sale housing business, so far targeted mainly at first-time buyers in the north.
Sheridan is targeting work on eco-refits under the Green Deal and Energy Company Obligation (ECO) schemes, but sees this largely as a route to stabilising the contraction in its core planned maintenance market rather than a huge growth area in itself. Keepmoat is seen as one of the leading contractors in the Green Deal space, but Sheridan admits it is not yet clear how big a boost this will provide.
We took a reality check … For us to go and sing a song of blue skies and rainbows would be wrong
This scepticism may have something to with Keepmoat's experience with another green market, photovoltaic installations. Last year's accounts show it had to write off a £400,000 investment because of the government's abrupt policy U-turn on feed-in tariffs (FIT). "The FIT thing could have been handled better. It probably means we're more cautious about what we get into, and it has made all of the sector and all of the investors more cautious."
The education market is also, clearly not one where Sheridan foresees growth. While he rejects the notion Keepmoat will exit it altogether, there is no desire to focus on this work, despite Apollo winning a place on the Department for Education's contractors' framework before the merger. "We're not going to spend millions on bidding work fighting over scraps. There's others better placed to do that, and to be frank, for one of the schools we walked away from last year, to do it at the margin we were requested to do it [just] wasn't worth it."
All in all, Keepmoat's new realism means that it is now predicting turnover to fall in its 2013 accounts (to 31 March) to £950m - below the iconic £1bn figure that was so heavily trailed as part of the merger discussion - and remain at much the same level in 2014. Much more important, though, is the fact that the refinance means Keepmoat will be able to show its first pre-tax profit, taking account of interest payments, since the merger and, "for a long time" before that as separate companies. It gives the firm a larger £125m revolving credit facility, giving it cash to operate. "There's sensible interest repayments [now] - giving us significant cash headroom," says Sheridan. "We're in good shape. We're now hiring people. People talk about people leaving the business - I'd rather focus on people moving in who are going to facilitate the new Keepmoat moving forward."
Taking it on the chin
Keepmoat's return to profit will, however, come at a time in which underbidding, particularly in the social housing world, remains very high on the agenda. Last month Mears chose to walk away from contracts entered into by its recently purchased subsidiary Morrison because of uneconomic margins. And Keepmoat itself revealed in its 2012 accounts that it wrote down £17m against losses on design-and-build contracts in the West Midlands.
What happened, and how will Sheridan ensure nothing similar happens again? "It was a combination of events: an untried delivery team and some aggressive pricing," he says. "[Since then] we've done what Keepmoat does best and traded through the issue rather than run away [from the contracts]. I'd like to think that one of the good values of the business is we solve our issues in partnership with our clients."
Sheridan says he has reinforced the company's commercial processes and invested in an IT platform which ensures any contracts above a certain risk rating get flagged to the main board for approval. "I think in the past there was some delegated authority for people to do things that maybe they shouldn't have done. We've moved on. We're confident with the new management team in place, and the new controls we've got in place."
He is also optimistic that general consolidation in the market, including the purchase of Morrison by Mears, means that the problem will diminish. "There are very few people bidding below cost any more," he says. "Mears is a good business, so we think the Mears and Morrison consolidation is good for us. One, it'll open up some space in the market. Two, it'll bring some sensibility [sic] to a player who was maybe looking for market share for other reasons rather than business development."
Which is another small reason for optimism. Like nearly all of the construction firms bought at the height of the market with the backing of the Bank of Scotland, including housebuilder Crest Nicholson, both Keepmoat and Apollo were left struggling with the after-effects. But, as with Crest Nicholson - which last month floated successfully on the stock exchange - for Keepmoat it feels like, finally, a corner may have been turned.