The new chairman of Build UK reckons construction's business model is broken. He tells Dave Rogers what he thinks it will take to fix it – starting with greater certainty from government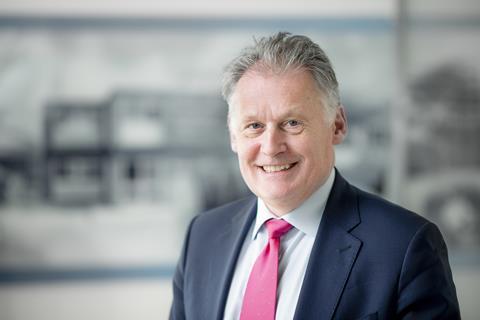 "As a chief executive of one entity, your ability to influence the industry is quite minimal. You're just a pawn in the game." Andy Steele is explaining why he has decided to take on the chairman's role at Build UK, the industry trade group credited with having played a key role in helping construction to navigate its way through the pandemic last spring, when the prospect of the first looming lockdown sent a collective shudder through it.
Steele, who is also the chief executive of Osborne, is honest enough about the task ahead and pulls no punches when discussing the state of UK construction right now. "The business model is broken," he says.
"You can't have an industry that can't invest, has an ageing workforce, businesses constantly going out of business, while those who remain struggle from losses to a little bit of profit and you have a supply chain that's fragmented and fragile." As in-trays go, then, Steele's seems frighteningly full – and he is only a few weeks into the job.
You can't just turn the labour tap off and not expect any impact. There needs to be an understanding of what the industry requires

Andy Steele
For those who might think that this is being a bit bleak, consider the events of the past few weeks. The panic at the pumps – caused by a shortage of HGV drivers to get petrol to garage forecourts in the first place and then turbo-charged by panic buying – has for many held up a mirror to what is coming down the track for the industry. Steele thinks the government will have to rethink its shortage occupation list to include construction, now that the UK has left the EU for good. "You can't just turn the [labour] tap off and not expect any impact. There needs to be an understanding of what the industry requires."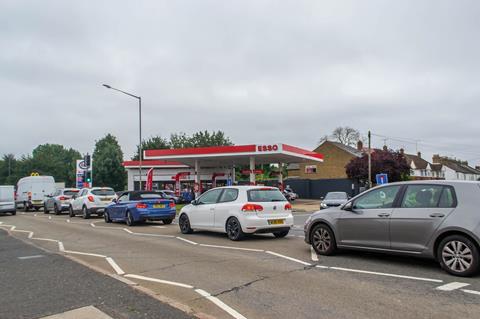 He says the government's line about turning the UK into a high-skills, high-wage economy misses the point. "What about the now? It's not a quick fix. To get labour to the level of skill needed will take a number of years."
Too white, too male, too many antisocial hours, too much hard graft – perceptions about construction count against it among young people, Steele adds. His assessment is blunt: "We need to be able to attract more people, to be able to train them into an industry that is not attractive to a lot of people."
Hard graft, low profits
Last week, listed civils and building contractor NMCN went into administration after 75 years of trading, weighed down by crippling losses on several schemes – which had held up the publication of its 2020 results on which a rescue deal had hung. A company called Svella was waiting in the wings to sign off a refinancing package, but even a business set up to bail out stricken firms exactly like NMCN could not get it out of the mire. Steel firm Cleveland Bridge, which has been going even longer, has sunk as well, with an auction to sell off equipment and assets from its Darlington factory due to take place in November.
And, this month, Osborne itself filed a set of accounts which again showed up the yo-yo nature of the industry's finances. The firm went from a £4.5m pre-tax profit in the year to March 2019 to a £13.8m loss in the 18 months to September last year. "Extremely disappointing," admits Steele.
But it doesn't have to be like this, he says. "Construction is massive. If our industry is not thriving, then the country is not thriving. It is the second-most important industry out there. Food is about surviving, the built environment is about shelter. Nothing exists without our industry."
A QS by background, Steele is undoubtedly a fan of the industry. He started out at Osborne before stints at Mowlem, later bought by the now defunct Carillion, Morgan Sindall, the star performer among listed contractors, and Connaught, another listed firm which went into administration in 2010. Steele, who was a managing director at the Exeter-based firm, had left the business some years before, at the end of 2005, after disagreements with the then senior management over its future strategy.
Andy Steele CV
1985 Graduated from Portsmouth Polytechnic with a degree in quantity surveying
1985-89 Quantity surveyor, Osborne
1990-95 Senior managing surveyor, John Mowlem
1995-2000 Commercial director, Morgan Sindall
2000-05 Commercial director and then managing director, Connaught
2005-10 Chief executive, Stephens Scown Solicitors
2010-12 Owner, Access Performance Solutions, a consultancy business mainly specialising in law
2013- Managing director and then chief executive, Osborne
2017-21 Vice-chair, Build UK
2021- Chairman, Build UK
He was headhunted to run a South-west-based law firm called Stephens Scown for nearly five years before setting up his own consultancy business specialising in law. He received a call from Osborne's then boss, David Fison, to carry out a strategic review of the business in 2012 and was asked to stay on. He became managing director of its construction business the following year, ahead of taking the chief executive's role six years ago.
In all that time, he says that the number one concern has remained the same: construction's pipeline of work. "How can any construction company ever invest, ever understand what its future workload is going to be unless it has got security of pipeline?
"Basically, at the moment, it's just a combination of projects which ebb and flow. It takes 12 months to convert a second-stage bid because of budget issues, and there is the constant value engineering – which it isn't, it's cost reduction."
Steele is not alone; his peers are saying the same thing. "The UK's predicted pipeline of work is very strong, but industry requires much more certainty around when and how major infrastructure will be phased and delivered," says Aecom Europe chief executive Colin Wood.
Gamechanger
But there is hope, reckons Steele. "To me the Construction Playbook is a fundamental gamechanger. It's the first thing I have seen that says: look, guys, these are the issues and this is part of the solution."
Launched last December, the initiative is the government spelling out how it wants to work with the industry in the future. Steele adds: "The Construction Playbook is trying to turn a pipeline of work into a portfolio of work. Then we can look at economies of scale, driving efficiencies in design and production, and look at offsite as part of the solution.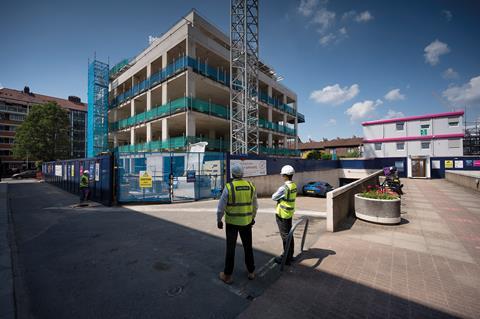 While he thinks the government has got it right with the Construction Playbook, he worries that an industry at the heart of the Johnson administration's levelling-up agenda and post-covid build-back-better initiative still does not have enough clout in Whitehall. "It has been something like 21 construction ministers in 20 years," he laments. "That's not a great place. I don't think construction has a high enough profile in government – it's too fragmented across government."
He says that if the government starts to take it more seriously, then others will as well. "If the supply of work is coming through, then as an industry people will invest in us. Construction is not liked by the banks. If we can't borrow or invest, then we're reliant on profit."
Steele echoes many when he says that the industry spends too much time reinventing the wheel. "We need standardisation of design and components. We can still have architectural flair, but we don't have to build something from scratch every time."
Called Innovaré, Osborne has its own offsite manufacturing arm based in Coventry, where around 80 staff are employed. But Steele says the complex is subject to the same pipeline of work headaches as the rest of the industry.
"Our biggest challenge is: when is a project going to take place? We can have massive peaks and troughs, which make it very difficult to manage. You have very fixed overheads with offsite, and it can be very, very difficult to flex that.
"It's either feast or famine, and it doesn't work in a manufacturing environment. How can we invest in MMC when we have got that level of inconsistency?"
It all comes back to the pipeline of work, Steele says. "Getting better transparency of workflow means we become attractive; we can start to sort out the skills issues. There has to be a better balance between risk and reward. As an industry, we're saying to the customer: we don't want to take all that risk."
I don't think any CEO or owner of a company would not have been scared by the outcome of Grenfell. If you are involved in the industry, you can see how this happened – that's the scariest bit

Andy Steele
Trying to cut corners to save money can have horrific consequences, he says, adding that the Grenfell Tower fire, in which 72 people lost their lives more than four years ago, is a case in point. "I don't think any CEO or owner of a company would not have been scared by the outcome of Grenfell. If you are involved in the industry, you can see how this has happened – that's the scariest bit.
"If you're under financial pressure on a scheme and somebody has promised an alternative solution, you think you've done the right thing, people have signed it off and it's turned out to be something that is fundamentally wrong, as in that case.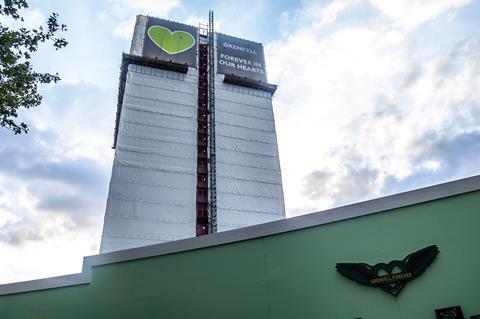 "You might be shocked by some of what's come out in the details [of the public inquiry into the fire] and how cavalier some of the responses [at the inquiry] have been but, equally, you hope that your internal governance processes are strong enough that it wouldn't have happened in your company."
All this change is required because of the spotlight thrown onto the industry by issues such as Grenfell, Brexit and the covid-19 pandemic, Steele says, adding: "People are moving past covid now. We're starting to look at what that means in the recovery stage and how to move the industry forward."
He might have been in charge of a group of lawyers at the time, but Steele says the financial crash of 2007-08 does not compare with recent events. "Covid was worse. It stopped production."
He is hoping that, when his two-year tenure ends, he will have made some inroads into that mountainous in-tray. He plans to bring clients into Build UK but has sharp words for them as well, pointing out that too many are still "expecting to get their buildings built for the same budget" in the wake of rising labour and materials costs.
He saw the good and bad of clients during last year's first lockdown, as contractors and clients up and down the land sought to work out who was liable for what. "The bad ones were bad: they'd say it was tough. The good ones were quite good."
Steele ends with something close to a parable to make the point about the kind of change that construction needs to be embracing. "If we go into a green field to build something," he says, "we basically get a team of designers we may not have worked with before and then we get a fragmented supply chain, some of whom will come into the field and others who will be outside it. If that was the motor industry and they were building a car, they would call it a prototype. When we do it, it's the finished product."