Building's inaugural Christmas quiz was a riot of bantz, brilliance, beer, and Beyoncé (though sadly not in person). Instead, quizmasters Iain Parker and Erland Rendall designed some robust rounds to settle the question: who's the braniest of them all?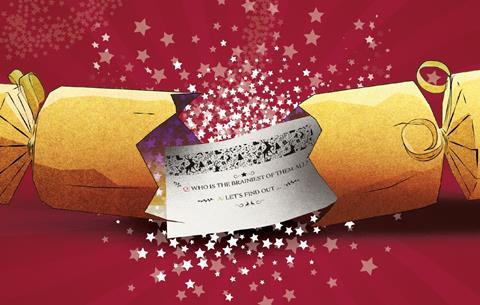 Quiz yourself! Click here to try some of the questions from the Building Quiz - test your colleagues or just yourself to discover your quizzing prowess. Put those phones away…
There is nothing like a pub quiz, and true to form the Building Quiz – held last month in aid of construction charity Crash – was absolutely nothing like a pub quiz. In fact it was far better than a pub quiz. It is safe to say that few boozers can rustle up quiz meisters who have the panache, the wit and let's be honest, the hats that Alinea founding partner – and Building's very own 2018 Personality of the Year – Iain Parker and Erland Rendall, formerly of Davis Langdon, now ploughing his own furrow as an independent consultant, do.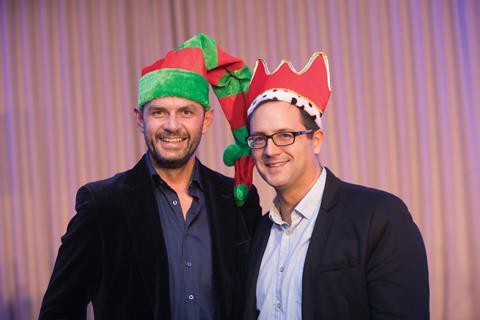 Donning traditionally silly Christmas headgear Messrs Parker and Rendall hit the ground running, quickly establishing themselves as a double-act par excellence, exuding authority, reining in those revellers who got too rowdy and dealing calmly and confidently with challenges from those teams who felt the "official" answers were wide of the mark. Divvying up each round of 10 questions between them, the pair's patter ran smooth, their skills as masters of ceremonies clearly evident and their control of the room second to none. Not to put too fine a point on it, they were the Ant and Dec of the Building Quiz world. Few can claim those sorts of plaudits.
Look, I'm a quantity surveyor. I've counted the snooker balls four times and I know what I'm talking about

Iain Parker, Quizmaster-General
The contenders:
Alinea 1
Alinea 2
Lendlease
BDP
Building 1
Building 2
Crash
J Murphy & Sons
London & Sons
Mace
Martin Arnold
Ramboll
Ryder
Taylor Wessing
WSP
WT Partnership
UKCW
Starter for 10
Crowding into a room deep in the heart of 155 Bishopsgate in the City of London, no fewer than 17 teams representing the cream of the UK construction industry (it says here) settled down to answer a range of questions on subjects ranging from pop music – that most ubiquitous of ubiquitous quiz rounds – to showbusiness, sport, as well as a fiendishly difficult numbers round that for several was rendered less arduous thanks to the discreet use of calculator apps, plus metallurgy – honestly, there was a round relating to metals – and perhaps predictably in these uncertain times, a Brexit-related session. All at the same time as two construction-based picture rounds that cycled round on the big screens.
Once everyone had arrived and settled down, proceedings were kicked off with Crash chief executive Francesca Roberts being invited to say a few words. Thanking those gathered – and Building magazine for organising the quiz – Roberts said a fundraising event of this kind had long been an ambition of the charity, but that with only five staff it had simply not been possible. "Your industry's support makes such a difference to homeless and vulnerable people across the UK and we thank you very much," she added.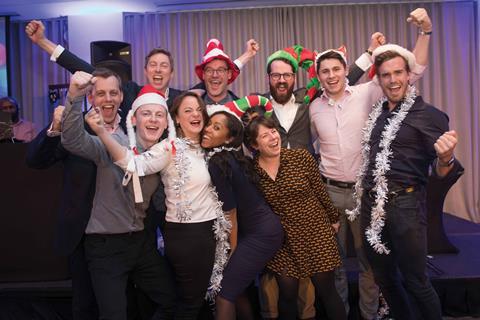 And with that, the quiz got under way. Eight rounds of standard questions, plus two "marathon" visual rounds, where teams firstly had to put names to faces of famous people from the construction industry past and present, and then identify famous buildings from around the world. The usual joker card rules applied, as did a tight deadline for submitting answer sheets to the counting table, sometimes resulting in what might politely be described as a mêlée.
Now, the chance to pit one's wits against colleagues, business rivals or complete strangers tends to bring out the competitive spirit in even the most measured of people, and it proved no less a case at the Building Quiz. Your correspondent witnessed an increasing tension in the room as team members bickered, fell out, rallied and celebrated as much-debated answers were confirmed.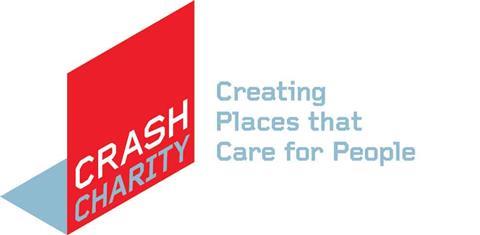 Building's Christmas charity appeal
Building is proud to support Crash, the construction charity that works with homelessness and hospice charities.
Crash charity helps homelessness and hospice charities with life changing building projects, creating places that care for people when they are most in need.
Crash does this by sourcing pro bono professional expertise, building materials and awarding cash grants, generously donated by the construction and property industry.
With your support last year Crash helped 47 hospices and homelessness charities, taking care of people who are homeless or need end of life care in a hospice.
As part of Building's Christmas charity appeal, please join us and support your industry charity Crash this Christmas by donating to their 2018 Christmas Appeal. Your support will enable
Crash to continue helping homelessness charities and hospices with life changing building projects in 2019:
Phone a friend
Iain and Erland made the point, oft presented on such occasions, that the use of mobile phones was frowned upon – "We'll be checking!" – and finally asked if there were any questions. A team member from UK Construction Week called out "What are the answers?" which set the tone for their group for the rest of the evening. Guffaws all round and we were off.
Sauntering round the room as the early rounds were under way one quickly picked up that some people were taking proceedings very seriously. "I'm warning you," one team member told a colleague, "I can get quite aggressive during quizzes." Hovering near another table your correspondent attracted some suspicious looks. "You're not stealing our answers are you?" Competitive? You betcha.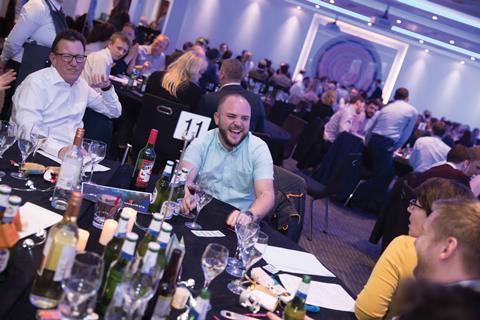 Few teams fared badly in the initial rounds and most made a stab at answering every question. However, one question in the session on famous people who shared a name with an animal stumped all of the 17 teams. Asked who starred in Coronation Street and 1970s sitcom On The Buses no-one, not a soul, got Doris Hare. As an aside, some digging around the internet reveals that as well as being a former member of the Royal Shakespeare Theatre and appearing in plays by Noël Coward and Harold Pinter, Hare appeared in a number of the bawdy Confessions of a … films in the 1970s. Well, you gotta earn a living.
After a few rounds it was clear some people were taking things very seriously and at the same time a demographic gap opened up. It was evident that many people under the age of 30 had no idea who Sir Tim Rice was, or that he wrote the lyrics to Jesus Christ Superstar. But then unless the young 'uns were devotees of the genre they might be hard pressed to say with any degree of accuracy who wrote the music either (it was Andrew – now Baron – Lloyd Webber). It was equally clear team members of a certain vintage would be stumped by a question about NSync.
After two rounds the leader board was revealed, showing J Murphy in first place, with Building team 1 second, and the magazine's second team in third, while Alinea 2 propped up the table in last position.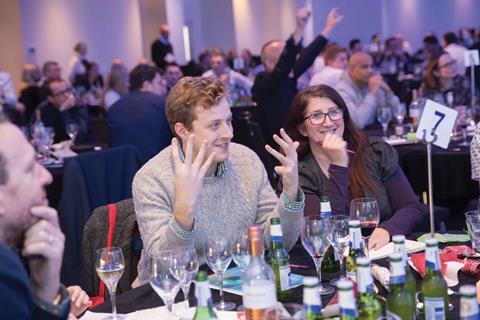 It's good, but it's not right
Onto the sport round and Building 1 plays its joker. However, the confidence is misplaced as the team only manages to register seven points out of a possible 10, meaning that even doubling that score with the joker being played means a mere 14 points from what should have been a dead cert.
After three rounds Ramboll leads, while Building teams 1 and 2 have slipped to 13th and fourth places respectively. Quiz meister Iain then reveals the prizes that are up for grabs: champagne for third place, a £100 Amazon voucher for second place and the winners will be gifted a table at next year's Building Awards, complete with booze and whatnot, a prize worth £10,000 no less. Iain quips that the winning team could put it on eBay. Building magazine publisher Tom Broughton laughs. For a bit.
For the non-participating observer watching quiz teams from a distance can be an interesting anthropological experience. For sure the dynamics of some teams are fascinating. There will be an expert in one subject or another spread throughout the personnel, one person who is guaranteed to know that 53 was Herbie's race number in The Love Bug, or that the length an Olympic swimming pool is 50m or that Titanic won 11 Oscars in 1998 – incidentally tying with swords and sandals epic Ben-Hur. Some tables were zones of calm, with methodical appraisal of a question, followed by rational debate and consensus achieved for the good of the team. Other tables were just bonkers. "Look, I don't know what question we're on!" wailed one team member as her colleagues struggled with a particularly tricky one. Your correspondent caught part of another table's conversation which included one team member telling another "You need to calm down." No prisoners here, it seems.
The numbers round caused much consternation and not a little controversy. One team, WSP, challenged the answer to a question that had asked for the number of the highest break in snooker plus the number of states in America. The answer – 147 plus 50 equals 197 – was queried by WSP, the rationale being that the highest possible score was in fact 155, a rare achievement but one claimed by snooker legend Alex "Hurricane" Higgins in 2010. "Ah yes," responded quiz capo Parker, "but the question asked for the highest break. Tell you what though, if you miss out on victory by a point I'll buy you lot a table at next year's Building Awards."
Similarly Building 1's Jamie Harris called over Mr P to query the answer around the number of snooker balls on a table at the start of a game. "Look, I'm a quantity surveyor," says Parker, "I've counted them four times and I know what I'm talking about." Schoolboy error by Harris.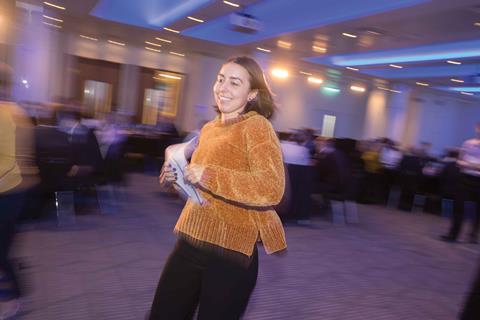 You are the weakest link
The level of concentration was also becoming a victim of the evening. One confused team member asked a colleague about a question in the numbers round and the forthcoming response involved the maths rule concerning brackets. "Sorry mate, you've lost me," the befuddled one replied before tottering off the gents.
Halfway through proceedings now and everyone was in full swing, aided and perhaps abetted by the Christmas spirit. In the middle of asking a series of questions Randall was forced to "shoosh" the audience, and not for the last time. "Don't you shoosh me!" exclaimed one gent, his party hat slightly askew. It was getting feisty.
The music round sees everyone get well and truly into the flow – it's amazing what even the briefest clip of a Beyoncé song can do – while the session on Brexit (actually more a general geography round, but hey, it's topical and all that) illustrated the blissful ignorance of many as to what lies beyond the shores of Fair Albion.
A round featuring words relating to metal – or as the round title indicated, "mettle", as in "testing your" – missed a golden opportunity to mentioned one of the world's biggest rock bands, Led Zeppelin, but managed a decent play on words in the form of "Jack Nicholson" but as most people in the room were too young to have seen One Flew Over The Cuckoo's Nest they didn't pick that up.
By round seven Lendlease had occupied the top slot, with Building 1 and 2 snapping at its heels. Poor old Alinea 2 was still nestling at the bottom. And then it was round eight and the quiz side of the proceedings were brought to a close.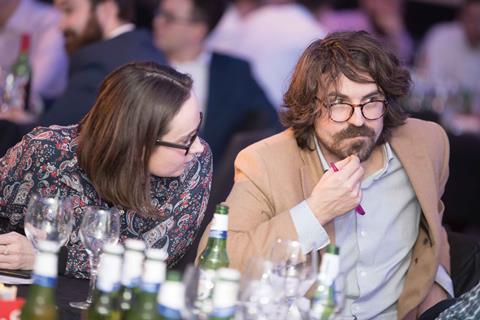 While the markers did their final marking, Crash's Roberts pulled out the first ticket for the raffle. Parker called out the number, but takers there were none. He called the number out again, and again, no-one came forward. Once he'd announced it a third time he said "Hang on," and stuck his hand into his trouser pocket and pulled out a wad of tickets which included – yep, you guessed it – the winning ticket, 811. But Parker is a brick and declined his prize, instead asking Roberts to pull another out of the bucket.
Here's what you could have won
Various raffle prizes were won but already tension in the room was building – geddit? – to see who had won the best one of all. Teasing the audience just a tad by drawing out the final moments, Messrs Parker and Rendall took it in turns to read out the top three quizzers, in ascending order. Ryder came third, BDP second and … drum roll … Lendlease took the top prize and were duly crowned champions of the 2018 Building Quiz. Teams gathered, funny hats and Christmas decorations were donned and photos were duly taken. Last place went to UK Construction Week, but the least said about that the soonest it is mended and so on.
Building's two teams narrowly missed out on a podium place – and for internal magazine rivalry purposes Building 1 beat Building 2 by a mere six points on the final leaderboard. A number of participants from other teams approached members of the Building gang and asked why they hadn't won. "You're supposed to know everything about construction!" cried one mischievous individual. The replies to such jibes are unprintable.
Suffice to say that everyone, including those from Building magazine, put their heart, soul and general knowledge into the proceedings, answering every question to the best of their ability. Whether there was some mix-up on the marking desk we'll probably never know. At least the Building crew didn't confuse Ann Bentley with Dame Judith Hackitt in the marathon "construction people" photos round. That would have been unforgiveable.
Many thanks to quiz sponsors Alinea, Atorus and Ryder, without whom this festive fun would not have been possible
Quiz yourself! Click here to try some of the questions from the Building Quiz - test your colleagues or just yourself to discover your quizzing prowess. Put those phones away…