In 2003 Sir Robert McAlpine's London MD, Alison Cox, took a nine‑year break and almost left the industry, fearing the long hours were incompatible with having a young family. But, with the help of her employer, she found a way back and is now at the top of her game. Portrait by Julian Anderson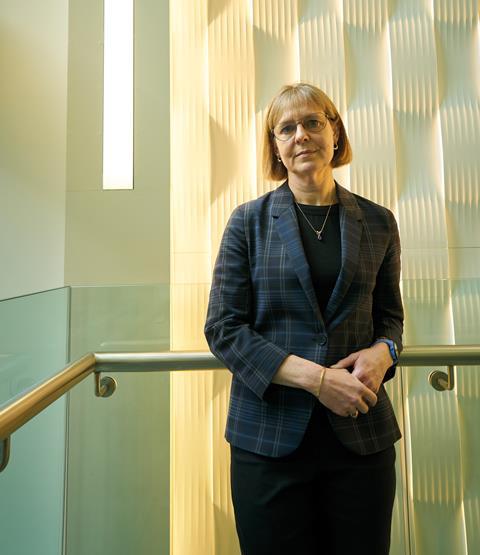 Heard the one about the woman who nearly became a teacher, had second thoughts and ended up running the blue riband bit of one of the country's best-known builders? It sounds a great tale but, in fact, Alison Cox's story lifts the lid on a problem that the construction industry has still not really managed to figure out – how to get more women into the industry and keep them in it.
The managing director of Sir Robert McAlpine's London business, which is now overhauling Broadgate and nearing the end of building a five-star hotel at Hyde Park Corner called the Peninsula, had actually left the business in 2003. "My husband's job took us abroad," Cox recalls. "That was the time my children were born as well."
She eventually returned in 2012 but it was a close-run thing. "I nearly retrained as a teacher," she admits. "I got really close to leaving the industry. I couldn't see how doing a construction role could be compatible with having three young children."
The only way to change the industry is getting more women into senior positions so that there are enough of us to start changing that culture

Alison Cox
She does not think that much has changed. "I see everybody working just as hard, just as long hours as they did then."
But she says there are signs that things are slowly getting better and says more companies, like hers, have family leave policies – something that was unheard of just a few years ago.
She left McAlpine as a project director and went back to working on the Bloomberg building in the City, where she worked as a preconstruction manager. "Big job, big team. An absolutely amazing project." She worked part-time on the scheme five days a week. "They were shorter days and it made me massively efficient: 8am till 3pm. I would walk out of the door at five to three to make sure my children weren't stranded somewhere. It gave me an insight into how it's possible to work in this industry on a part-time basis."
The oarsome Alison Cox
There was only one subject that Alison Cox was ever going to teach, when asked about what might have been. "Maths, of course!" she answers.
She admits she was very close to swapping a hard hat for a blackboard after her nine-year sabbatical to have children. Unsure whether she could work in construction and be a mum to three young boys – all teenagers now – Cox very nearly became a teacher.
She recalls: "My local university, the University of Bedfordshire, has got a good reputation for teacher training. I'd investigated the course; I'd done a reasonable amount of research."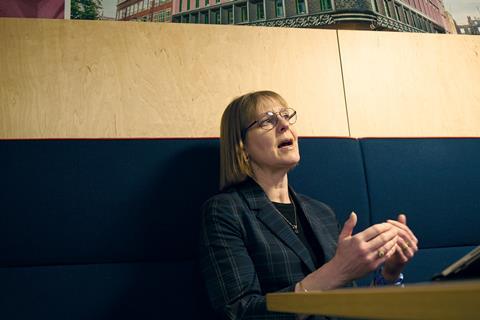 What changed her mind was a call to the late Tom Barton, then McAlpine's deputy regional manager for London and the South-east. "I thought, 'I'll just ring him and see what he says'," Cox remembers.
"His response was astounding: 'Tell us what hours you want to work and we'll find a job for you.' That meant I came back."
While some things had not changed too much, what she did find was a different attitude to health and safety culture and the impact of sustainability, which she says, had been "non-existent" when she went on maternity leave in 2003.
"The step change was in the health and safety culture, workforce engagement, holding people to account for their personal behaviour."
A keen rower from her university days, Cox does not have to think hard when asked what she does when she's not working. "I've got all this spare time," she deadpans. "I do work, family, rowing."
Cox has been with McAlpine ever since she wrote to a bunch of firms in the summer of 1990 after finishing her A levels. "I wanted to get some work experience and earn some money before I went to university. I wrote to some construction companies and Sir Robert McAlpine were the only ones who wrote back."
It proved beneficial to both. McAlpine got someone who has been with the firm ever since, and Cox got sponsored by the company to complete her engineering science degree at New College, Oxford.
Her choice of career was helped, she says, by going to an all-girls school in her home town of Croydon. "No one ever said to me, 'girls don't do maths, girls don't do physics'. I got some careers advice and they said, 'why don't you consider engineering?' It really appealed to me. I spent my first week on site and thought, 'this is amazing, I never want to do anything else'."
She turns 50 in August and, having been in the industry since her early 20s, sings its praises – but has sharp words for where it could improve.
First, the good bits: "The people, the endless challenges; there is a new problem to solve every single day. You cannot get bored in construction." But she adds: "I would say we are own worst enemies. The problem-solving is so interesting and we do it for really low margins, and we work far too long hours to do it."
During her time away, she lived in three different countries while her husband David's career as a chemical engineer working in innovation for consumer goods firm Unilever took the family to the US, Italy and the Netherlands. She remained in touch with McAlpine during her time away and kept her hand in now and again, delivering annual training courses.
It helped that McAlpine had told her that the door was open if she ever fancied a return – but she admits she had to take a deep breath when the reality of coming back loomed."I had lost some confidence just from being away from the industry," she says.
There is a new problem to solve every single day. You cannot get bored in construction

Alison Cox
"I was a full-time parent living as an expat in a different environment. But what I learnt during those nine years has had a massive impact on shaping my leadership style and the way it exposed me to different cultures and people from different backgrounds. It got me thinking about the way different people tick, the way we work and how to try and get the best out of those different cultures."
After working on Bloomberg for four years she then swapped roles to lead the firm's bid for the huge Google headquarters building at King's Cross which, bafflingly, is still known by the rather user-unfriendly name of KGX1. The Google job went to Lendlease and so she moved to a project on the other side of the capital, the Battersea power station redevelopment.
McAlpine had been drafted in to replace Bouygues on phase 3a of the project, the bit which features 1,300 residential buildings designed by Foster + Partners and Frank Gehry.
"Bouygues left on the Friday afternoon," Cox says. "They had a team of 70 people and, when I took over, we had a team of six. I built that team really fast. I needed it to have a reputation as a good project to get transferred to." By the time she left a couple of years ago, McAlpine's team had swelled to 120.
Phase 3a is coming to an end but phase 3b, a mixture of commercial and residential, is now looming and Cox says there are further phases of work at Battersea that McAlpine is interested in.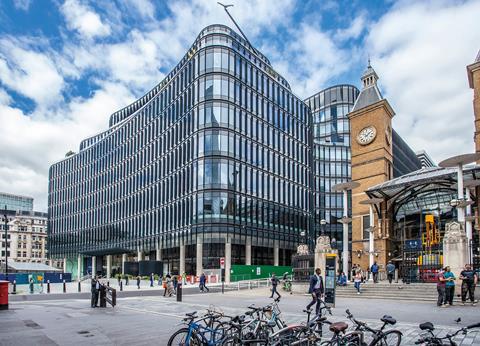 In fact, she says there has been no let-up in clients sounding it out about work. "Clients are coming to us, asking to bid for their work. One week this February I got briefed on five new schemes. At the moment, we're in the fortunate position of being able to be a bit selective.
"We have repeat business clients particularly in commercial office space. They will always be our first-choice partners. At the moment, there is a lot on the table so what I'm looking first and foremost at is to make sure those [opportunities] are in our sweet spot.
"We look at the engineering expertise required and the procurement route, how they are coming to market. Our sweet spot is the big and the complex. To me, deep basement interfaced with Tube and rail lines or one-off special projects like the Olympic stadium or Bloomberg. The never-been-done-before elements, that's where we really excel."
Cox, who was previously director of engineering for two years, took over as London boss last September when previous incumbent Paul Heather – who has since relocated to McLaren in a newly created managing director role – left after four years.
London is its biggest region with around 850 people out of McAlpine's overall staff number of 2,000. Turnover is around £850m, around half of which is construction management work.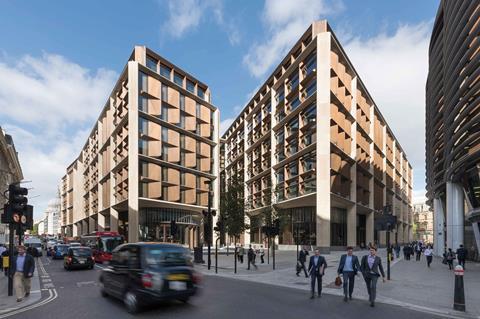 Former Mace chief executive Steve Pycroft is fond of telling the story that, when the firm was appointed to build the Shard 15 years ago under a £500m fixed-price contract, there were plenty who sneered, writing the firm off as a CM specialist. "We had constantly got this comment from other major contractors that we weren't regarded as one," he told Building last November. "'It's all right being a CM but you never take the risk. It's all easy.'"
Cox seems incredulous. "CM is proper construction," she says. "Done the right way it can be an amazing form of contract.
"There is something to me very sensible about the way it considers the risk. What can happen under a D&B contract is the risk gets passed down and down the supply chain to the smallest players who are the least able to cope with it, manage it, mitigate it. Any form of contract that provides proper collaboration and a genuine understanding of where the risk lies, and gives a sensible approach as to who owns and mitigates that risk, is the way forward."
She adds: "The complexity and size of the project drives that choice of procurement route. It's very difficult once you get above a certain scale of project to agree a hard money price for it. It's incredibly difficult to find an acceptable price for the risk transfer on jobs of scale and complexity."
Given the escalating cost of materials such as steel, concrete and timber, Cox concedes that the firm is unlikely to bid any single-stage fixed-price work. "The way we prefer to operate is by being really collaborative, where that second stage is a completely open book.
"Clients see what's coming back from the market so [with price rises] there's no surprise for them. It might be different to the original cost plan, but we try to be as open as possible."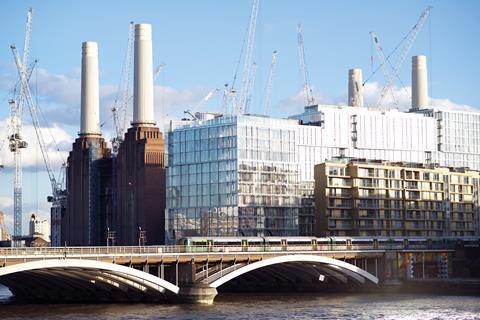 Her first job as a project manager was a refurbishment scheme at 2-4 Brook Street near Oxford Circus. "It was pretty small but it was the first one that was all mine – always a nice milestone."
Her favourite so far, she says, has been the Bloomberg building. "The quality of the product we produced, it was a Stirling Prize-winning building – it's going to take a lot to trump that. It showed what can be achieved when you have a client and a designer who have a meeting of minds and absolutely demand the best."
Her appointment last September meant that Cox joined a select group of women in very senior roles at contractors – Zoe Price is chief operating officer for construction at ISG; Amanda Fisher is chief executive of Amey; Louise Findlay is Kier's director of clients and markets.
She is keen to point out that she happens to be a woman in charge of a construction business, that it is really no big deal and that should be the end of it. But she knows that it is not that simple in an industry which, put bluntly, is overwhelmingly dominated by white men.
"I don't think we do ourselves any favours by making out we've had a harder time than other people," she says. "But the only way to change the industry is getting more women into senior positions so that there are enough of us to start changing that culture.
"There is a network of women who are in similar positions to my own, and it's fantastic to walk into an event and there are other people [like me] in a sea of dark suits."
"Construction needs diversity," she continues. "There are some big personalities; there are some who are quite introverted. We are not stronger by all being the same. Big personalities? Fantastic, bring them on. But we need everybody."
Every Person Counts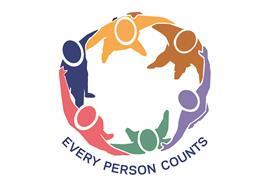 Building's Every Person Counts Campaign aims to provide a place where debates about skills, employment and workplace culture can play out and solutions can be shared.
We know the construction industry has no shortage of suggestions for tackling the skills crisis. From reforming apprenticeships, to offering more flexibility, to increasing diversity, to supporting wellbeing and mental health, to providing better pathways from education to the workplace. We will be picking up on all these themes in more depth in future articles.
>> Also read: 'Shaping Kier's pregnancy loss policy has meant so much to me. I truly believe it will help others'
>> Also read: Why releasing gender pay gap reports may not be enough
If you have an employment initiative you want to tell us about, email us at newsdesk@building.co.uk with the subject line "Every Person Counts". You can also contact us via Twitter @BuildingNews and LinkedIn @BuildingMagazine, please use the hashtag #everypersoncounts. We look forward to hearing your employment stories.
And if you think your organisation has a particular strong record in this area find out how to enter the Buidling Awards Every Person Counts - The People Strategy Award