Head of review of Building Regulations and fire safety defends lack of detailed recommendations and says construction industry must take more responsibility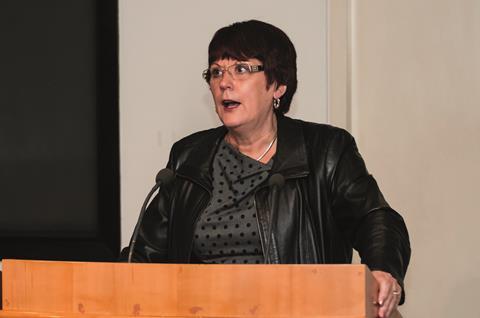 Government guidance issued with the Building Regulations should be streamlined, with the construction industry put in charge of the details, according to the interim report into building regulations and fire safety by Dame Judith Hackitt.
The report, commissioned following the fire at Grenfell Tower last June in which 71 people died, has found that the systems for ensuring the fire safety of buildings are not fit for purpose. Hackitt, a former chair of the Health and Safety Executive, found significant failings in the regulations supposed to ensure fire safety, their enforcement, the identification of responsibility, the competencies of those carrying out and overseeing work, and the accreditation and assessment of materials.
However, Hackitt's interim report, which was published just before Christmas, makes no detailed recommendations on many issues of concern since the Grenfell tragedy – such as whether combustible material should be allowed within cladding systems, or whether sprinkler systems should be retrofitted – and appears to suggest official guidance could in future be less, not more, prescriptive.
While Hackitt's report was overall widely welcomed, it was criticised by some for a failure to address these issues. The RIBA described as "disappointing" the failure to immediately proscribe the use of combustible material in cladding systems or to require two means of escape from high-rise residential buildings. Meanwhile the Association of British Insurers, which had previously called for a ban on combustible materials and a tightening of rules on sprinkler systems, said: "More detailed work is required in the next phase."
Hackitt's report said it is "inappropriate" that the burden of updating regulation should rest solely with government, and that the government's role should be restricted to setting a "framework of standards". The report said: "It should not be for government to lead on the specification of the detailed solutions as to how those standards will be met."
Hackitt Review Key Findings
Main findings:
The system of building regulation and fire safety is not fit for purpose
The clarity of roles and responsibilities within the system is poor
The means of assessing and ensuring appropriate levels of competence throughout the system is unclear and inadequate
Enforcement and sanction measures are poor
Current methods for testing, certification and marketing of construction products and systems are not clear
The use of desktop studies to assess Building Regulations compliance is not properly managed or controlled
Main recommendations:
Streamline and restructure suite of "approved documents" sitting under Building Regulations
Set up a clear, responsible dutyholder who is held to account for building performance, including work done by subcontractors
Establish a robust and coherent system of accreditation covering all those who work on buildings
Fire risk assessments to be carried out annually
Government should significantly restrict the use of "desktop studies" for assessing building control compliance
Quizzed on the issue by MPs, Hackitt insisted "that shift in responsibility is absolutely fundamental to where we need to go". She said that this is the reason she did not make specific recommendations on issues such as which cladding materials to allow: "This would replicate the flaw just described. We would simply be reinforcing the current approach, rather than taking people on a journey to that different ownership model where the risk and responsibility lies clearly with those constructing the building."
However, Kevin Hollinrake, MP and communities department select committee member, said: "Isn't the risk with that we're back to this issue of [industry] interpretation. Isn't that what's gone wrong? People have interpreted the rules … it's not been clear what people have to do."
In evidence to Hackitt's review, both the Construction Industry Council (CIC) and the Fire Sector Federation (FSF) had called for some move back towards prescription in building regulations, at least for high-risk buildings.
However, Graham Watts, chief executive of the CIC, said that the body supports Hackitt's approach. "If what comes out of this is less prescriptive, it would be very surprising. The point is, it's up to industry to sort out."
Brian Robinson, president of the FSF, said Hackitt's proposal is workable but that it relies on the industry working together. "If she sets it up in a way that it has cross-sector groups working together she'll get exactly what she wants, but it can't be dominated by one or two interest groups," he said.
Hackitt's report said that the official government guidance on interpreting the Building Regulations, contained in 15 "approved documents", needs to be significantly streamlined, a process it admitted "may take some time." Currently each approved document relates to one of the 15 "functional requirements" in the Building Regulations, covering disparate issues from fire safety to structural integrity and thermal efficiency.
Hackitt told MPs that the "simpler, streamlined, risk-based, and proportionate" system she envisages could see the approved documents brought together, in order to iron out contradictions between them.
Fire safety again hit the headlines over the Christmas break, with three people treated following a blaze at a residential block in Manchester and a fire at a car park in Liverpool that destroyed more than 1,300 vehicles.
Professional bodies set to create new fire safety accreditation system
Professional bodies in the fire safety and construction industries have committed to having a new system of accreditation for fire safety professionals in construction in place by March this year.
The news follows publication of the interim report on building regulations and fire safety by Dame Judith Hackitt, which found that current systems for ensuring the competence of those working on project are "inadequate".
Hackitt's report said that the professional bodies now have an "opportunity" to establish "a robust, comprehensive and coherent system covering all disciplines for working on such [high-risk] buildings".
The report highlighted the fact that fire risk assessors require no formal qualification or accreditation, while local authority building control officers have no required formal training in fire risk for high-rise buildings.
Hackitt's report said she will launch this work at a summit in "early 2018". But Graham Watts, chief executive of professional institution umbrella group the Construction Industry Council, said the body has already committed, alongside other partners, to having a new system in place by March.
Watts said research by the industry reform group set up in the wake of Grenfell has identified only 50 fire engineers in the UK formally qualified to advise on high-rise buildings, and that the work the CIC is undertaking will focus on pulling together national registers of properly qualified people. He said: "The idea is you'll have a national register of qualified fire safety advisers in the same way that today you have a national register of qualified access consultants."
Design and build highlighted as undermining fire safety
The report by Dame Judith Hackitt into the Building Regulations and fire safety has raised significant concerns about how widespread use of design and build contracting may be undermining fire safety.
Hackitt's interim report identified the "widespread deviation" between how buildings are designed and what is ultimately built as a clear weakness in the current system, with materials commonly substituted by contractors after designs are made. The system is "without clear and consistent requirements to seek authorisation or review, or to document changes made", the report said.
"The current trend for 'design and build' contracts … has been identified as being particularly problematic in facilitating evolutionary design, which fails to be properly documented or reviewed", the report found.
Design and build contracts are used commonly across the industry and allow contractors to take on the entire risk and responsibility for a project from the design team when it is being built, in order to prevent conflict between design and construction priorities.
Critics say these contracts drive contractors to replace materials and methods with cheaper alternatives. Government procurement rules also forbid designers from specifying particular materials when procuring construction projects, to allow competition between suppliers.
Hackitt's report found that "the use of 'value engineering' is almost always about cutting cost out of a project, at times without due reference to key specification requirements".