The Brexit deadline is just seven weeks away – and still, nothing is any clearer. As tension rises, schemes are frozen and insolvencies increase, stressed contractors may turn to the bad old practice of bidding low just to keep things moving.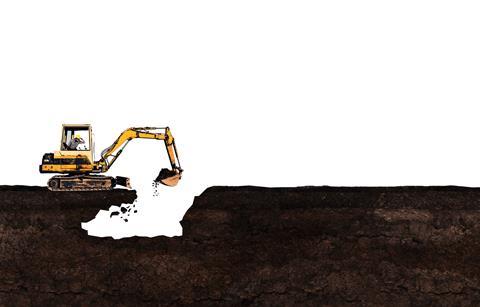 It was Groundhog Day last week, when fanciful folk in Pennsylvania gather to see a large rodent emerge from its burrow, which tradition says foretells how long the winter will be.
But here in the UK, every day of the last couple of hundred has felt like Groundhog Day – at least, like the 1993 comedy film. Since well before Christmas, we've been waking up every day to find the EU withdrawal process stuck on prime minister Theresa May's apparent inability to lead the Commons and the country to a satisfactory exit deal.
But lack of progress with Brexit is no laughing matter for business, including the construction industry. "We are at five to midnight, everybody is waiting for it to strike 12 and the minute hand doesn't seem to be moving," says James Morris, founder of project and cost management consultant Tower Eight.
"Contractors were just getting on their feet and able to demonstrate reasonable margins. now the rug's been pulled from under them"

Richard Steer, Gleeds
As time ticks towards the March deadline for a deal to leave the European Union, the tension increases. It will only have intensified last month following the release of two new reports.
The latest quarterly survey of quantity surveyors by the RICS shows that both commercial and industrial schemes were at a standstill in the fourth quarter of 2018, the first time this had happened in six years, as firms postpone investment decisions in the run-up to Brexit.
And according to Turner & Townsend's (T&T) latest quarterly snapshot on the construction market, also published last month, just over a half (50.5%) of contractors reported that market conditions in their regions are "lukewarm". That weakening demand, which results from fewer new tenders being awarded, has already fed through into increased insolvencies.
Data like this reveals a picture of a tougher market and warns of trouble ahead – which prompts fears that, just to keep afloat, stressed contractors may turn to "suicide bidding". This practice, where firms submit tenders at low or no margins in order to maintain activity levels, was endemic during the last recession. So is it coming back? And if it does, what could be the implications for the health of individual firms and the industry as a whole?
"Contractors are panic buying work to ensure they can pay bills through the brexit debacle"

Tier-one contractor
The stress test
Commentators indicate the construction landscape – if it has not yet reached the lows that triggered widespread suicide bidding in the past – seems to be heading in that direction. Iain Parker, partner in consultant Alinea, shudders when he recalls the recession of 2007/08. "It was pretty unbelievable: we're not back to that level of despair but we are definitely in for some sort of slow down and people are starting to react as they look ahead," he says.
Richard Steer, chairman of Gleeds, admits his own company's UK figures are not as healthy as they were this time last year. "We've seen a deterioration over the last six months and uncertainty about Brexit is definitely happening. The longer the stagnation goes on, the bigger the problems are going to be."
However, the outlook is very variable depending on sector, with some considerably more exposed than most to the ongoing uncertainty and the fear of no-deal Brexit, and likely to be the first to show signs of distress. Kevin Cammack, analyst at Cenkos Securities, believes commercial builders are most likely to feel the strain.
"Commercial expenditure has been affected and there is a genuine fear that it will get worse before it gets better. The economy may be more vulnerable in medium term to rates rising faster and wages not growing."
And big civil engineering projects could be at risk if the Treasury decides to divert money rapidly into consumers' pockets in the event of no-deal Brexit. Cammack says: "If it's needed to prop up other parts of the economy, some capital spending will be at risk."
At the same time as demand is looking distinctly iffy, contractors are under pressure from rising costs. T&T's survey shows that contractors expect materials and labour costs to rise by 5.3% and 4.5% respectively in the upcoming year, outstripping anticipated tender price growth of 2.9%. And while it is hard to quantify what further – potentially much
more disastrous – effect on materials imports there could be if the UK were to pass March's Brexit deadline in a no-deal situation, the Construction Products Association's prediction for such a scenario is that depreciations in the value of sterling could increase prices of some materials by 15-20% and lead to a 4.2% fall in construction output.
Will Waller, head of market intelligence at Arcadis, says that since the 2016 EU referendum material prices inflation has already increased by 5-7% a year, mainly due to the higher costs of imported products, and it has only recently eased off to 4%.
"The result has been some squeezing of margins in the supply chains, which they haven't been all been able to pass to clients," he says.
"Margins are under pressure and there's been an uptick in insolvency failures in construction. Financial fragility is an issue and the longer uncertainty goes on that risk intensifies."
And any cuts in margins has to be seen in the context of an industry where contractors have struggled to increase its profit levels since the recession. Alinea's Parker points to Building's recent Top 150 contractors survey, which revealed profit margins at a precarious level: "These guys are struggling to make 2%."
The data bears out Waller's warnings of more firms failing, the latest Office for National Statistics data showing 2,954 construction firms became insolvent in the 12 months to the end of December 2018 – a 12% increase on the previous year. It's also notable that over that same period, construction had the highest insolvency rate of any sector.
Bad medicine
So, what are stressed firms doing to keep themselves afloat? Many are certainly moving to try to stabilise their order books. Alinea's Parker says he has seen firms anxiously plugging holes in their work pipelines since returning from the Christmas break.
But some may turn to making loss-making deals just to keep work going through: so-called suicide bidding. A survey of contractors, carried out by for solicitor CMS, shows widespread fears that this practice is back.
It says: "The majority of participants reported concerns that the market remains a tough place to resist the culture of suicide bidding. Even the largest firms report concerns about the sustainability of the wider sector."
One respondent described "a culture of suicide bids and contractors left to always bear the lion's share of commercial risk – this creates an insidious race to the bottom". Another said that competing on a lowest price basis is "simply unavoidable for many decent firms out there."
A director at one tier-one contractor says: "It appears contractors are panic buying work based on prices and programmes being offered to ensure they can pay bills through the Brexit debacle."
Plunging margins are being seen in the consultancy world as well. Since Alinea was set up in 2013, bidding behaviour by consultants has been "fairly sensible", but "very, very aggressive" bidding is once again becoming the norm, says Alinea's Parker: "If there were two out of 10 consultants being really aggressive, it will now be six out of 10."
Gleeds' Steer says: "We look at reputable companies' pricing and we wonder how on earth they can go in at those figures. Contractors are doing exactly the same things."
And the potential implications of this practice are well known to all who were in the industry more than 10 years ago. Parker recalls how bad the ramifications of this undercutting was for the industry in the 07/08 recession. "Everybody knows that if it's too good to be true, usually it is: jobs got into trouble because they were at an unsustainable level."
A resurgence of effectively buying work would be a cruel blow for an industry, which has only recently worked through the malign legacy of contracts that were still being struck in the early part of this decade.
Steer says: "[Contractors] were just getting on their feet, just about starting to have the upper hand over the client and being able to demonstrate reasonable margins. Now the rug's been pulled from under them.
"You need loads of work about to start putting prices up. Unfortunately, we're entering a period when work is slowing down and the natural reaction is to cut."
The 'safe' zone
But though warning signs are out there and concern is widespread, contractors have yet to undertake mass undercutting, observers report.
Pointing out that overall demand remains at a historically high level despite recent wobbles, Arcadis' Waller says it is a "bit early" to say that undercutting is rife. "It's been relatively flat for the last six to eight quarters but at a blooming high level."
Cenkos' Cammack suggests that while bidding conditions have "maybe stiffened a bit" they are not yet in the "suicidal" zone.
And in fact it may be the smallest in the industry that are most vulnerable. Subcontractors are most likely to see their margins squeezed, says Tower Eight's Morris: "People are sharpening their pencils and some enhanced margins over the last two to three years will get clawed back."
The pressure on margins also appears to depend on the size of projects. Smaller projects are feeling the pinch more acutely, says Parker: "We're seeing sharpening of pencils on jobs that are £10m to £20m to £30m."
Those working on larger projects, though, appear to be better insulated from the pressure to slash margins, he says: "On bigger deals, where they may be only three credible people to go to, the price level is holding its own and is fairly flat."
Waller agrees. "Complex projects attract less competitive tension because there are resource and capital constraints around how many organisations and people can deliver them and more competitive tension on simpler projects with lower risk profiles."
The timescales on projects make a difference too, says Tower Eight's Morris: "Smaller contractors have a pipeline of work that has a shorter time horizon because they are smaller jobs. The big contractors, who by their nature have larger projects with longer durations and pipelines, might be secure for slightly longer."
This is backed up by the CMS report's observation that a small cohort of companies have gained the capital strength to allow their firms to break free from the negative cycle of "recklessly low bidding".
However, these giants of industry will certainly not remain unaffected; insolvencies further down the supply chain can cause project delays and ultimately hit their bottom line.
Never again
What may help safeguard the industry against a full-blown resurgence of suicide bidding is the recent memories of how badly it panned out earlier this decade. Cammack says: "For the most part, contractors are still carrying the scars of recent events and not being too suicidal."
Tower Eight's Morris agrees "Tier-one (contractors) probably learnt their lesson seven or eight years ago and Carillion has helped to bring those lessons into sharp relief. I don't expect to see anybody going in at negative margins, the lessons have been learnt."
Alinea's Parker agrees: "They've seen what happened to Carillion. They were reminded that the consequence of getting it wrong can be quite catastrophic."
The disappearance of Carillion also means there is an even tinier handful of contractors with the capacity to take on the biggest projects, he adds: "It's one less to go around and steadies the price. Together with material price pressures it's keeping prices at a level."
Morris suggests that the current slowdown could even contain a silver lining. A hiatus in demand could give contractors an opportunity to take stock rather than "chasing their tales to secure workload that will do nothing but create pain," he says: "We've been suffering for the last two-to-three years from a significant shortage of skilled labour. If demand diminishes it's going to come to the point where we are right sized for the demand."
But whatever the protection larger companies enjoy and natural corrections in the market, the spectre of suicide bidding remains lurking in the background. The question is, Morris acknowledges, how companies will respond if any Brexit-related downturn lasts longer than a year. In this context the smaller contractors will again feel the pain sooner than their bigger counterparts, he predicts.
Steer says most contractors will "probably survive" the next two years of struggling through Brexit-related uncertainty but unprofitable work will come back to bite them.
Amid the wider economic turbulence that a no-deal Brexit threatens to unleash, it may take nerves of steel to resist the pressure to go low.