Specialist contractors are challenging the cost of BIM and the way it is being used. Iain Withers reports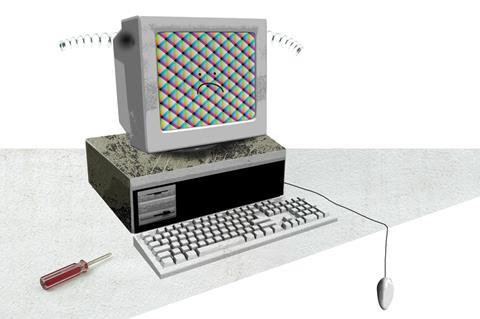 Stacey Spence, the managing director of Ductform, a small ventilation firm in Edinburgh, believes that Building Information Modelling (BIM) can transform her business for the better. But she is loath to pay the "horrendous" cost of preparing her company for using it. She says the price of acquiring and servicing the BIM-compatible software specific to her specialist sector, CAD-Duct, has gone up three-fold in seven months - following the program being bought by software giant Autodesk. She has searched in vain for an alternative supplier of the niche software she needs.
"The big problem is a lack of competition - Autodesk has got us over a barrel. If there was competition they would probably behave like us and have to press margins," she says. It is an added cost her firm can ill afford to absorb, she says. "These new costs are horrendous to try and fund. Our competitors are taking jobs for less than what they cost, so to bring in these price rises in this day and age is madness."
This is just one firm in one specialist sector, but her concern over the costs of BIM chime with many in specialist contracting. Last week Building revealed that trade federation the Specialist Engineering Contractors (SEC) Group sent a briefing to the Cabinet Office cataloguing a series of problems faced by specialist firms resulting from the introduction of BIM across the industry. The Cabinet Office, through its Construction Strategy, has mandated the use of BIM on all government projects by 2016.
Expensive software was just one of the issues highlighted by the briefing, alongside poor adaptability between software programs and a series of alleged poor practices by tier one contractors.
BIM is a process for designing a building or structure collaboratively by using one coherent system of computer models. The idea is to get firms working together more closely, both electronically and professionally.
But ironically, according to Rudi Klein - co-author of the briefing and chief executive of SEC Group - firms are failing to collaborate effectively to make BIM a success. He says supply chain problems are the single biggest barrier to BIM's widespread adoption. "We all want BIM to work, but its development is being dominated by consultants and the traditional design community," he says. "All these professionals need to be aware of these issues because 85% of the value on projects comes from the supply chain."
So what are the problems and to what extent are the complaints levelled by SEC Group valid?
PROBLEM 1: INCREASING COSTS
Stacey Spence says Ductform is faced with some tough decisions if it is to pay for the upgraded version of the program CAD-Duct Solid and is considering restricting the number of people who are able to use it, impacting on the firm's productivity. Spence says the cost of purchasing and servicing the program annually has increased from £5,284 in the first quarter of in 2012 to £16,450 today. Autodesk said the firm had "added new functionality" to CAD-Duct after acquiring the software provider MAP last year and as a result there were "some changes in pricing".
CAD-Duct Solid is not a BIM piece of software itself, but is essential for many M&E firms to feed into BIM projects. Spence's fear is that as BIM becomes more widespread, it will lead to further costs for her firm and other M&E specialists.
Joel McInern, commercial director at interiors and dry lining contractor MPG, says BIM software costs frequently do not make sense for supply chain firms.On a recent contractor-led tender for a BIM job, he says a fellow subcontractor lined up for a £500,000 package decided the BIM software costs were "prohibitive" for the size of the job.
But Andy Tooley, director at fit-out contractor 8build, which is pitching for its first BIM job, says he expects software prices to eventually come down. "If you look back a few years you'd find a software program such as AutoCAD was prohibitively expensive, but prices generally come down."
A spokesperson for Autodesk said it had an "array of solutions at varying price points". It pointed out it had recently launched Autodesk Revit LT, a "product specifically designed to make BIM more affordable".
PROBLEM 2: POOR ADAPTABILITY
The briefing is highly critical of inadaptable software - it gives an example of an M&E firm that was forced to spend £5,000 getting a BIM model converted into a usable format by an Australian technology company.
Paul Hodgson, business development director of piling firm Bachy Soletance, says the company - which contributes to contractors' BIM project models - has been put off investing in BIM software itself because of the array of different packages that are unadaptable. "The problem we have is that everybody has a different system," he says. "We can't invest in it ourselves because whatever we buy would be wrong."
PROBLEM 3: TROUBLE WITH THE TOP
McInern says that even the most advanced contractors struggle to know how to make BIM work for their supply chains. MPG recently bid for a BIM job with a main contractor, but McInern says that when he asked how the main contractor would interface with the supply chain over BIM, he just got "blank looks".
He believes BIM may not work for all trades. "From my experience it works for some trades such as concrete frames, structural steel and M&E, but for others it becomes very complicated to work."
The SEC Group briefing criticises a range of specific poor practices by tier one contractors, including not bringing specialists into the design process early enough, dumping information management responsibility on specialists and offering "BIM seminars" that result in additional costs for supply chain firms.
Klein says there is a real opportunity to get the supply chain involved early with BIM. McInern agrees that with BIM you "need to be involved from day one" to get the design of specialist areas of the project right, but adds that, on the smaller projects, "that's not the case."
The briefing also claims that the cost of tier one contractors offloading responsibility for BIM data co-ordination to individual subcontractors is up to £150,000 a project. Klein says the job of subcontractors is consequently becoming "less about building and more about managing information".
McInern agrees. "We were told with BIM that one person on a project would be able to co-ordinate the data - but it's anything but that. It's not that simple." He says his firm is expected to co-ordinate BIM data with a main contractor, although he said the cost would be higher for more design-intensive specialist trades such as M&E.
THE CABINET OFFICE ON BIM
"The implementation of BIM will change the dynamics and behaviours of the construction supply chain and unlock new, more efficient ways of working.
"Clearly there is a long way still to go as we work our way through the changes that the adoption of BIM will have on industry. However we are committed to working closely with the construction supply chain to fully understand and help resolve any issues allied to level 2 BIM adoption.
"The BIM Task Group, set up to drive forward our construction strategy, has established a BIM4:SME working group. This will help organisations prepare for adopting level 2 BIM, and the Specialist Engineering Contractors' (SEC) Group is a member."