The government is backing it. Firms are paying top dollar for people that can do it. So why does the number of firms using building information modelling actually seem to be falling? David Blackman sorts through the surprising results of NBS' annual survey on the use of BIM
Skills shortages are currently endemic across the construction industry, and nowhere more so than in the still-fledgling BIM field.
One senior industry source told Building that experienced BIM managers can command salaries of up to £80,000. And poaching is rife, with firms fishing from a very small pool of people with more than a few years worth of experience in using the modelling technology.
David Hunter, chairman of the Bristol-based architecture practice Stride Treglown, says:
"To our constant frustration, we find ourselves being a training ground for others. We have to work hard to retain staff with that knowledge and skill because they are very marketable in the workplace."
With this scrabble for experienced staff as evidence, it'd be very easy to assume ever more people are getting on board the BIM bandwagon. But despite the evident desire for skills, is there evidence BIM's bubble is about to burst? The fourth annual BIM survey by NBS, the results of which are here shared exclusively with Building, actually shows a drop in the proportion of organisations saying that they use BIM. It's the first time this has happened since the organisation started conducting the survey four years ago in the wake of the government's commitment to use BIM on all public sector contracts by 2016. So do these figures herald the start of the BIM backlash, or are they merely a statistical blip in the technology's inexorable onward march?
BIM awareness and usage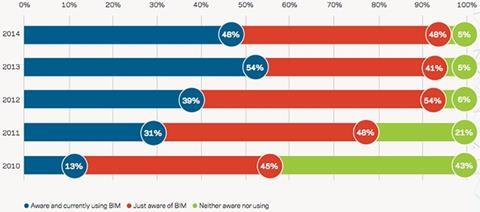 Click the image above or here to view a larger version >>
Bandwagon
The survey, of over 900 respondents from across the construction industry carried out by RIBA Enterprises offshoot NBS, shows that the proportion of firms saying they use the modelling technology has dropped from 54% last year to 48%.
The report concludes that "there remain a significant number of practices who do not see the advantages of BIM, and so chose not to adopt, or who are currently unable to adopt BIM, because of time, cost, or expertise."
The reported fall contrasts with the rapid rise in BIM usage when the survey was last conducted. The drop in this year's survey is particularly surprising, given the 2016 deadline for all central government funded projects to use Level 2 of BIM.
Adrian Malleson, research and analysis manager of NBS, doesn't believe that the figures indicate that the industry has reached "peak BIM". He concludes instead that those firms that have not yet adopted BIM are struggling to find the time to invest in new processes and software as the industry recovers. In addition, the NBS says changes in the demographics of those responding to the survey had an impact, and then when adjusted for these changes, BIM adoption appears to increase.
Either way, the industry is still committed to BIM, he argues, pointing to figures elsewhere in the survey showing that 92% of organisations expect to be using the approach in three years' time. Despite this year's slippage, the report concludes that there is a "real and growing market for it [BIM]".
Is this the case? Steve Faulkner, associate director at structural engineer Elliott Wood, agrees BIM uptake is not really falling, but nevertheless sees the latest figures as an overdue reality check for the BIM bandwagon. He says: "The early figures were totally unrealistic. People were using Revit and doing some 3D modelling. A lot of people were using 'Bimwash': saying they were using it in order to win work."
"Last year you could say you were using BIM and you wouldn't be found out. This year you have to walk the walk, otherwise you will be found out very quickly," says Faulkner, who is a member of the BIM4SME Group.
Future use of BIM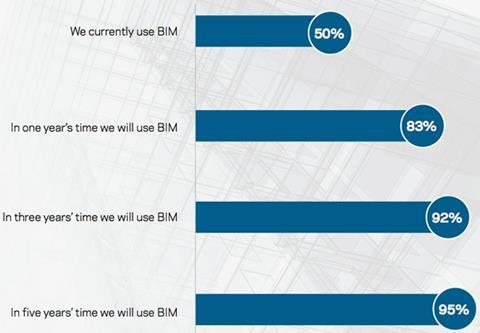 Barriers
The bald uptake figure is not the only stat in the latest survey that indicates BIM use and knowledge is plateauing or falling - a raft of questions show similar results. For example, when probed on whether they are confident that they have the skills and knowledge to use BIM, 45% of organisations said they were - a 1% drop compared to last year.
These falls can be interpreted as an impact of BIM usage having matured. Faulkner says: "They initially thought [BIM] was pretty pictures. People have more awareness of what BIM is now and realise they don't understand it as well as they thought they did."
Nevertheless, Malleson is concerned about this drop in BIM confidence, with more than half of all respondents saying they lack the confidence to use BIM. He blames the resources that have been earmarked for BIM. The two chief barriers identified by survey respondents to more widespread BIM adoption were in-house expertise and training (see key findings box below).
But Mark Bew, chairman of the government's BIM task group, is less worried. "There are always going to be organisations that are reluctant to engage," he says.
He argues that construction firms tend to adopt new approaches, like BIM, when they need to, for example when they start a project that requires compliance. As a result, he is not surprised by the variable pace of adoption.
"When you look at the profile of how people learn in construction, they do it on a project-by-project basis: they learn in three-year chunks. The guys in the institutions think you do it by constant improvement every year but it doesn't happen that way."
The third biggest barrier to BIM adoption, according to the survey, is lack of client demand.
Key survey findings
48% of firms surveyed reported that they currently use BIM, down from 54% last year
45% of organisations say they are confident in their BIM knowledge and skills, slightly down on 46% last year
54% agreed that BIM would help achieve a 50% cut in overall time taken to complete projects
75% of BIM users said they had worked collaboratively in the past year
31% use a BIM model from the start to the end of a project
67% said the industry is not clear enough yet on BIM
Lack of in-house expertise was identified as the biggest barrier to using BIM, cited by 74% of respondents, followed by lack of training (67%) and lack of client demand (63%)
While the government has mandated BIM Level 2 for the projects that it funds, even BIM's champions believe that private clients are generally yet to be sold on the concept.
"Big companies like BAA get it but private clients don't have the first idea about BIM, they will be guided by their design team," says Faulkner.
And too often architects are failing to offer this guidance, says Peter Barker, managing director of the BIM Academy at Northumbria University.
Stride Treglown's Hunter says that while there are "pockets of awareness" in the private sector, "office developers are inherently quite conservative". Mark Thompson, managing partner of north-east based practice Ryder, says that developers are showing an interest in using the approach to more rapidly develop prototypes.
"Clients with lots of buildings that they own and have a long-term interest in maintaining such as supermarkets are starting to show an interest," says Thompson, whose firm supported the establishment of the BIM Academy at Northumbria University.
And Bew says the BIM task force is getting more enquiries from private investors about the savings that the approach is delivering on public projects. "We are having conversations with investors wanting to see what the government is doing, which is practically unheard of."
Hunter acknowledges that firms have to cross a "pain barrier" when acquiring BIM skills and capabilities. But he argues any additional costs are outweighed by the greater efficiencies that the approach delivers. He says: "Once you have done it there's no turning back."
Attitudes to BIM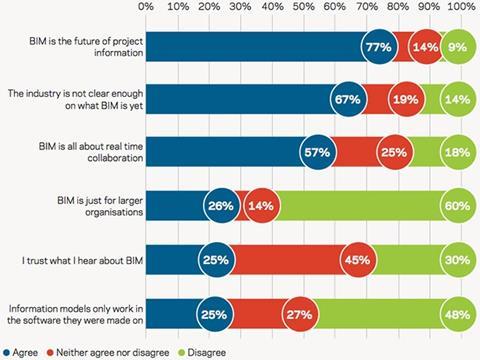 Benefits
And those who have bitten the BIM bullet tend to be positive about the benefits that it brings, the survey shows. Nearly two-thirds (59%) report cost efficiencies, 56% an improvement in client outcomes and 51% faster delivery.
In addition, those organisations that have adopted BIM are using it in a more sophisticated way, according to the survey. The proportion who have only achieved BIM Level 0 has dropped to just 1%, compared with 11% in 2013. In addition, 65% said they had reached at least Level 2, the standard that will be required to work on government projects from 2016, compared with 58% last year.
Despite the survey's evidence of faltering progress, Faulkner believes that BIM is still destined to become the industry standard way of designing buildings.
"Over the next few years it will become the norm - you won't want to do some projects in a BIM environment and some in a non-BIM environment. You will do BIM-ready projects because it's the cost effective way to work."
BIM's whole-life benefits
In terms of the benefits that BIM delivers for understanding the whole-life performance of buildings, NBS' research shows that the industry is still barely scratching the surface.
Just 18% of organisations polled said they were using COBie, the software standard designed to help capture such information over a building's lifecycle. This is a fall from 23% in the previous year.
Peter Barker, managing director of the BIM Academy, believes that the lack of take-up of this element of BIM reflects users' perceptions that COBie is too complicated. "It's a sledgehammer to crack a nut," he says.
Adrian Malleson of NBS says he is disappointed that COBie has not taken off to a greater extent but blames a lack of engagement with the concept among asset and facilities managers. "If BIM is to deliver efficiencies through the life of a building, and not just in the design stages, we would need to see a higher adoption rate."
"Whole life is where the real benefits can be unleashed. One of the difficulties that the construction industry has is measuring the impacts that it makes. Embedding BIM in whole life would enable those design and construction decisions to be tested for their effectiveness so that they can be refined and made better in the design process."