Building caught up with the team on the Manchester library refurb project to see if BIM was everything they hoped it would be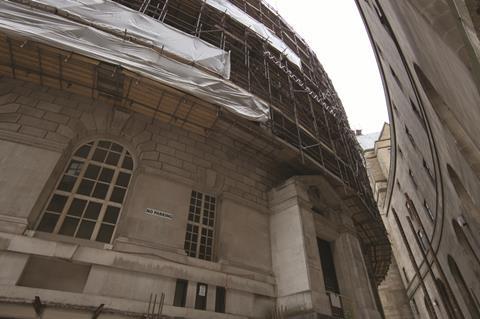 Does Building Information Modelling help deliver projects more efficiently and save money? The government hopes so and is making BIM compulsory on all public sector projects from 2016. The Ministry of Justice is so convinced of its benefits that it announced in April that contractors on its framework must use it by the middle of 2013.
The benefits come from design teams sharing information, which means they don't have to draw up each part of the project from scratch. Shared data means designs are consistent and co-ordinated, eliminating expensive clashes once projects get to site. The government estimates this has saved at least 5% with other clients - most notably 10% at BAA. The other driver for compulsory BIM is that facilities management (FM) teams can continue use it to operate buildings more efficiently after the project is completed to deliver long-term savings.
But there are downsides. It forces teams to work in new ways, including in 3D, which involves expensive investment in hardware, software and training. It also requires them to share information, raising questions about who owns the data and who is to blame if jobs go wrong.
So how does using BIM work in real life? Building decided to follow a project from beginning to end to see how the team got on. Last year we visited it at design stage and found they liked the ability to clearly visualise how the project would look, enabling them to accurately predict how it would fit together, with less risk of clashes once it got to site. There were a few minor gripes, such as the cost of equipment and training and concerns over copyright.
The project is now on site so we went back to see if the job has been delivered as smoothly as the team hoped.
The project
Building decided to follow the £95m remodelling of Manchester Central Library as it is a public sector project and a refurbishment - in many respects, this is more complex than new build so should fully test the capabilities of BIM.
This grand building was completed in 1934, but looks much older, with more than a passing resemblance to Rome's Pantheon. It was based on the American idea that borrowers don't browse; the librarian gets their desired tome from hidden book stacks. This means 70% of the library is not accessible to the public. Architect Ryder is reversing this ratio so 70% of the building is accessible to the public. It will also be able to cope with double the number of visitors each year.
Much of the hidden space consists of four floors of book stacks sitting under a huge, circular reading room. These were integrated with the building structure, which called for a delicate removal operation. Stack floor-to-ceiling heights were limited so have been replaced by two conventional height slabs. Vertical circulation was unsatisfactory, so a new circulation core has been punched through one side of the building, which contains a new staircase, two lifts and a vertical service riser.
Servicing is critical, as the basement archive requires humidity and temperature control to very tight tolerances. The complex service installation is being threaded through the existing structure.
The building is listed, which means retaining as many original features as practically possible. English Heritage is involved in the project and has to approve all interventions. The huge, circular reading room at the heart of the building features scagolia columns, a type of fake marble. The floor has had to be removed but a 1.5m zone has been retained around the edge to preserve these columns, necessitating complex temporary works.
Limited access has made this job challenging. The roof has had to be retained which ruled out a tower crane. All materials are being brought through a window - English Heritage wouldn't even allow contractor Laing O'Rourke to take out the brickwork below the window to create a bigger aperture.
How BIM is being used
The existing library was surveyed using a 3D laser scan; this provided the basis for Ryder's architectural design, drawn with 3D modelling tool Revit. Other consultants have used Ryder's model for their own designs. Each member of the team has ownership of their model but uses shared drawing protocols. Models are updated against each other regularly. Now construction is under way, the team are working on developing a FM-friendly model that can be used to manage the building once it is completed.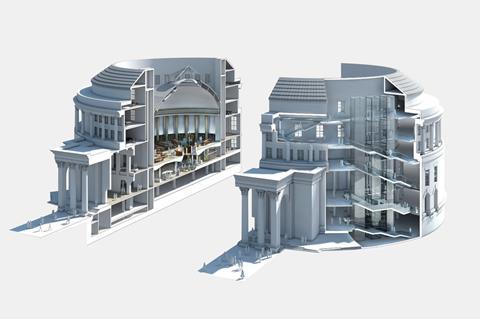 THE CLIENT'S VIEW
What they said last year
Manchester council decided to use BIM principally because it hopes it will help it manage the building more effectively after completion. It also sees BIM as helping the design and construction teams to fully understand the design, providing greater certainty on site and reducing the risk of the job going over budget and running over programme. It didn't make BIM a contractual condition of winning work on this job but the council sought a team that subscribed to its values which included innovative ways of working.
What they say now
John Lorimer, capital programme director for Manchester council, says there have been "tangible gains" from using BIM on this project. The construction phase has gone very well because of the integration of design in the BIM model. It has been used to plan sequencing of work, engaging with the supply chain to give everyone involved in the project the certainty that the objectives could be achieved, making this difficult refurbishment less risky and more likely to come in on time and budget. "We are really pleased with how it is going and have already had cash benefits before we've got to the FM stage, so we are quids in already," he says.
The certainty in both the detailing and sequencing of works enabled the team to agree a 1% reduction in the risk allowance for design development, while identification of clashes in the virtual environment allowed a 0.25% reduction in the risk allocation. These savings were reinvested into the scope of works.
You can't impose bim on people - they have got to want to do it and go over and above their usual job specification

John Lorimer, Manchester council
The council says there have been time savings too. BIM helped to reduce the programme for the complex vertical circulation core by nine months, after it revealed many clashes between temporary and permanent works in the original plan. An overall reduction of eight months to the contract programme has been achieved.
Lorimer adds that BIM is being used on a new £20m cultural centre - a condition of this job is to work in a BIM environment and hand over the model at the end for FM. "BIM is becoming part of this organisation's life and there is no stopping it now," he says, adding that the day when all Manchester council building contracts stipulate using BIM has crept up more quickly than expected. He says:"It wouldn't surprise me if we are saying you won't work for us unless you use BIM next year."
Any downsides?
As the job has progressed the team has found the 3D laser survey wasn't totally accurate. "Once you start interrogating it, you realise it has shortcomings," says Lorimer. This means additional surveying has been necessary to ensure the construction information is spot-on and the information used to operate the building is accurate.
The big lesson is that the client needs to understand clearly what it wants from the model to operate the building effectively. "One of the disadvantages on this project is we didn't articulate our objectives clearly enough," explains Liam Brady, Manchester council project manager. "If we could turn the clock back we could have really set out our stall."
He adds that a project execution plan is essential to help the design and construction teams to create a model suitable for building operation. Brady has the job of going through all the information and creating an FM model for the building.
Any other tips?
"You can't impose BIM on people - they have got to want to do it and go over and above their usual job specification," says Lorimer. "If something goes wrong because of poor exchange of data there needs to be the enthusiasm and will to resolve it."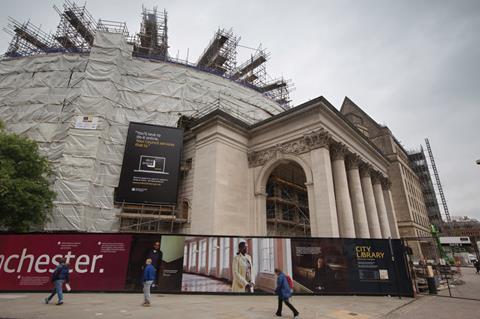 THE CONTRACTOR'S VIEW
What they said last year
Laing O'Rourke uses BIM regularly because ultimately it saves the contractor money. BIM gives the team a better understanding of the job, which means more detailed and accurate information can be sent out to the supply chain. This means the job is less risky so specialists don't have to factor in as much risk pricing. Once the job gets to site most of the potential problems should have been ironed out in the model, so the job is more likely to be delivered on time and on budget.
What they say now
Laing O'Rourke has found BIM particularly useful for refurbishing a listed building as it has made liaising with English Heritage much easier. The conservation body has to satisfy itself that all the interventions made by the contractor are necessary.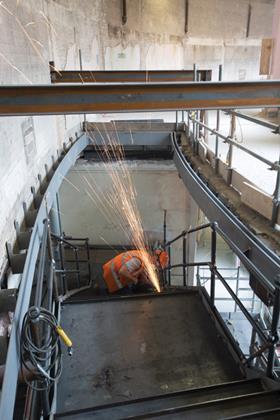 One major intervention was the insertion of the new vertical circulation core which has involved putting in new columns, taking out existing transfer structures and cutting into floor slabs. This involved placing a jack between the column and the existing beams and slabs. The jack was pressurised to take the loads from the slab allowing the existing beams to be removed. The jack was filled with grout to lock it into position.
"Trying to explain this two-dimensionally to English Heritage was almost impossible," explains Graham Fenton, Laing O'Rourke's project manager. "We had a workshop and built it up piece by piece and indentified exactly how much structure we needed to take out. It was a great advantage."
The original method relied on extensive temporary works to take the loads while the columns were positioned. "We totally turned the methodology on its head using the BIM model," explains Fenton, adding that this saved money on the temporary works.
The model has also been used to plan logistics, including the position of the site hoarding, and to plot vehicle-turning circles to ensure they had enough space. And it was used for planning the location of site services, including fire, muster and recycling points.
Other advantages include being able to accurately predict how much concrete was needed for pours and how many lorries were needed to take rubble away. It has also helped avoid clashes with the services installation. "It gives you predictability and takes the guesswork away," says Andy Radley, Laing O'Rourke's BIM manager.
Any downsides?
Laing O'Rourke commissioned its own 3D laser survey of the critical vertical circulation core because of the shortcomings with the original. "We needed to be absolutely sure that everything in this area was right," explains Radley. Laing O'Rourke has also had to train suppliers to use the software if they aren't used to working in 3D and supply drawings in 2D if needed.
THE QS' VIEW
What they said last year
Cost consultant Davis Langdon was the BIM party pooper as it was working from traditional drawings produced from the model. DL said it would like to start using BIM for cost planning.
What they say now
According to associate Stephen Naismith, "A hell of a lot has gone on at Davis Langdon" since last year. It has set up a BIM steering group to see how it can benefit from BIM, and Naismith represents this group in Manchester. "We are getting something out of this in terms of knowledge gathering and how we fit into the process," says Naismith.
Potential benefits include using the model for cost estimating and planning, controlling variations and the implications of change to the programme. "BIM allows us to have a more complete view which makes our cost estimates more robust and communicative," says Naismith. The big win will be to use the model for whole-life costing.
Any downsides?
BIM hasn't been used as a cost planning tool on this project. When BIM is used for cost planning designers may have to produce their data slightly differently.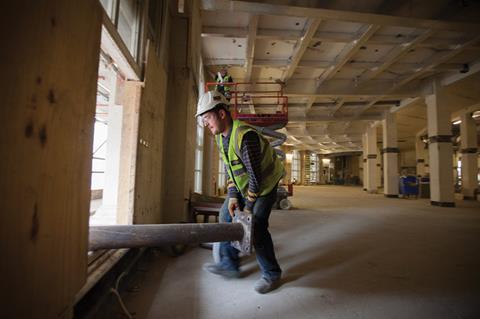 THE DESIGN TEAM'S VIEW
What they said last year
The big benefit is the production of a model where architectural design is integrated with the M&E, structure and pedestrian flows. This is useful for multidisciplinary design meetings as everyone can see what is being discussed. A co-ordinated model leads to fewer clashes on site.
What they say now
For BDP environmental engineering director Robert Ferry, increased collaboration is the biggest benefit. "The biggest advantage on this project is the BIM agenda and M&E contract has really pushed collaboration. I've never seen anything like this project," he says. "You get a much better understanding of the building and the ability to sit down around a virtual model and work in real time to solve problems."
URS structural engineer Jim McNally found BIM invaluable for planning temporary works as the building was dismantled and says it reduced the amount of temporary works needed. It also delivered greater predictability.
"There have been less unseen events and less trips to site than you would have expected from a building of this type," he says. "There's been more predictability and certainty."
Ryder architect Lee Taylor found BIM useful for conveying design information and intent, which made discussion with English Heritage much easier. Ryder has used the model to produce construction information, clash detection and problem solving on site - it illustrates the problem, which makes it easier to find solutions.
Taylor adds that BIM has got everyone more involved in the whole project. "It helped our understanding of the role of the temporary works, an area we wouldn't have traditionally been involved in."
Any downsides?
Taylor reiterates that the model hasn't been used to its full advantage as many specialists only work in 2D. "We have modelled some elements for specialists if these are very important and have a co-ordination impact," he says.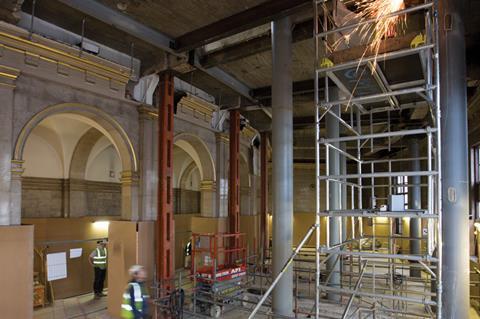 THE SPECIALIST'S VIEW
What they said last year
M&E specialist NG Bailey finds BIM ideal for co-ordinating complex services installations. It is useful for seeing how prefabricated modules fit into buildings, ensuring there is space for maintenance staff to access installations and explaining this to clients and the rest of the project team.
What they say now
Shoehorning complex and sophisticated services into an old building has made this job particularly challenging so services engineer BDP has worked with NG Bailey during the installation phase. BIM has been very helpful for simplifying and rationalising the design and making tweaks for areas where the building differs from original expectations. Prefabrication was ruled out due to the limited space for bringing elements into the building; instead BIM has been used to generate cutting lists so pipework arrives cut to the right size with labels identifying where it needs to go.
The model also revealed that services were so densely packed in at the top of the basement corridors that it made sense to paint these areas before installation rather than afterwards. "Traditionally there is a problem with damage to the services by other trades but this hasn't happened here," says Tony O'Connell, NG Bailey's design manager.
Another benefit is being able to print out a 3D view of the area being worked on to help the workers to understand it. "They were doing isometric sketches on the drawing - now they can take a snapshot of the model and take it out on site," says O'Donnell.
Any downsides?
O'Donnell says the design has taken 10%-15% longer but doesn't see this as a downside. "We reckon that will be more than paid for in terms of a simpler installation, reducing the number of clashes, aiding sequencing and a more effective installation," he says.
Because small installers only work from 2D drawings, these have to be specially labelled. "You can spend a hell of a lot of time labelling the drawings," he says.
Another issue is that component manufacturers work with different software packages, which aren't compatible with the model used on this project. O'Donnell says this is becoming less of a problem as manufacturers are beginning to use compatible software.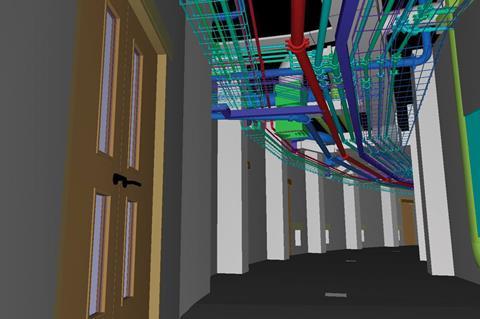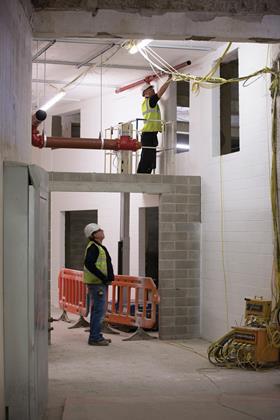 PROJECT TEAM
client Manchester City Council

architect Ryder

structural engineer URS

M&E engineer BDP

QS Davis Langdon

project manager Mace

contractor Laing O'Rourke

M&E engineer NG Bailey