Many of the people allegedly involved in the blacklisting scandal still work in construction. Should we be worried?
Earlier this month, a group of protesters from the GMB union gathered outside the Birmingham offices of the Big Lottery Fund to stage a demonstration against one of the organisation's human resources staff.
In so doing, they were opening up a new front in their battle against construction industry blacklisting - something the sector itself continues to insist ended more than four years ago with the discovery and closure of notorious blacklisting firm, The Consulting Association (TCA).
The protesters, waving placards bearing the slogan "You've more chance of being blacklisted than winning The Lottery", were highlighting the organisation's employment of Dianne Hughes as deputy director of HR.
Hughes, a former senior HR professional at Carillion and its then M&E subsidiary Crown House, was named in evidence provided to the Scottish Affairs select committee - the group of MPs currently investigating blacklisting - by the former boss of TCA, Ian Kerr, who died in December last year.
In a hand-written list of what Kerr termed TCA's "company main contacts" provided to the committee by Kerr, Hughes' name appears alongside 38 other named individuals.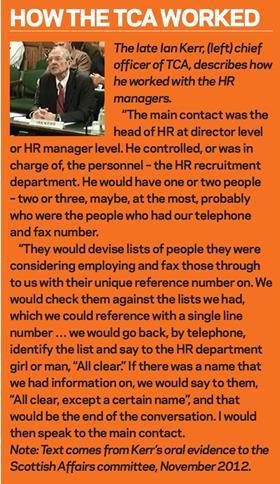 While some of these HR managers have disputed this evidence and no further proof has emerged to support or challenge it, the inference that is being drawn by unions and other campaigners that prior to 2009, is that these individuals were involved with TCA by organising the sending of lists of prospective workers to the organisation for checking against its database of 3,200 named "troublemakers" and receiving back any matches (see box left on how the
TCA worked).
This helps explain the latest tactics of the GMB, which has been running a campaign to try to force the major construction firms that were associated with TCA to issue a full apology and compensate those affected.
As its national officer Justin Bowden said at the time of the protest against Hughes: "GMB is … calling to account all the managers and the human resources professionals who organised the whole thing for 20 years. That is the reason for this protest."
But what has happened to these people who, it is alleged, played such a role in blacklisting? An investigation carried out by Building of the 39 alleged TCA contacts named in Kerr's written note has established that of those still known to be working, 78% remain in senior HR roles within construction while 61% are still working in HR at the same firms they were when, it is alleged, they interacted with TCA.
So does the analysis lend weight to union allegations that the practice could be continuing, or is the targeting of these individuals itself becoming a form of victimisation?
'In denial'
For anti-blacklisting campaigners and those who have taken up their cause in recent months, Building's analysis appears to support MP Nick Raynsford's claim that the construction industry is "in denial" over the issue and contributes to the sense it is only paying lip service to public anger over the practice.
"This tells me that [the firms involved] are not in the least contrite about it," says blacklisted worker and leader of the Blacklist Support Group, Dave Smith. "They are simply sorry that they got caught. Many of these firms were [blacklisting] for decades and continually denied they were doing it. The fact that so many of these managers are still in place tells us everything."
The country's largest union Unite - which, like the GMB, has been investigating the current activities of the HR managers named by Kerr - argues that the numbers of these people still employed at the firms they worked for when they are alleged to have interacted with TCA indicate blacklisting was sanctioned by these firms' most senior bosses, who, the union believes, remain unrepentant today.
Some of the "main contacts" in Kerr's list themselves are today in extremely senior positions. Paul Raby for example, who is named on it as a main contact for Balfour Beatty's then subsidiary Balfour Kilpatrick, is now Balfour Beatty Group's director of HR with a seat on its executive board. A recent letter from Balfour Beatty's non-executive directors published on the blog of blacklisting whistleblower Alan Wainwright, denies Raby was a TCA contact.
The fact that almost 80% of the 39 alleged TCA main contacts known to be working are still in the construction industry has also heightened fears that blacklisting is continuing. Quite apart from the idea that some of these people may recall the names of union activists or other supposed "troublemakers", there remain suspicions that contractors might have kept their own versions of Kerr's blacklist database at the time and that these may not have been destroyed since.
In his evidence to the Commons committee, Wainwright, a former labour manager at a number of firms, including Crown House, alleged that Carillion would make its own list of names to keep a record of which workers TCA was advising against employing - meaning that the company at one time effectively kept
a blacklist database itself. The claim is denied by Carillion.
For Unite's assistant general secretary Gail Cartmail - whose union is engaged in a high-profile anti-blacklisting campaign against the £15bn Crossrail scheme, a project on which at least two of the HR managers named on Kerr's list are known to have worked - the number of alleged TCA contacts still engaged with the industry's big players reinforces the union's suspicion that blacklisting is continuing on the huge London development.
She says: "Unite research suggests that 16 individuals named as blacklisters by TCA are currently employed by businesses that have contracts with Crossrail. This includes Kathy Almansoor, now employed as group employee relations manager by Kier [see box overleaf], which has been awarded several major Crossrail contracts through the BFK joint venture."
Cartmail's remark underlines the association Unite is seeking to make between Kerr's list of main contacts and blacklisting, an association being used to support its allegation that the practice continues on major projects.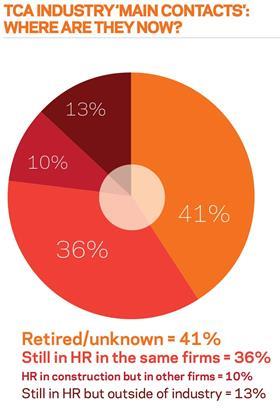 A new blacklist?
Isn't there a danger though that directly targeting these individuals could itself become a type of victimisation? After all, many believe that this behaviour, prior to 2009, reflected an entire culture within construction.
Susannah Clements, group HR director at Carillion, says her colleague Liz Keates - one of those named in Kerr's list and under scrutiny by the GMB - was a junior manager when she joined the firm's then subsidiary Crown House in 1998 and, uncomfortable with its use of TCA, put a stop to it back in 2004 after she was promoted to a more senior position.
Clements says this makes the unions' targeting of Keates extremely unfair. "We are appalled that a campaign to highlight TCA's database has turned its focus to targeting individuals such as Liz who were quite junior at the time and who were not the decision makers," she says. "We recognise that the industry faces a challenge to rebuild trust » » with some of our key partners, but we believe that the answer lies in constructive dialogue."
This allegation of unfairness is sharply rejected by the GMB's Justin Bowden, who describes it as hypocritical. "Blacklisting was patently unfair in every single respect and it is patently unfair that people have not received apologies or compensation," he says.
With the major contractors and the unions at loggerheads, it has been difficult up until now to imagine how this stand-off could be resolved. But a third party is now poised to shake things up by entering the fray.
The Chartered Institute of Personnel and Development (CIPD) is the world's largest professional association for HR managers with 135,000 members. The organisation, Building can reveal, is now conducting an investigation into whether a number of its members "alleged to have made use of TCA services" breached its professional code of conduct in doing so.
The CIPD's chief executive Peter Cheese also wants to start a debate on blacklisting with the construction industry and has been writing to HR managers in the sector to say so. "People in the HR industry are very concerned about this," he says. While Cheese emphasises he does not condone blacklisting, he points out that part of any HR manager's job is to protect their organisation "from recruiting a bad apple".
"We need to be clearer ourselves on where we draw the line on some of these things," he says.
He's going to have his work cut out.
WHAT THEY SAY: FIRMS STILL EMPLOYING THOSE ALLEGED BY IAN KERR TO HAVE BEEN TCA 'MAIN CONTACTS'
Amec Arnold Nestler, group HR services director
The firm said: "Amec does not operate a policy of blacklisting individuals and the senior management of the company would not condone such a policy. Arnold Nestler became Amec's contact for TCA in 2007 following the sale of Amec's construction business. Mr Nestler concluded it was inappropriate for Amec to be involved with TCA's service and terminated the company's involvement."
Balfour Beatty Gerry Harvey, Paul Raby, Armar Johnston, Ann Cownie and Vince James are all in senior HR roles
The firm said: "We have expressed our genuine regret over [the use of TCA up until 2009] … and we have apologised to the workers and families who may have been adversely affected.
"Following the receipt of the Information Commissioner's enforcement notices in 2009, we undertook steps to address the shortcomings revealed … which included the introduction of a group-wide data protection policy and [revising] our ethical code of conduct to enforce our position on blacklisting.
"Our association with TCA prior to 2009 was across a number of our operating companies and was not the isolated actions of individuals."
Bam Nuttall Pat Swift, HR manager at BFK (joint venture working on Crossrail comprising Bam Nuttall, Ferrovial, Kier)
BFK has declined to comment on Swift, referring all enquiries to Crossrail, which said it had "seen no evidence of blacklisting of any kind" in connection with the project and wished to see any substantive evidence available.
A spokesperson for Crossrail said: "All contractors working on Crossrail must comply with the law which explicitly outlaws this practice. Crossrail has made clear to the trades unions that we will take firm, decisive and immediate action if any substantive evidence is presented."
Carillion Liz Keates, head of employee relations
The firm said: "Carillion's March submission to the Scottish Affairs Committee confirms what we know about the involvement of other named individuals. However, it is important to note that, with the exception of Liz Keates, all had either moved on or retired by the time of the ICO raid in 2009 - some back in the late nineties.
"We emphatically do not condone blacklisting and have communicated this clearly to our suppliers and subcontractors. As a leader within our sector we are also taking a number of additional steps to make our position clear to our supply chain and to ensure that there is no further use of any such practices in future."
Cleveland Bridge Lynn Day, personnel manager
The firm declined to comment.
Emcor Group Greg Ingleton, HR director
The firm said: "Emcor Group UK is an equal opportunities employer and it is our policy not to discriminate on any grounds. We do not condone the use of blacklists."
Kier Kathy Almansoor, group employee relations manager
The firm said: "It is company policy that we do not comment on individual employees. Kier does not condone any form of blacklisting."
Laing O'Rourke Sylvia Smith, HR director
The firm said: "In 2009, following an investigation by the Information Commissioner's Office, 14 construction firms were served with enforcement notices for breaches of the Data Protection Act in connection with their relationship with TCA … No enforcement notice was served on any Laing O'Rourke Group company.
"Laing O'Rourke stated at the time of the ICO's initial investigation, which covered 40 companies in March 2009, that relationships with TCA had existed following the acquisition of certain companies from other businesses."
Shepherd Engineering Services Lisa Stevenson, executive director of HR
The firm said: "Lisa Stevenson joined SES in 2007 as HR director. At the point she became aware that the services of TCA had been used, albeit minimally, she raised her concerns to the then chief executive and from that point onwards the services of TCA were no longer utilised. We can provide evidence to back this up.
"Since 2007, a new recruitment process has been put in place that is both fair and consistent and under no circumstances would SES or Lisa Stevenson use the services of TCA, either then or now. As Lisa didn't actively use the services of TCA there was no action taken against her."
Skanska John Dickinson, Skanska industrial relations manager
The firm said: "Following the closure of TCA in 2009, Skanska carried out a thorough investigation into its use of the service, so that we could take steps to ensure we comply with best practice.
"Skanska is not engaged in any covert vetting or blacklisting and is not aware of this continuing in the UK construction industry."
Building made efforts to give all named individuals an opportunity to comment but all declined or were unavailable.