Read about the winner and shortlisted entries for this year's Diversity Award – Making A Difference
Winner: Mace
During the virtual celebrations of its inaugural inclusion week in September 2020, Mace took the next step in sharing externally its diversity and inclusion strategy, which will shape its approach to addressing equality, diversity and inclusion over the next three years. This marks a new determination at the most senior levels of the business to tackle long-term structural inequalities across both the Mace business and the wider sector. The strategy's key aims are to become an industry leader and influencer in the arena, to work collaboratively with partners to promote diversity and inclusion, and to improve the company's diversity and inclusion capability and create robust and transparent processes, policies and systems.
The company is also committed to using evidence-based insights, data and experience to progress its diversity and inclusion commitments. These data-based targets include improving the gender and ethnicity pay gap by 10% year-on-year and expanding diversity at the most senior levels by increasing the number of diverse hires at associate director level by 15%. Alongside this strategy, the firm also voluntarily shares its ethnicity pay gap data as well as its gender pay gap data.
Mace's approach to recruitment has also been refreshed, with all recruitment managers completing training in Clear Assured recruitment methods, alongside updating external advertising to be more inclusive and offer greater flexibility for potential candidates. Of the 75 apprentices and graduates that the company recruited last year, 35% identified as female and 20% identified as being from an ethnic minority background.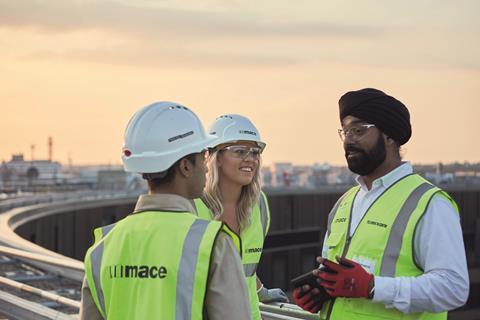 Runners-up
Gilbert-Ash
Gilbert-Ash has demonstrated a commitment to tackling diversity and equality issues both within the company and across the wider construction industry. The contractor has delivered unconscious bias training to all managers and staff, with this training now part of the induction of new employees. The company also has a diversity and inclusion focus group with six volunteer members. A founding member of Diversity Mark NI, Gilbert-Ash became the first construction company in Northern Ireland to retain the Bronze Diversity Mark for three consecutive years, in November 2020.
Last year was a highly significant one for the firm's diversity commitments, with Gilbert-Ash becoming a signatory to Business in the Community's Race at Work Charter in July. It also published its Modern Slavery Act statement, which sets out a zero-tolerance policy on slavery and human trafficking and formalises the firm's expectations that its supply chain partners will adopt the same values, to help bring change across the wider industry.
Gilbert-Ash has also set out a strategic goal to promote gender diversity in construction, with women now making up 22% of the company, well above the industry average. Meanwhile, the firm's health and wellbeing focus group is continuing to implement its positive mental health efforts through its support of charity Mates in Mind and training nine mental health first-aiders.
Thornton Tomasetti
Thornton Tomasetti launched its global equity, diversity and inclusion programme in 2016 with a focus on establishing benchmarks, setting goals and developing corporate-level strategies. The programme was restructured over the last year in order to focus on its grassroots employee network groups: these vary in focus and mission, ranging from Women@TT for those who identify as women, to Mosaic for employees of diverse cultures, and Spectrum for LGBTQIA+ staff.
To support Thornton Tomasetti's goal of doubling the number of female shareowners by 2024, the firm created the Women@TT Mastermind programme, an annual gathering of associate-level women from across the business to brainstorm, educate, support and mentor each other and provide feedback to the wider company.
Mosaic is focused on the celebration and acknowledgment of the importance of cultural diversity and aims to improve the visibility of underrepresented groups in the industries in which Thornton Tomasetti works, aid in the recruitment and retention of staff of all backgrounds, promote cultural awareness, foster and broaden professional networks, and provide opportunities for advancement.
Spectrum is focused on promoting an inclusive workplace community and advocating for lesbian, gay, bisexual, transgender, queer/questioning, intersex and asexual employees. It launched a pronoun awareness campaign in 2021 along with integration into the firm's HR systems.