Read about the winner and shortlisted entries for this year's Offsite Project of the Year award
Winner: Seismic
Entered by Seismic Consortium
The objective was to develop a platform-based approach for construction using the latest in digital and manufacturing technologies. The results are that projects can be delivered up to 75% faster, 70% lower in carbon and 47% better value, compared with traditional construction. Seismic is compatible across multiple manufacturers, so if a building needs to be extended or adapted later then clients are not locked into one solution.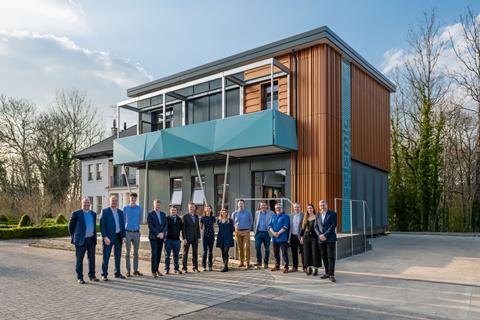 Runners-up
Crofts Street
Entered by RSHP
The Crofts Street scheme in Cardiff promotes the efficient use of land, developing the site at a practicable density in line with neighbouring developments and pre-war terraces. A modular project, it is made up of nine two-bedroom townhouses built on brownfield land for council rent and designed to be carbon positive in operation. The homes use roof-mounted solar panels and heat pumps instead of gas to provide energy. Mechanical ventilated heat recovery and natural ventilation are used to provide efficient year-round comfort to all internal spaces.
HMP Five Wells
Entered by Kier
HMP Five Wells in Wellingborough is a new-build, £253m prison offering around 1,700 places for adult male prisoners. It is the first in a series of projects to be undertaken as part of a wider £3.8bn investment by the Ministry of Justice. Completed on time and to budget, the project showcases a pioneering approach to offsite manufacture. It features a pre-manufactured value of 70%, with a design that is 80% standardised. This means it can be easily replicated for future builds and is being used across the next five MoJ new‑build prisons.
K1 & K2 Floating Pavilions, Wood Wharf
Entered by Kilnbridge
The programme to build two reinforced concrete hulls for a couple of floating restaurants to be moored in Wood Wharf, London Docklands, saw Kilnbridge's design, engineering and planning teams undertake a rigorous review of the tabled plan and decide that concurrent construction of the watertight structures on land would be essential. This represented a significant departure from the originally planned sequential construction of the hulls on floating temporary structures on the water, bringing a 12-week time saving.
Lewisham Exchange
Entered by JTP / Tide Construction
The world's tallest modular student building – and constructed during the pandemic – Lewisham Exchange was delivered by JTP and Tide Construction using innovative construction techniques on a tight urban site beside a railway. The buildings were constructed from 3D volumetric structural modules which were manufactured offsite, reducing construction waste by up to 80%. A fabrication process where factory work could progress in tandem with early site works resulted in an accelerated construction programme, reducing the overall build schedule.
Manchester Engineering Campus Development
Entered by NG Bailey
NG Bailey's offsite specialists played a crucial role in helping to inspire future generations of engineers through their pioneering work at Manchester university. NG Bailey's designers, BIM co-ordinators and engineers worked collaboratively with principal contractor Balfour Beatty to develop a range of innovative offsite build solutions, making substantial time and budget efficiencies. Every piece of equipment installed was quality tested before being delivered to site at the correct time to maximise productivity, as well as being tagged to ensure full traceability.
Product Based Building Solution Demonstrator
Entered by HLM Architects / Laing O'Rourke
Sponsored by Innovate UK, the Product Based Building Solutions is a digitally and physically configurable kit of parts, forming a multi-sector platform design. Led by Laing O'Rourke and HLM Architects and supported by other partners, the initiative was designed to test and prove the efficiencies that can be achieved cross-sector using a kit-of-parts approach with digital configuration, logistics, build sequencing and assembly guides. The demonstrator contains two elements – a classroom and a residential unit.
Roofspace/Nuspan collaboration for Lovell Homes
Entered by Roofspace Solutions / Nuspan Flooring
A collaboration between Roofspace Solutions and Nuspan Flooring using modern methods of construction has enabled builds on a new Lovell housing contract to be completed up to 45% faster. It included installation of 24 i-House units from Roofspace, which speed up construction to watertight stage by 35%-40%, building from the slab up to the roof trusses within five days on a three-bedroom house. These systems were combined with 105 of Nuspan's precast insulated floors, a system that offers a reduction in labour of up to 83% and with no on-site waste.