From Antarctic ice station to London train station, shopping centre to Shard, this year's Building Awards shortlist reveals an industry full of ingenuity and inspiration
BUILDING MAGAZINE PROJECT OF THE YEAR CATEGORY
University of Exeter Forum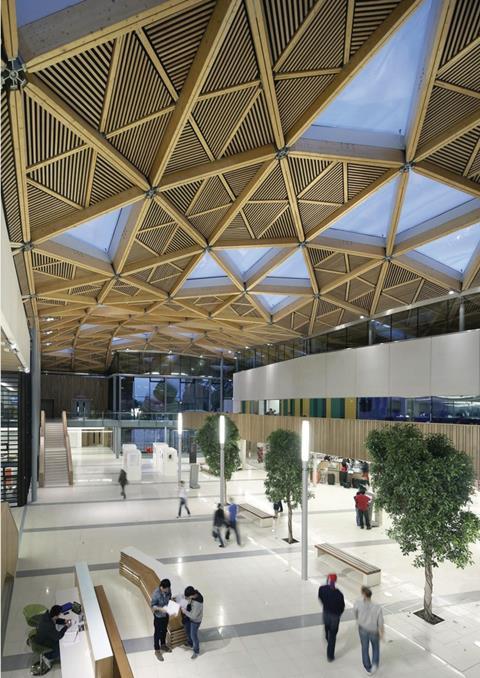 ARCHITECT: Wilkinson Eyre
CLIENT: University of Exeter
CONTRACTOR: Sir Robert McAlpine
SUBMITTED BY: Buro Happold
It is rare for a building's roof to be the star attraction but the University of Exeter's newest building is crowned by one of the most spectacular summits of recent years. At over 3,200m² and with more than 2,000 individual beams spanning 27m, the Forum's timber, ETFE and copper roof is the largest freeform timber gridshell roof in the UK. It is also a virtuoso composition of sculptural movement and free-flowing form, irrepressibly swerving between the campus' existing buildings and stitching old and new together underneath a new dynamic, pulsating core. Set against a masterfully executed sloping, terraced piazza and providing a whole range of new academic facilities including a 400-seat auditorium, the Forum skilfully combines the natural warmth and timeless reassurance of wood with the technical flair and sophistication of modern construction.
British Antarctic Survey Halley VI Research Station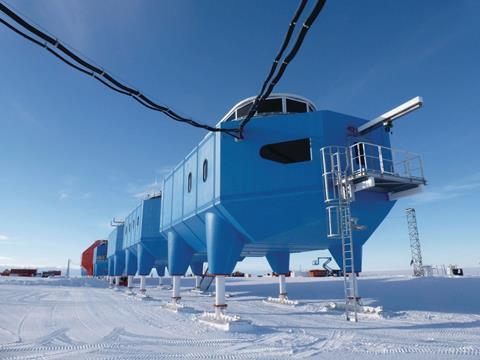 ARCHITECT: Hugh Broughton Architects
CLIENT: British Antarctic Survey
CONTRACTOR: Galliford Try International
SUBMITTED BY: Aecom
Buildings do not come more unconventional than this. And rarely do they exhibit more awesome technical prowess. Marooned on an isolated ice shelf deep in the Antarctic, Halley VI is the world's first fully re-locatable ice station. It is also the British Antarctic Survey's sixth polar accommodation and laboratory base and it replaces the 20-year old Halley V. However, unlike its predecessor, this one is supported on hydraulic pistons capable of elevating it high above the several metres of annual snow that falls on the Antarctic. It has also been designed to withstand blistering temperatures of -56°C and can be periodically located inland to avoid being stranded on an iceberg as the floating arctic ice shelf moves towards the sea.
FA Centre of Excellence,St George's Park
ARCHITECT: Redbox Design Group
CLIENT: Football Association
CONTRACTOR: Bowmer & Kirkland
SUBMITTED BY: Turner & Townsend
St George's Park, Staffordshire, aims to do what no England football manager or England football team has done in almost half a century: win a World Cup. In this attempt, it offers a level of technical sophistication and multi-functional creativity rarely displayed by the team whose welfare it now seeks to advance. The facility provides world-class training, medical and rehabilitation facilities including a high-tech hydrotherapy spa, a bio-mechanical motion-sensor running track and a full-size indoor football pitch. In addition and in a canny commercial move by the FA, the site also features a luxury hotel open to the public which shares facilities with the sports faculty and is subtly aimed at the sizable local business community.
Westfield Stratford City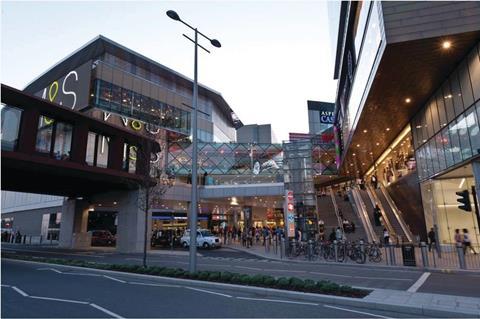 ARCHITECT: Westfield + various
CLIENT: Westfield
CONTRACTOR: Westfield
SUBMITTED BY: Westfield
Europe's largest shopping centre is virtually a city in itself. Its 2m ft² of accommodation, three hotels, 17 cinemas, 100 restaurants, 300 shops, 5,000 car parking spaces, the UK's biggest casino and its own bus station are impressive enough. But what makes Westfield Stratford City unique is the pivotal role it played in the London 2012 Olympics and the symbolic role it plays in the ongoing regeneration of what was formerly one of the most deprived parts of London. Sandwiched between Stratford station and the Olympic park, Stratford City became the gateway to London 2012 for an estimated 7m travelling spectators. But even more importantly, its position as the nucleus of a gigantic new neighbourhood containing thousands of homes, offices and amenities represents visionary urban planning on a heroic scale.

The Shard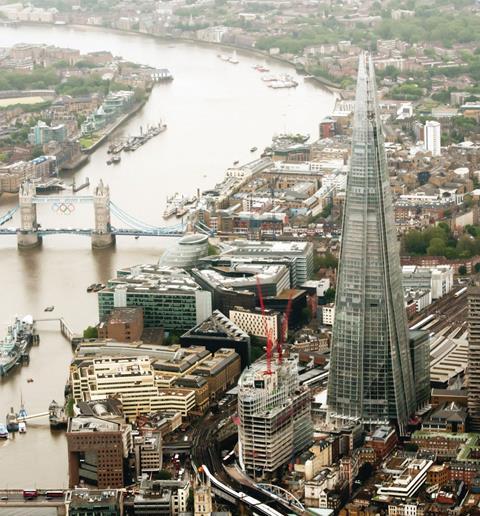 ARCHITECT: Renzo Piano
CLIENT: Sellar Property Group
CONTRACTOR: Mace
SUBMITTED BY: Mace
Less than a year since the completion of it shell and core and the 310m high Shard is already one of the UK's most recognisable structures. Western Europe's tallest building has already redefined London's haphazard skyline and offers what its creators proudly call Europe's first "vertical city." A genuinely mixed-use scheme, the Shard's 95 storeys offer offices, flats, a hotel, restaurants and a rooftop public viewing gallery. Unusually for a skyscraper it also aspires to an ambitious sustainability pedigree with ventilated low-emissivity, low-ion triple glazing and just 47 car parking spaces. In its short life, it has also proved a veritable catalyst for the wider urban regeneration of its local area. In a city crammed with new architecture that panders to the term all too readily, the Shard is a truly iconic building.
Emirates Air Line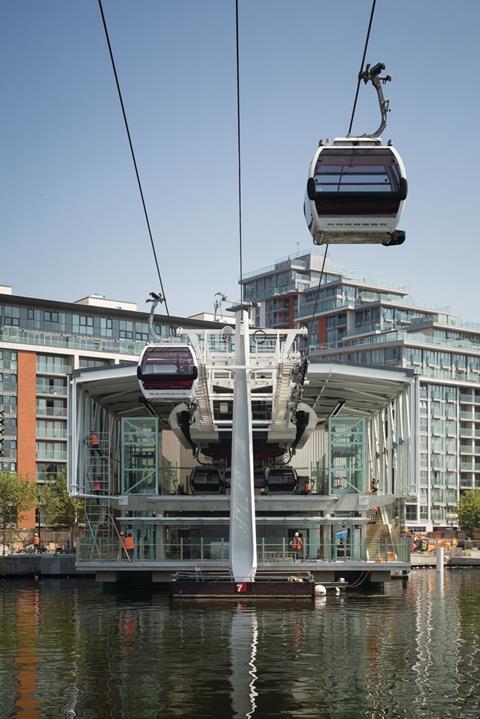 ARCHITECT: Wilkinson Eyre
CLIENT: Transport for London
CONTRACTOR: Mace
SUBMITTED BY: Mace
The newest addition to London's public transport network is one of its most visionary and romantic. The £60m Emirates Air Line enables the capital to join the ranks of Rio and Hong Kong in having its own cable-car system, the only one of its kind in the UK. Spanning over 1km across the Thames between the O2 Arena at North Greenwich and ExCeL Exhibition Centre on the Royal Docks, the system incorporates 34 10-person gondolas suspended on stretched 50mm steel cables supported by soaring 90m high pylons. A prodigious feat of engineering, the Emirates Air Line but it also symbolises the regeneration of east London.
PUBLIC BUILDINGOF THE YEAR CATEGORY
Archbishop McGrath Catholic High School
ARCHITECT: HLM
CLIENT: Archdiocese of Cardiff
CONTRACTOR: Leadbitter
SUBMITTED BY: HLM
In an interesting variation on the ubiquitous "hub" concept popular in recent school design, this Bridgend secondary school places not only its hall at the centre of its floorplan but its chapel also, thereby reflecting the spiritual centrality that is the "rock" of its Catholic faith. Accordingly, much of the building is clad in dark stone whose punched holes and in once instance carved cross, reaffirm this rugged geological metaphor. A cool, spacious simplicity also defines the interior, some of which is available for use by the local community in a gesture that enhances the building's civic as well as academic attributes.
Emirates Arena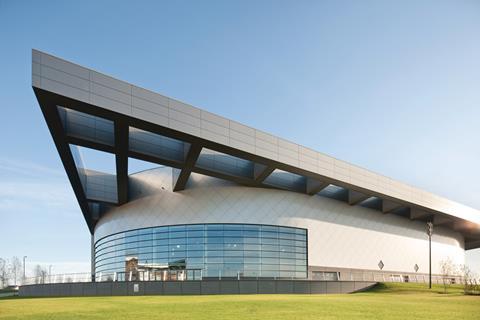 ARCHITECT: 3DReid
CLIENT: Glasgow Life
CONTRACTOR: Sir Robert McAlpine
SUBMITTED BY: Sir Robert McAlpine
The London 2012 stadium may have justly attracted much of the attention during the Olympics, but its newer Scottish equivalent has delivered considerably more facilities from a broadly similar budget. The £116m Glasgow complex is the only significant new sporting venue constructed for the 2014 Commonwealth Games and will provide only the UK's third major velodrome after London and Manchester. But it also offers a wealth of other sporting, leisure and commercial amenities, all of which can be accessed by the general public as well as elite athletes. This includes a 1,000-seat 2,500m² multi-purpose sports hall, gym, spa, conference facilities and offices for various Scottish sporting bodies. The Emirates Arena represents an ingenious consolidation of a disparate range of activities.
King's Cross Station Redevelopment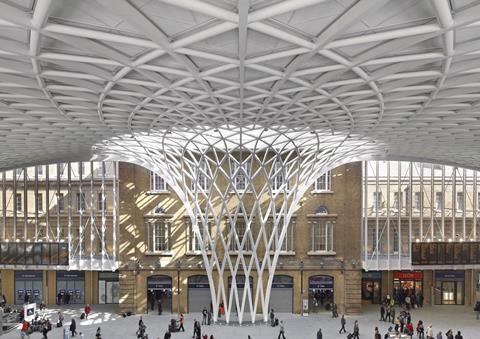 ARCHITECT: John McAslan + Partners
CLIENT: Network Rail
CONTRACTOR: Vinci
SUBMITTED BY: John McAslan + Partners
The opening of the spectacular Western Concourse at King's Cross station marks arguably the most significant milestone in the terminus' long programme of redevelopment. The largest single-span station structure in Europe is a visual and engineering tour-de-force, which carves a new functional and civic heart into one of the world's oldest railway terminuses. Sixteen steel tree-form columns sprout beams that radiate dramatically over a soaring elliptical roof 150m wide and 20m high. But the King's Cross project is about more than this stunning space, it also involves the meticulous restoration of the station's historic fabric, including the magnificent twin 250m-long Victorian main train sheds. King's Cross harnesses the very latest design and conservation technologies to rekindle the romance and anticipation of a bygone age of travel.
London 2012 Handball Arena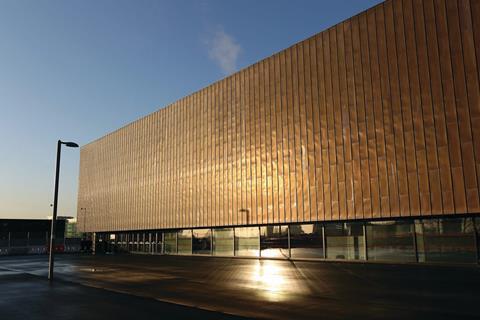 ARCHITECT: Make
CLIENT: Olympic Delivery Authority / London
Development Agency
CONTRACTOR: Buckingham Group
SUBMITTED BY: Make
"The Copper Box", as it grew to be affectionately known, proved to be one of the most popular venues of London 2012. One of only four permanent venues at the Olympic park, its 15,500m² area also makes it the third-largest indoor arena in London. During the Games it accommodated up to 7,500 spectators for handball, pentathlon fencing and goalball events and it is now being reconfigured as a multi-purpose sporting, cultural and entertainment venue. The building sets a precedent for how future permanent Olympic and major sporting venues can skilfully satisfy dual pre and post-event roles. Its flexible format includes retractable seating and modifiable floors and the compact, budget-conscious simplicity of its rectilinear design provides an easy template for adaptation.
UCH Macmillan Cancer Centre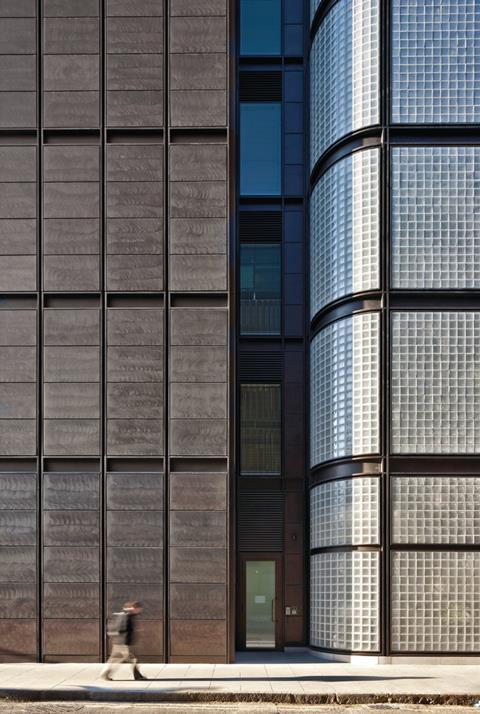 ARCHITECT: Hopkins
CLIENT: University College Hospital
CONTRACTOR: Skanska
SUBMITTED BY: Hopkins
The newest addition to Europe's largest biomedical campus is a powerful rendition of the sculptural structural forms and facades that define Hopkins' work. Externally, the building presents itself as a handsome urban block whose punched bronze surfaces brim with stoic muscularity and deftly merge into the surrounding brickwork streetscape. Inside, a sweeping sequence of double and triple-height naturally-lit, lobbies and lounges, framed by exposed concrete and generous glazing, mimic the patient's journey from social interaction to private consultation. The new facility boldly reconstructs its urban landscape and provides an intimate, non-institutional spatial environment that simultaneously evokes clinical excellence and personal empathy.
North London Hospice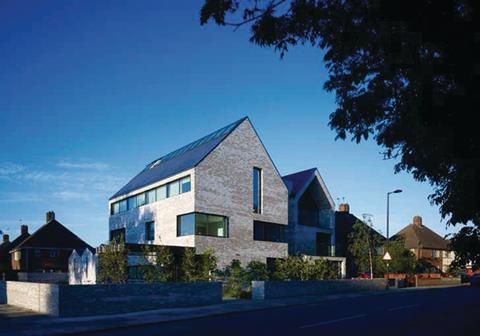 ARCHITECT: AHMM
CLIENT: North London Hospice
CONTRACTOR: Pavehall
SUBMITTED BY: AHMM
This charming, understated block offers a masterclass in contextual engagement and the subtle power of restraint. Seamlessly inserted into the traditional London suburban streetscape of pitched roofs and terraced housing, the building's gabled profile and lusciously pale, textured brickwork pay quiet homage to their vernacular fabric. Only the staggered geometry of the asymmetrically laid window openings and the deep recesses cut into the envelope provide compelling clues as to the dynamic spaces within. In an ingenious reinterpretation of conventional hospice accommodation, these include a hairdressers, creative therapy and teaching rooms all of which are housed in light, airy spaces framed by large expanses of window. These offer rich views of surrounding greenery and thereby enhance the hospice's benign character of a calm and sculpted sanctuary.
Tidemill Academy & Deptford Lounge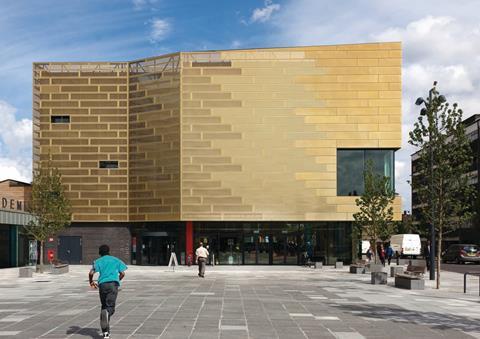 ARCHITECT: Pollard Thomas Edwards
CLIENT: London Borough of Lewisham
CONTRACTOR: Galliford Try
SUBMITTED BY: Pollard Thomas Edwards
This acutely aspirational inner-city development represents civic design at its best. The scheme is the centrepiece for an ambitious regeneration masterplan for Deptford Town Centre and this wider sense of civic responsibility pervades every design gesture adopted on the site. From the new public square created next to the Academy to the distinctive gold colour copper alloy wrapped around the Lounge in a resounding affirmation of its key civic presence, this project is as much an impassioned celebration of public realm as it is a work of architecture. The multiple community-focused amenities the development offers also reflect the municipal generosity at its core. These range from the primary school housed with Deptford Lounge and the exhibition space, studios and social housing located within the Academy.
Wakefield One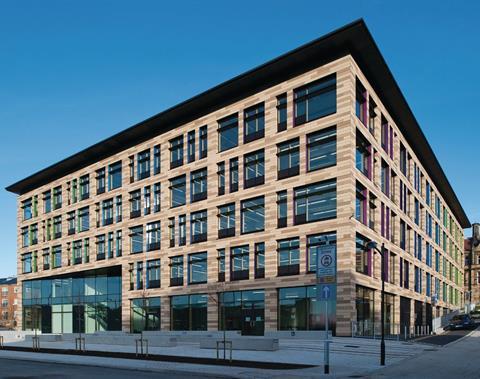 ARCHITECT: Cartwright Pickard
CLIENT: English Cities Fund / Wakefield Council
CONTRACTOR: Morgan Sindall
SUBMITTED BY: Muse Developments / Cartwright Pickard
Wakefield One could well be the future of the public sector. Coming in at an astonishing £95.85/ft² to Category A specification, the council offices represent the kind of cost-effective, economically sustainable development that the Age of Austerity will increasingly demand of local authorities across the country. This has been achieved by a simple, rectilinear form, the selection of a small palette of robust materials and the adept utilisation of a standardised pre-fabricated "kit of parts". Moreover, this approach has not been realised at the expense of quality of design. Wakefield One manages to save costs but still promotes its own distinctive brand of design quality realised by streamlined simplicity and measured restraint.