What makes Canada possibly the most attractive country in the world for contractors right now? Perhaps it's something to do with the billions of dollars it has to spend on construction. The trick is breaking into this highly lucrative market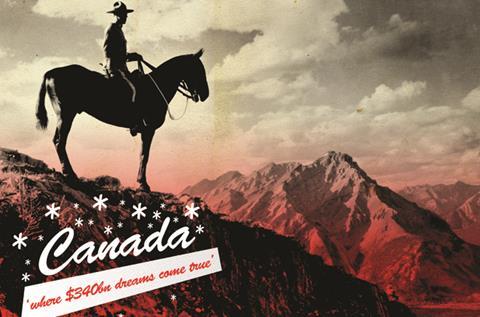 Stunning scenery, spacious, affordable homes, good salaries, high quality healthcare, a strong economy, world-class education and reams of exciting business opportunities. If you're on the hunt for a good quality of life, these are just some of the ingredients that are likely to appear at the top of your wish list. And for those who are prepared to take the leap across the Atlantic, they could become a pleasant reality.
Proof that such an idyllic lifestyle does exist in Canada came last month when it was voted the country that offers the best quality of life for Britons abroad, for the second year in a row. A survey by NatWest International revealed that 92% of British expats surveyed in Canada rated their quality of life as excellent: "I believe that life in Canada is superior to anywhere else in the world," said one expat based in Ontario.
But it takes more than lakes, mountains, forests and the occasional friendly moose to really make a country attractive enough to uproot your whole life and make a fresh start. And construction industry professionals may be more wary of moving overseas than most after the meltdown in Dubai and the political unrest that has halted so many projects across the Middle East and North Africa over the past few months. And this is where Canada really earns its stripes. Investment in capital construction in the country is expected to rise by 3.3% this year to CA $340bn (£221bn). Plus the housing sector is forecast to grow by 1.5% to CA $95bn. This is following a colossal 15.5% growth in 2010, when the country enjoyed a rapid recovery following the comparatively shallow recession it experienced in 2009.
Much of this recovery happened when public investment increased by 17.5% and private investment rose by 8%. This high level of investment has had a positive effect on the health of the country's construction economy. According to research firm Business Monitor International it will grow 4% in 2011 and then maintain at least a 3.7% growth rate year on year until 2015.
We're finding doing business with the UK very comfortable. They are either very Canadian or we're very British

Michael Kitt, Oxford Properties
For British construction companies looking for a safe haven, these statistics are impressive. And there's more: the Construction Sector Council of Canada anticipates that 30,000 new construction professionals will be needed by 2016 to meet the expected rise in construction activity. One specific stimulus for construction activity is the Pan American Games scheduled for 2015, which will mean CA $2.4m worth of additional construction work in Canada.
If all of that isn't enough to tempt contractors to do business across the water, there are the added cultural benefits of a shared language and similar procurement methods which make them attractive to Canadian clients. "We find doing business with the UK very comfortable," says Michael Kitt, executive vice president at Canadian real estate group Oxford Properties. "They are either very Canadian or we're very British."
But while there are undoubtedly many opportunities on the table, the challenge for UK firms and individuals is working out exactly what work is up for grabs for Brits in Canada and trying to enter an already mature and thriving market populated with very competent Canadian rivals.
The work
The sheer volume of work available in Canada hasn't gone unnoticed. Firms including Vinci, Aedas, Carillion, Balfour Beatty and Turner & Townsend are already operating in the country, picking up lucrative schemes across all the key regions. Carillion has revealed it has plans to double construction earnings in Canada over the next three to five years to around £1bn. The UK's biggest contractor, Balfour Beatty, bought Halsall Group, a 300-strong Canadian professional services group, in October for £33m. Ian Tyler, Balfour Beatty's chief executive, says: "[Canada went] through the pain of fiscal realignment some time ago, so now the economy is quite strong. It has lots of similarities to the UK, not least the existence of a well established PFI market. We are small players in that market at the moment but we see significant opportunities in the future."
The PFI market Tyler is referring to is known in Canada as P3. It has been developed to kick start infrastructure projects across the country, including social infrastructure such as hospitals, roads, bridges and water treatment plans. The Canadian government will develop P3 opportunities through two initiatives, a CA $1.2bn P3 Canada Fund that will support innovative projects and a CA $25m commitment over five years to establish a federal P3 office to facilitate broader use of P3s in Canadian infrastructure projects.
Canada has lots of similarites to the UK, not least the existence of a well established PFI market

Ian Tyler, Balfour Beatty
While there is little doubt that many of Canada's 260,000 construction firms have plenty of experience in PFI, UK companies' equally well-honed expertise in this sector is welcomed. And because of Canada's growing - and aging - population, healthcare schemes are top of the list when it comes to looking for lucrative opportunities.
Vinci has been operating in Canada for the several years and anticipates a decent pipeline of social infrastructure work over the next three to five years, particularly hospital projects. David Finch, managing director of Vinci Investments covering PFI in Canada, says: "We are currently working on a CA $150m hospital in British Columbia. It's small but we need to learn, so starting on a small project will make us more efficient in the long run.
"In British Columbia there are pipeline plans to start a new hospital project every six to nine months over the next three years. Each one will be worth CA $500m-CA $600m, in some cases more. That's a CA $2bn pipeline of possible hospital work and we are looking to get involved with as many of those projects as possible."
On the residential side, CA $10.7bn will be invested in the next quarter alone. Kitt says: "There is a great balance in the residential market and we are starting to look to build more high-rise buildings, which is good news for contractors and developers with expertise in this area. Overall there isn't really a weak spot in our economy or real estate sector."
Then there's the CA $2.4bn being spent on the construction of facilities for the Pan American Games planned for 2015 in Toronto, with CA $1bn on the athletes village alone. Earlier this year a request was issued for companies to submit their qualifications to design, build and finance the aquatics centre, 3,000-seater stadium and the Canadian Sport Institute Ontario project, a complex just north of Toronto that will include training facilities, competition venues and athlete accommodation.
The perks
Apart from the plethora of project opportunities up for grabs in Canada, there are some added extras to make working in the country even sweeter. The biggest is high salaries. Building's international salary guide last May revealed that a typical salary for a project manager with five to 10 years' experience in the UK is £41,000. In Canada it's £71,500. An architect with the same number of years' experience would earn £31,000 in the UK but £52,000 in Canada and a civil engineer earning £35,000 here could expect to earn £54,000 in Canada.
In British Columbia there are pipeline plans to start a new hospital project every six to nine months over the next three years

David Finch, Vinci Investments
Then there is the bidding process in Canada, which UK contractors and consultants find easier to navigate and much faster and more efficient than the equivalent back here. "The speed of the bidding process is a major attraction," says Vinci's Finch. "It's fast and efficient and, compared with the UK market, really keeps costs down. Canada is a confident procurer of P3 services and there is strong political support for PFI/PPP schemes, in stark contrast to the way things work in the UK."
The challenges
The major issue for UK firms wanting to work in Canada is that this is by no means an emerging market. There are already hundreds of thousands of well established construction companies in the country. And plenty of them consider themselves very good at what they do. So it's a question of softly, softly. "Canada is very welcoming," says Oxford Properties' Kitt. "But people should recognise the strength of our own primary and subcontractors. We are not short on them. The best opportunities for UK firms would be on P3 projects where a joint venture makes sense, as it brings extra expertise to the table and takes time and money to bid for work."
Finch agrees that it takes time to crack this market: "There is a lot of work to be done in Canada but it's not easy to get involved. You need to understand the market, be 100% committed and you need to find the right local partners."
There is also the issue that Canada is not exactly next door to us, here in the UK. It's a seven hour plane ride away and return flights aren't cheap. But, as John Welch, senior country manager for Canada at trade promotion body UKTI, points out, for those prepared to take the plunge, the second biggest country in the world has two major attractions for those wanting to move and take a family: a good education system and a similar culture and healthy lifestyle.
And, more importantly, the work is there for those who want to work hard enough to win it. "We have a lot in common with the UK," says Oxford Properties' Kitt. "Both in terms of culture and development processes. We have a lot in common when it comes to decision-making and delivery and that's a really good starting point."

Top 5 Projects in Canada
Romaine Complex A - Hydroelectric energy project
Value CA $6.5bn (£4.1bn)
Location Quebec (QC)
Owner Hydro-Quebec
Funding Public
Status Began mid-2009 and is scheduled for completion in 2020
Lower Churchill Hydroelectric Project
Value CA $6.2bn
Location Central Labrador (generating facility), Muskrat Falls to Churchill Falls, Labrador to the island of Newfoundland, and Newfoundland to Nova Scotia (transmission systems)
Owner Nalcor Energy (Muskrat Falls and Generating Station), Emera
Funding Public/Private
Status Nalcor/Emera partnership, announced in November 2010
Eastmain-1-A/ Sarcelle/Rupert Project
Value CA $5bn
Location James Bay Territory, Quebec
Owner Hydro-Quebec
Funding Public
Status Under construction with expected completion in 2012
Eglinton Crosstown Light Rail Transit (LRT) Project
Value CA $4.6bn
Location Toronto, Ontario
Owner Metrolinx/GO Transit Funding Public
Status Tunnelling will commence in spring 2011 with project completion scheduled for 2020
Turcot Interchange
Value CA $3bn
Location Montreal, Quebec
Owner Province of Quebec, Ministère des Transports du Québec 2007.
Funding Public
Status Began in 2010, with completion in 2018