The government's recent announcement that 'zero-carbon homes' need not include appliances will allow future green housing to ditch peculiar solar panel-toting designs to resemble, well, normal houses. Building tours some schemes that fit the bill
The government's recent announcement on zero carbon could have a big impact on how the UK looks in five years' time. The catalyst for this transformation is the change to the definition of a zero-carbon home, announced in this March's Budget.
To qualify for the standard, the government says, housebuilders no longer have to supply zero-carbon power for domestic appliances. This will have a significant effect on the zero-carbon homes built after 2016, when the new zero-carbon target takes effect. Early zero-carbon prototypes, notably those on BRE's Innovation Park near Watford, already look like historical oddities. Each home had to generate power for everything including appliances from on-site renewables, which meant these homes had to be engineered to save every last milliwatt of energy out of the building fabric and maximise energy gathering from solar panels. Some of the homes looked as if they had fallen off a spaceship rather than come from a catalogue of standard designs.
The latest announcement (coupled with the 2009 policy change allowing some energy from off-site sources) means housebuilders can concentrate on churning out standard housing, with the bulk of the homes' energy coming from district CHP (combined heat and power) solutions and only a small percentage from off-site sources.
This progressive slackening in policy along with the housebuilders' response to the original targets means the new generation of 2016-friendly homes are already on site. Building went on a recent tour with the Zero Carbon Hub and Design for Homes to see how the homes of the future are shaping up.
Graylingwell Park, West Sussex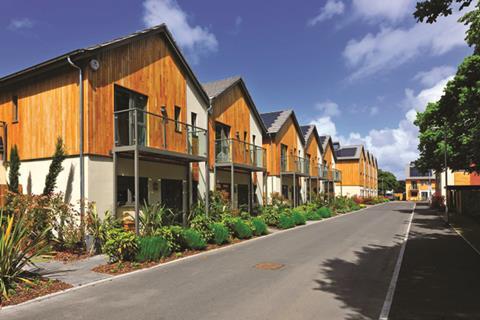 What is it?
This site is the sort of thing housebuilders dream of, a former mental institution set in 36ha of rolling parkland just outside comfortable, affluent Chichester in West Sussex. The site is being developed by Linden Homes with housing association Affinity Sutton. The plan is to create a new community with retail and commercial space plus a theatre, chapel and artists' studios. There will be 780 new homes, a mixture of new build houses and apartments in the converted former hospital buildings.
Aspirations
There is no mistaking how this scheme is being sold when you are handed an linen bag full of marketing bumph on recycled paper and a wooden memory stick. As the hospital was on government-owned land it was disposed of by English Partnerships, now the HCA, which meant it came with a requirement to build homes to Code for Sustainable Homes level 4. Linden and Affinity Sutton decided to up the ante and go for level 6, which they say will make it the UK's largest zero-carbon scheme when completed. That includes appliances. Construction started in 2009 and the first residents moved in last year.
What makes it green?
The plan is to reduce carbon emissions on site by 60% and get down to zero carbon by investing in a 1MW wind turbine located off site. This breaks down as 18% from enhanced fabric for the homes, another 37% from the district CHP scheme and 5% from PV panels. The remaining 40% is taken care of by the wind turbine. Because this includes appliances, this scheme easily beats the new definition of zero carbon.
Linden says if it did the scheme again it would get rid of the expensive PV panels as these are no longer needed to meet the new definition. The CHP would stay and some carbon emissions would need to be mitigated off site, which still means a wind turbine although this could be smaller than planned.
How does the CHP work?
Scheme-wide CHP will become common on sites like this as it makes a big difference to carbon emissions, which are reduced by 37% at Graylingwell Park. But CHP is also expensive and needs to be up and running ready for the first homes, so it takes a long time to get a return on investment.
This scheme is being run by a dedicated energy supply company called Regeneco, owned by Galliford Try. It will cost £7.2m, which works out at £8,000
per home. The energy centre contains four gas condensing boilers with an output of 1.1mW each. Two 500kW CHP engines will be installed in 2014, and the power will be exported to the grid as this is much simpler. Reneneco says it discounted using biomass as it was perceived as riskier than gas.
What are the homes like?
The homes look fairly standard although some have PV slates on the roofs. Inside, the houses are spacious with plenty of storage as there are no gas boilers or hot water tanks. Hot water is supplied from the district CHP system via a small heat exchanger that sits inside a kitchen cupboard. The homes feature mechanical ventilation with heat recovery and enhanced levels of insulation.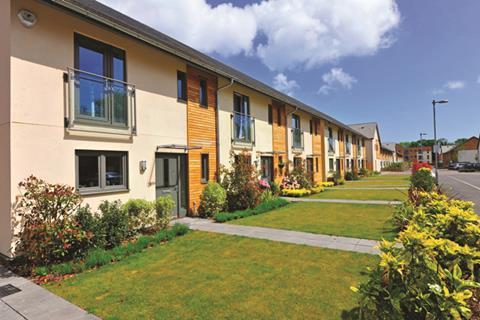 What do the experts think?
Neil Jefferson, chief executive, Zero Carbon Hub
"This is right on the nose in its relevance to 2016 standards. They've tackled fabric efficiency first, then the site-wide heating and hot water system, then off-site energy. They've ended up with a scheme that is higher than the level of 2016. It's good for residents as there are no ground or air source heat pumps to go wrong, no gas meters, boilers or flues. The only technology in the home that people have to deal with is the MHVR system, which is an annual filter clean."
David Birkbeck, chief executive, Design for Homes
"The scheme does most things brilliantly. The homes are generously sized, the circulation is simple and logical and there are plenty of cupboards which is good as new build usually really struggles with storage space. The one thing that lets it down is the space between the homes. All the money has been spent on the CHP system so the things that give the place quality have been sacrificed to meet the targets. Why did they have to use black top on the highway? It unravels all the other good work."
Tom Dollard, architect in charge of sustainability, Pollard Thomas Edwards
"It ticks the boxes for the vast majority of items, the sustainability aims, the interiors of the homes are well proportioned and interior detailing is very good. My only qualms are the external treatments as some of the detailing is not up to the standard of the interiors. The windows have these industrial-sized frames that let the scheme down and the timber cladding is warping after just six months."
Centenary Quay, Southampton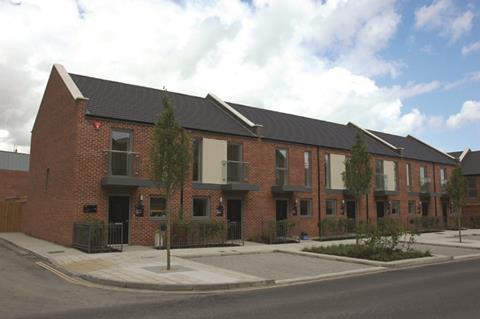 What is it?
This is classic urban regeneration; a former shipyard next to the River Itchen in Southampton is being turned into a mixed-use scheme by Crest Nicholson. Ultimately, it will consist of 1,620 homes, retail, offices, a hotel and industrial space. The site was remediated by the South East England Development Agency, which also gave Crest a £19m grant to fund social housing and low-carbon infrastructure. The latter element cost £2.5m.
Aspirations
This scheme is much less overtly green than Graylingwell Park. The focus is on regeneration and the creation of a new urban quarter. Much is made of the scheme's proximity to the city centre and major transport links, including London.
The homes in the first phase of the scheme are build to Code for Sustainable Homes level 3, which was a planning requirement, with future phases built to level 4.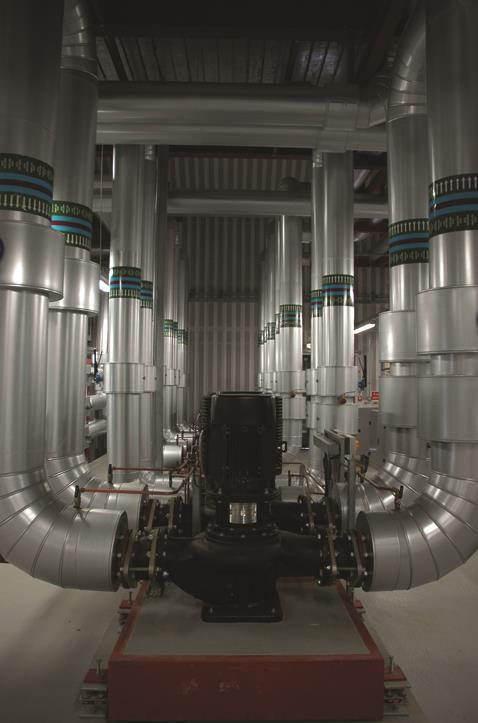 What makes it green?
The focus here has been to build conventional homes to slightly better than Building Regulations standards and reduce carbon emissions using a
gas-fired district CHP system. The first phase of the scheme, currently under construction, would not meet the proposed fabric energy efficiency standard needed to meet 2016 standards. Later phases will need to be more energy efficient and Crest would have to fund some off-site renewable technologies. But the district CHP system means the strategy is correct and it would not take much for the scheme to become 2016 compliant.
How does the CHP work?
The energy centre is being operated by energy supply company E.on and is fired by gas. It reduces carbon emissions by 35-40%, which is the same as Graylingwell Park. Four CHP engines with an output of 100kW electricity and 160kW heat will be installed one at a time as the scheme is built out. Once finished, E.on may replace the four engines with one unit that will produce 700kW of electricity and 700kW of heat. Two 1,250 kW gas boilers provide top-up heat. Like Graylingwell, the heat is stored in a big thermal store, which is connected to homes via insulated pipes. Like Linden Homes, Crest has avoided biomass systems, citing problems with the biomass CHP scheme used at One Brighton, a zero-carbon scheme it developed jointly with Bioregional Quintain. A second energy centre will supply later parts of the scheme as it is built out.
What are the homes like?
The first phase consists of a mixture of apartment blocks, three-storey terraces and some small mews-type two-bedroom homes. The houses and elements of the apartments are built using an attractive red brick. Glass screens and simple, crisp windows give the scheme a modern twist. Internal layouts are simple and the three-storey houses incorporate a single garage and parking in front.
What the experts said
Neil Jefferson, chief executive, Zero Carbon Hub
"I was pleased to see Crest had aligned themselves with the zero carbon hierarchy; enhancing fabric then the CHP. Low-carbon infrastructure makes a real difference as you don't have to rely on on-site renewables."
David Birkbeck, chief executive, Design for Homes
"What I like about these schemes [Centenary Quay and Graylingwell Park] is they are what people expected to see before the zero carbon agenda came along. This is a classic Crest Nicholson scheme."
Tom Dollard, architect, Pollard Thomas Edwards
"External treatments and landscaping were very strong. They have also stuck with traditional cavity walls. The energy strategy is definitely the way forward if you have a scheme of this size."