With the Calais crisis still a hot media topic, the government is on the warpath against construction companies employing illegal workers. But is the sector doing enough to make sure it doesn't get caught out?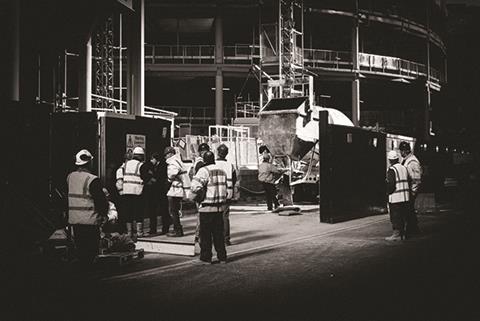 As thousands of migrants remain camped in Calais, apparently intent on crossing the channel, the UK government has revealed plans to crack down on illegal immigrant workers in construction. This is set to include raids on so-called rogue employers. The Chartered Institute of Building says illegal migration goes hand in hand with exploitation, with the extreme end of the scale being modern slavery. Chris Blythe, chief executive of the CIOB, says: "Illegal migrants pose a huge risk for the industry, both to the business operations and reputations of construction companies." So how does the sector police illegal migrant workers and is it doing enough?
Migrants' role
Immigration minister James Brokenshire told The Times newspaper earlier this month of the government's intention to conduct raids on companies suspected of employing illegal migrants in three key sectors: cleaning, care and construction. The initiative, called Operation Magnify, is part of the new immigration bill to be published in the autumn, and the raids would be carried out by an enforcement agency to be created under the legislation.
It's clear why the Home Office is targeting construction. The industry often needs transient labour and faces skills shortages, so migrants are well-placed to serve its needs. According to the latest figure that the Organisation for Economic Co-operation and Development was able to calculate for Building, there were about 240,000 foreign-born, legally employed workers in the UK construction industry in 2012, amounting to 11.75% of the sector's workforce.
Employing so many migrants exposes the industry to the risk of employing - and for some perhaps the temptation to employ - illegal workers. This includes people who have entered the UK illegally, those whose work visas have expired, who only have a visitor's visa or who work more hours than their student visa allows. With some building projects - such as small, cash-in-hand jobs or those that are composed of nebulous cascading layers of subcontractors employing hundreds of labourers, often provided by agencies - there is scope for illegal workers to slip in under the wire.
Despite the important role that legitimate foreign workers play in construction, even legal migrants are controversial (see box on the Teesside Protest, right). However, the industry's reliance on this valuable labour source looks likely to grow. The sector's skills body, the Construction Industry Training Board, says that to cope with rising workloads almost 224,000 new recruits will be needed between 2015 and 2019. To address this, the CIOB said in its 2015 report An Analysis on Migration in the Construction Sector: "The industry has a simple set of choices: import from a ready supply of foreign talent, invest in training and development of UK citizens, or redesign the construction process. Importing labour is quick and relatively inexpensive. The others require time, effort, resources and co-ordination."
Risks
The CIOB's Blythe warns, however, that the industry must take care when using non-UK workers - even if they are further down the project's chain of subcontractors. "If someone is working here illegally, they are probably subject to trafficking or some degree of exploitation" – whether being underpaid, housed in inhumane conditions, or controlled and effectively used as slaves by criminal gangmasters. "They're likely to be vulnerable people and for them to be able to get to work here without the correct legal status, a criminal organisation will have brought them here."
Involvement with illegal migrants poses a range of threats to construction companies and clients. Simon Nathan, policy director at Build UK, the new entity formed through the merger of the UK Contractors Group and the National Specialist Contractors Council, warns: "You could fall foul of the law." A company found to be employing someone who cannot work legally in the UK and which has not conducted "right to work" checks, could be fined up to £20,000. Meanwhile, "knowingly employing an illegal worker is a criminal offence punishable by an unlimited fine and up to two years in prison."
The main contractor will check the first firm they subcontract to, but there won't be too much checking lower down

Anonymous, medium-sized contractor
While these sanctions only directly affect the employers concerned, if they were implemented while a construction project was in full swing, the programme could be delayed and the UK Border Agency could even shut down the site. So the there could be severe business impacts on the rest of the project team, including the client.
There are other risks too. Bernard McAulay, national officer at union Unite, says: "An illegal worker is very unlikely to have had proper health and safety training." In addition, he says, if you are exposed publicly for employing illegal workers - especially if they are being exploited - then "you will damage the reputation of both your firm and industry."
Blythe adds that aside from these risks, the industry has a moral duty not to collude in the exploitation of vulnerable people. "Clients and principal contractors should take a responsible attitude to exploitation, even if they are not obliged to do so contractually. It's being done in their name after all."
Industry struggling
Despite the very serious array of risks, when asked how well the construction industry is policing illegal migrant workers, Blythe says: "The industry is struggling. I spoke at an event on this topic recently and afterwards people in the audience from five different construction firms said they had problems keeping illegal migrants out of their supply chain."
Two mid-level managers (who wish to remain anonymous) at medium-sized national contractors told Building that their companies donot check consistently whether subcontractors' employees had the right to work in the UK. One said: "We do due diligence on the main subcontractors but we don't look into any firms working for them. I've worked on very big sites for big name contractors and seen the same
thing - the main contractor will check the first firm that they subcontract to, but there won't be too much checking of any other firm brought in lower down."
Andy Weston, managing director of N-FUZE, which provides software to manage temporary staffing, says that in construction, agencies are often the problem. "A lot of contractors I've spoken to in the past few months don't have confidence that agencies are carrying out proper checks. I'm told that workers sent by agencies are turning up on site without the right papers." Some of these workers could presumably slip though the net if contractors rely entirely on agencies to do the checking.
Expiring documents are a key danger area, says Weston: "You can have people who had the right to work when they started on your site but their visa expires and yet they're still working there."
His software aims to address this risk. "By automating the system you are alerted when someone's document has expired. At the moment, though, most contractors are working with paper systems or Excel spreadsheets, so it's all manual, and that leaves you open to ending up with illegals working for you."
Peter Jacobs is non-executive director of security and logistics provider Wilson James, and formerly managing director of Morgan Sindall London and Aviation and head of the Bovis Lend Lease team on the London 2012 Olympics athletes' village. He says ensuring that everyone on a large construction site is UK work eligible is "not easy". "It was an immense issue on the Olympics because everything had to be squeaky clean. We had a very extensive audit around the athletes' village checking contractors, their subcontractors and then their subcontractors. It was achieved but it was incredibly involved."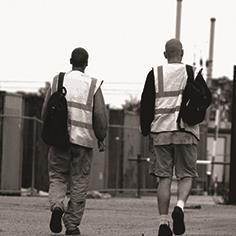 At Wilson James, which employs a lot of labour directly, efforts are similarly forensic: "We have an entire department dedicated to vetting workers. We check their qualifications as well as their right to work. People seem to be quite sophisticated at obtaining forged documents so checks do need to be thorough."
Not everyone is so rigorous. Blythe was recently contacted by the UK Border Agency, which showed him examples of forged documents it had seized from illegal migrants working in construction. The documents ranged from UK passports, which "a five-year-old could tell was fake", to an Indian passport containing a "completely fake-looking photocopy of a visa".
There were also documents that cannot prove UK work eligibility per se but which could help to create a false sense of legitimacy, such as forged CSCS cards, driving licences and site access cards bearing the name of various well-known contractors. A CITB spokesperson confirmed that fake CSCS cards are prevalent: "Our latest research shows that one in five of those responsible for checking cards on construction sites have seen fake certification cards for construction workers in the past year, which means that some workers may not be qualified to do the jobs they are doing."
Yet it is difficult to fake a convincing CSCS card, the CITB says, particularly since it beganintroducing microchipping in 2010, meaning that now all 1.4 million cards include smart technology, allowing them to be checked electronically. The spokesperson says: "So far, fraudsters seem to have been unable to convincingly counterfeit the smartcard features, holograms and hidden security features in the new cards."
Blythe says that dodgy documents are nonetheless usable: "The industry is desperate for labour, so you have contractors either not checking or failing to check properly." This could mean allowing staff without sufficient training to conduct checks, or outsourcing the checking to the organisation supplying the labour - "which could be a criminal gang".
Moving forward
The Home Office's decision to put construction's illegal workers under the microscope means that the sector can hardly afford to turn a blind eye to this issue. So what changes could the industry make?
Blythe says that, firstly, construction clients – who face a business risk as well as an ethical duty - should stipulate in contracts that principal contractors ensure that workers in the supply chain have the right to work in the UK, as happened on the London Olympics.
Some clients say they already do this and their approach could set an example. SITA Sembcorp UK, an energy-from-waste consortium operating at Merseyside and Teesside (see box, page 23), is employing a number of non-UK workers. It says: "Our contractor, CNIM Clugston, is obliged to ensure that all UK employment legislation is followed, which includes checking workers' eligibility to be able to work in the UK … [We have] performed spot checks on their control system and found this to be adequate. If it was found they were acting outside of their contract with us, then we could take remedial action under the terms of our contract."
Blythe also wants main contractors held responsible - in law - for any illegal workers in their supply chain, even if employed unknowingly. "The law needs to change. Main contractors will probably say that it's too difficult to check the tenth subcontractor down the line but I would say, well, that's your business model, you need to do this." He adds that the existing civil and criminal penalties for employing illegal workers should be made more severe.
McAulay of Unite suggests a different approach to making principal contractors responsible, which would be to employ more operatives directly. He also wants to see a registration system for site workers, although employers would likely resist this as an unwelcome extra expense. "Registration could be done through training bodies and while people could try to fake registration documents, you look at ways to curtail that."
Phil Whitehurst, national officer for construction at GMB union, wants the remit of the Gangmasters Licensing Authority (GLA) to be extended to cover construction. "This is the only way to deal with the fact that people in construction in this country are being bullied by organisations with a gangmaster-type ethos," he says. This would be likely to be greeted like a lead balloon by construction's employers, who would lose a significant amount of control and flexibility if subject to the GLA's requirements to use workers in a public register and conduct audits of labour suppliers. The authority can also conduct spot inspections of workplaces and workers' homes.
This threat, though, seems small compared to the huge risks that the industry is running by failing adequately to address illegal workers, from reputation damage to fines and criminal punishments. Add to this the undoubted moral obligation to act and it is clear that now is the time to bring about change - and if the industry can clean up its act independently, it may avoid having harsh changes imposed on it.

Teesside protest against foreign workers
A roughly one-year-long union protest at a Teesside site demonstrates starkly that even when migrants have the legal right to work in the UK, they are not welcomed by everyone in construction. Consortium SITA Sembcorp UK (SSUK) is the client building an energy-from-waste plant at the site, which is called Wilton 11 and sits within Redcar's Wilton International industrial complex. The GMB union has been holding the protest because it alleges that foreign workers are being employed at Wilton 11 at lower rates of pay than UK workers would have to be paid under the National Agreement between UK companies and unions. Phil Whitehurst, a GMB national officer, says: "We have no problem with foreign workers but we believe that they are being underpaid, which is exploiting them and undercutting local workers."
SSUK denies this strongly. It said in a statement: "There is no truth to claims that workers employed on the construction of the Wilton 11 Energy from Waste Plant are being exploited, or that foreign nationals are being employed as a means to undercut the unions' voluntary agreement on rates of pay for British workers […] Many of the companies working on this project are specialists or have significant experience working in this field and it was necessary for SSUK to look to the wider European Union to procure this expertise."
However, the protesters, local Teesside workers, remain aggrieved. Peter Hyde, 58, is a steel fabricator who lives in Redcar. He says: "I have been plater all my life so I I've got the skills to work on that site, but I've been locked out of the market by foreign workers. It makes me physically sick. Before this I was unemployed for three months. At my age you should be comfortable but I'm struggling to get work all the time. I've had to remortgage my house and me and my wife had to forget our plans for a holiday this year. Everywhere around Redcar there are families like this. It's soul-destroying."
SSUK says that it has asked its main contractor to provide detailed pay information for the major contractors within its supply chain "so that we can satisfy ourselves that workers on site, regardless of who they are employed by, enjoy rates of pay […] comparable with the unions' voluntary national working rate agreement".

How to check someone is UK work eligible
Carrying out "right to work" checks may require some extra administration but they are not especially complicated. The Home Office publishes instructions online on how to check both permanent and temporary right to work in the UK. This includes a list of documents you can use to establish the person's status, including a passport or national identity card, Registration Certificate proving the right to permanent UK residence or Immigration Status Document, among others. It has even created an online tool to help conduct checks. While CSCS cards demonstrate a worker's competence to work on site, they don't guarantee a worker's eligibility to work in the UK.

Alex Botha: The migrant's view
"I came to the UK from Romania 13 years ago [before Romania joined the EU in 2007] as a fruit picker on a temporary visa. I was 21 and I was away from my family and everything I knew, so it was hard. You earn something like £30 a day and by the time you've called home and paid for transport it doesn't leave you with much to save or send home. A lot of the time I wanted to go home but there were no opportunities there.
Over a year I managed to save just enough to move to London. Some Romanian friends helped me get work in construction, and that's where I've stayed. It was low paid at first but I learned carpentry and now have my own carpentry business. We do mainly smaller residential and commercial jobs and employ 20 people – mostly Romanians and Bulgarians. I recently hired a couple of British guys but they were turning up to work late so I had to let them go – I can't afford workers who aren't doing a full day.
Now I live in Harrow, I'm married and have two boys, so I'm feeling great here. I don't think people are racist in Britain at all. Certainly not compared to what I've heard from Romanian mates who have worked in Italy and Greece. Those friends can't believe how here, people from all over live together without a problem. It's difficult to integrate, though, and most of my friends are still Romanians. So if a better opportunity came up in Romania I would move back tomorrow."