This year's contractors and housebuilders Top 150 list shows the sector pulling out of recession and with a spring in its step. But with big losses for some contractors pushing down profits, and margins increasing by a mere 1.2%, the danger remains they could still fall flat on their backs.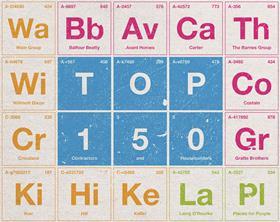 Construction is back in rude health, judging by the industry's latest CIPS confidence survey, which shows that firms are more bullish about their prospects than at any point since 2004.
The latest Building magazine annual Contractors and Housebuilders Top 150 list should provide a few more reasons for high fives in the sector's boardrooms.
It shows that the industry's bigger hitters recorded a combined turnover of £89.6bn last year - a 6.9% increase on the £83.1bn of revenue recorded last year. This increase, which is based on the latest available set of financial results for each company, represents a near trebling of the 2.5% rise seen in 2014.
However, this increase is, to a large extent, buoyed by the performance of the housebuilders, which outshone their contractor peers. The turnover for the 20 biggest contractors on the list, in contrast, was up by just 1.1% from £44bn to £44.5bn, reflecting order books recovering slowly after the long recession. This slow but steady performance was achieved despite being dragged down by the £1.3bn decline in revenues recorded by Balfour Beatty, which remained by far the UK's biggest construction company despite its ongoing woes. But satisfaction at this slow growth is being more than tempered by a worsening position on margins, with big losses racked up by a number of contractors, pushing the average profit down sharply on last year. So what picture does the detail of the tables reveal for the UK's bruised contracting sector?
By revenue the top three contractors remained the same - with Carillion and Laing O'Rourke sitting behind Balfour Beatty. However, Laing O'Rourke's slow growth of just 0.21% in turnover means that Interserve is now snapping at its heels.
Interserve's 21% growth in turnover to £3.3bn saw it swap sixth place for fourth with Kier, despite Kier itself recording growth of over 10%. Morgan Sindall dropped out of the top 10, replaced by housebuilder Persimmon and Amey, which saw its turnover rise by 17.4% to £2.4bn. Mitie meanwhile fell two places but just clung on to its perch in the top 10.
Simon Rawlinson, head of strategic research and insight at EC Harris, says the top 150 turnover figures are evidence of renewed vigour across the construction industry. "It's good that the industry is getting back to health. We would expect to see contractors seeing significant increases in turnover over the past 12 months," he says, before noting that this increased workload will pose its own set of challenges. "Construction relies on cash so if you increase work, you increase your cash flow but you are being paid in arrears. It's very important that clients pay promptly, particularly at a key point in the cycle like this."
Because while turnover may be reviving, margins have yet to respond. The average pre-tax profit for the top 150 contractors and housebuilders as a whole was 4.9%. "This is the first encouraging sign that the industry is rebuilding its balance sheets and getting margins to where they should be," says Rawlinson.
However, this headline figure is again distorted by the stellar performance of the top housebuilders. Of the 10 companies that recorded the biggest increases in margins last year, six were primarily developers or housebuilders. The average margin of those firms in the top 150, which are primarily contractors as opposed to developers or housebuilders, was just 1.2%, representing slippage on the previous year's already unimpressive 2.9%.
As Rawlinson gloomily observes, these kind of returns are on a par with the rock bottom rates on offer from instant access ISA accounts, so hardly make a compelling story for investors.
For Kevin Cammack, construction analyst at Cenkos, the figures illustrate how tough conditions remain for contractors. "It still feels like you are picking your way through a minefield, although you can take longer strides to get through it."
The driver behind value is not moving at the same speed as the driver behind costs. People's profits are being eroded

Simon Rawlinson, EC Harris
Nigel Brooke is head of construction and infrastructure at Kier, which made a pre-tax profit in 2014/15 of 2.45%. Nevertheless, he agrees "margins are still tight and stable".
"The whole tendering situation is still quite fragile. It's not easy for anybody," agrees Stuart Black, executive chairman of Essex-based contractor Lakehouse, which leapt from 77th to 55th in the tables this year, as well as listing on the stock exchange. Black acknowledges this rise has been achieved partly on the back of recent acquisitions which have helped the business to diversify from its contracting roots. "Rebuilding margins might take longer than in previous cycles. There are still pockets where tendering is still very competitive: the recovery is not widespread enough yet."
Those contractors which have taken on bigger and longer-lasting contracts may still to be saddled with low margin work picked up during the recession, adds Rawlinson, though much of this work should have washed through by now.
However, Lakehouse's Black believes that contractors are at last learning the lessons of the recession, when the chase for turnover tended to trump all other considerations, which often meant not even making a profit. "They are less willing to go in aggressively because they know the consequences."
Michael Graham, group executive chairman of the eponymous Northern Ireland-based construction company, up four places at 46 on turnover of £418m, agrees: "The danger traditionally in construction has been trying to keep people busy rather than generating a sustainable business which is what we are really about. We are being an awful lot more selective about what we bid for, more robust about assessing opportunities."
Tony Williams of consultancy Building Value, meanwhile, notes that there are signs of growing profitability in admittedly niche areas like commercial fit-outs, where anecdotal reports suggest margins are now reaching the mid-twenties on some jobs.
Rawlinson says tender prices in general have been rising for 18 months.
The problem for construction though is that while the economy as a whole is basking in the kind of low price rises last spotted in the early 1960s, the industry remains beset by its own peculiar inflationary pressures coming up from the supply chain.
Construction's long-term challenge is how to build margin in this wider environment, where clients will understandably look askance when they are presented with bigger bills. Rawlinson argues the key to improved margins in a low inflation world is greater productivity, such as making a better fist of off-site construction than it has done previously.
However, given the proven difficulty of implementing such changes, he believes that low margins are likely to remain the pattern for at least the next two years, as supply chain costs are rising more quickly than the development values of completed buildings. "The driver behind value is not moving at the same speed as the driver behind costs. People's profits are being eroded," says Rawlinson.
"It's getting to the point that it's threatening the viability of projects," he adds, explaining that even in the London housing market, construction and land price inflation is outstripping price rises.
Part of the problem, argues Kier's Brooke, is that consultants' estimates are often being outpaced by these rising costs. "A lot of the cost information they [clients] are being given by cost consultants is out of date. Consultants should collaborate with contractors at the early stages to ensure that clients are not disappointed," he says, adding that Kier is reacting to cost inflation by developing deeper relationships with the company's supply chain in order to ensure that contracts can be delivered on budget.
"We are looking at bundling contracts to give them a guaranteed workload if they want to work with Kier," he says.
Building Value's Williams, who advises Experian on its construction forecasts, is more bullish, arguing that contractors should have the confidence to push for higher prices. "People working at close to their capacity are being cheeky and asking for a bit extra and in many cases are winning those jobs. Profitability will continue to increase because there is less capacity than demand," he says.
Brooke says: "There's a lot of opportunities around at the moment so contractors can be a bit more choosy."
Williams argues that it is time developers started paying more for their buildings. "Developers have been getting very cheap buildings for seven or eight years: they are
now going to have a sharp intake of breath and pay more.
"It's an educative process but they can afford to pay a bit extra. The cost of building will rise because of cost pressures: there isn't endless capacity in this market."
"If you keep costs down and don't have too much debt, you should prosper over these three years. If you don't prosper, you are doing something wrong."
Contractors will be hoping he is right and that this time next year they are toasting higher margins as well as turnover.
Small contractors
While contractors have generally reported increased turnover, one group stands out: smaller companies. Those contractors that made the cut for the top 150 table yet had a turnover of less than £100m, recorded a total combined turnover of £1.67bn, a 2.9% fall compared to the figure of £1.72bn recorded by the same firm's last year.
EC Harris' Rawlinson says these falling revenues may reflect a conscious targeting by larger counterparts of their business. "Lots of medium-sized contractors moved down into the smaller scale market quite aggressively. Everybody moved down into the market below them to chase volume."
Smaller contractors will also have been hit by the slow emergence from recession of the regional economies that they depend on to a far greater extent than their bigger rivals. And they often lack the resources to win work in fresh markets, further inhibiting their growth potential.
However, Kier's Brooke suggests that smaller contractors may be held back by a broader reluctance to invest. "Some of the small regional contractors have not moved with the times in terms of making investments in technology, such as BIM, and the things that support winning work, in the way they should."
Williams suggests another factor may be that when things are tough clients tend to adopt a safety first approach. "In a downturn, main contractors gain market share because people go for security and the name."
However, the upturn under way now will benefit the sector's lesser known names, he believes. "As the environment improves, people have to go for the less well known contractors, because there are not enough [bigger companies] around to do the work."