Take a look at the cost drivers and timelines of delays
The National Audit Office's report on Crossrail's progress has made a number of revelations about costs, schedule and the management of the £1.6bn project.
These include which projects have had the biggest increase in costs, when the project is now expected to be fully completed, and influences that have driven price hikes.
>> Crossrail still needs millions more to finish the job, spending watchdog finds
Take a look at some of the key figures and facts laid out in the report.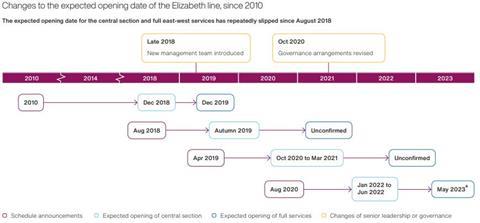 The increases in Crossrail funding since January 2014
| | Jan 2014 | Jul 2018 | Dec 2018 | May 2019 | Dec 2020 | May 2021 |
| --- | --- | --- | --- | --- | --- | --- |
| Funding for Crossrail Ltd (£m) | 12,480 | | | 14,960 | | 15,790 |
| Increase (£m) | | 300 | 2,150 | | 825 | |
| Funding for Network Rail (£m) | 2,300 | | | 2,590 | | 2,980 |
| Increase (£m) | | 290 | | | 390 | |
| Total funding to Crossrail programme (£m) | 14,780 | | | 17,570 | | 18,770 |
| Expected opening date of central section | Dec 2018 | Autumn 2019 | No commitment made | Oct 2020 to March 2021 | Dec 2021 to Jun 2022 | Jan 2022 to Jun 2022 |
Range of forecast cost and schedule estimates at May 2021
| | Deterministic | 50% confidence interval (P50) estimate | 80% confidence interval (P80) estimate |
| --- | --- | --- | --- |
| Definition | Based on known data, and assumes most work will go as planned. It can be considered the 'best case' scenario. | P50 means that 50% of cost and schedule estimates in the model exceed this value, and 50% are below this value. It represents the middle value of the range of estimates | P80 means that the probability of the final cost and schedule being less than P80 is 80%. It represents the upper end of the range but is not the 'worst case' scenario |
| Primarily used by Crossrail Ltd for | Setting challenging targets to encourage and monitor performance. | Reporting to the sponsors. | Informing potential funding requirements. |
| Estimated opening date of central section | January 2022 | April 2022 | June 2022 |
| Opening of full east-west services | December 2022 | May 2023 | May 2023 |
| Estimated cost to complete Crossrail | £15.82bn | £15.9bn | £16bn |
| Current available funding | £15.79bn | £15.79bn | £15.79bn |
| Forecast difference between funding and estimated cost | £30m | £120m | £218m |