A new leisure centre and academy are being built in the heart of Hackney by Morgan Sindall. As part of Building's Delivering Social Value campaign, Jamie Harris reports from the site, where the contractor is making itself a part of the community too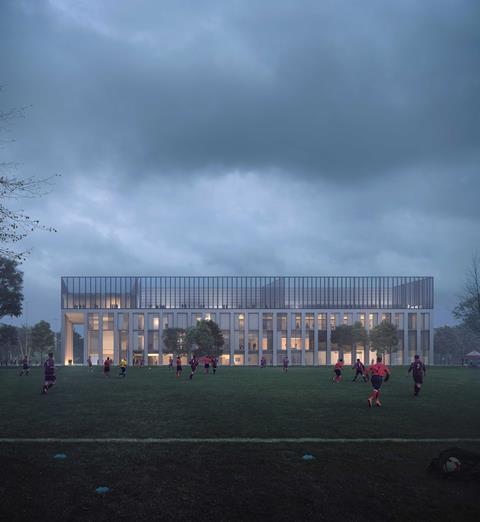 "They wanted us to do something different. It's not so much the numbers or targets you want to hit, but the benefit for the community."
Lee Askey heads Morgan Sindall's project team on a landmark project for the London Borough of Hackney. It is a huge project for the council, worth nearly £100m and comprising a four-storey leisure centre and 1,100-pupil school in a compact inner-city residential space, on the perimeter of Shoreditch Park.
The leisure centre will replace the existing Britannia Leisure Centre, which will be demolished once the new building and academy are completed. The old centre had become too expensive to maintain and the mayor of Hackney said a refurbishment project would cost up to £14m and require the site to close for two years making that approach unviable.
The facilities are designed to serve the growing local population
On the site of the current leisure centre, two residential units with a total of 481 flats are planned – a major factor in the council's ability to fund the regeneration project as it does not receive government funding for council housing or leisure centres. The contract for this phase of the project is set to go out to tender this year.
The school is to be a permanent home for the City of London Academy Shoreditch Park, which currently sits on a temporary site. The facilities are designed to serve the growing local population, along with additional residential sites, including 81 affordable and social housing units, which, though desperately needed, barely touch the borough's 13,000-strong waiting list.
As with any urban construction project, the site is packed in tightly and surrounded by several residential and community buildings, all of which create their own challenges in carrying out the project efficiently in the construction phase.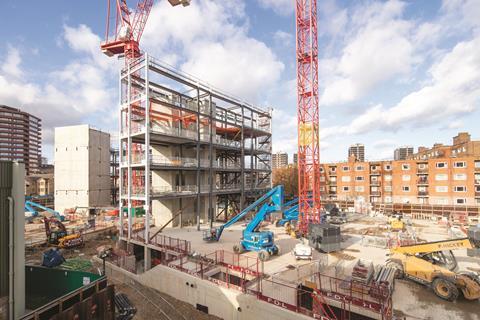 Askey and his team planned for these challenges before starting work on site (for much longer than on other projects, says Askey). But with locals initially concerned at the amount of urban regeneration taking place in the area – in 2016 a petition to save the existing leisure centre received 4,500 signatures – the project team sensed an opportunity to ensure that it was not just the buildings that would leave a lasting impact on the local area. It has also invested significant effort in developing a social value offering, made up of large and smaller scale initiatives to benefit the community during the two-year construction phase and beyond.
Work experience
Throughout the bid process, Hackney council was eager to encourage apprenticeships and work experience placements, explains Askey. Morgan Sindall elected to do something slightly different with its programme. "Work placements give people a real taste of construction – we've built a three-week work placement, giving people experience of site management, quantity surveying, or planning. After that, they have a better understanding of whether they want to go into construction and start an apprenticeship." Askey has seen 15 local people come through the scheme so far – he is well placed to exceed the target of 25 by the end of the project. Askey says he values these placements as it allows him to create a close-knit team that works and develops together. Most of the project team – including Dermot Mitchell, a member of Building's graduate panel (comprising a dozen young professionals who have recently started out in the built environment sector, brought together to offer the industry a fresh perspective on construction's major issues) and the man in charge of the leisure centre site, and Sam Martin-Roberts, the academy's project manager – worked on one of Morgan Sindall's previous schemes, a £70m regeneration project in Lambeth, south London, that included the town hall and other civic buildings.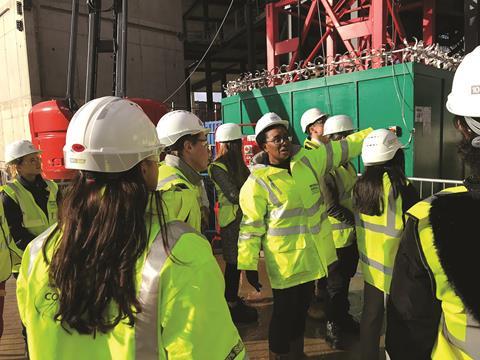 Martin-Roberts started on a work experience placement with Askey 13 years ago. He is still working alongside his project director. "He's supported all of my projects in the last 13 years and he's moved himself up to where he is now," Askey says. "I'm just trying to find someone else that fits the mould, that we can mentor and motivate them in their career in construction."
At Britannia, placements are sourced from the borough's Hackney Works programme, which acts as an employment brokerage for people who may struggle to get into employment. Morgan Sindall's placements are tailored to what best suits these individuals, who may require an office-based, more supportive environment outside traditional construction roles.
Technical challenges
In accordance with the London Plan, no net loss of designated open space was permitted. Leisure centres are typically laid out in open plan, across one ground floor; this allows for different activity spaces set apart from each other. But due to space constraints at Britannia, the new leisure centre structure is four storeys high. It is to be built on the floor plate of existing tennis courts and small football pitches, with four new swimming pools on the ground floor; an indoor sports hall, squash courts and a gym on the floors above; and two tennis courts and two five-a-side pitches situated on the roof.
Core to the leisure centre's structure are steel trusses, the largest of which was lifted into position at the start of the year. Weighing 56 tonnes, the truss was hoisted into place using two 500-tonne mobile cranes working in tandem.
We can put up four panels in a day, and it takes two people and a cherry picker to install

Lee Askey, Morgan Sindall
Both projects are using precast cladding, manufactured offsite. "We don't have the space to assemble on site, and it does cut down on time, disruption and vibrations this way," says Lee Askey, Morgan Sindall's project director. "We can put up four panels in a day, and it takes two people and a cherry picker to install."
As part of the wider regeneration of the area, a new energy centre is under construction – with a district heating network to run the leisure centre, school and some of the future housing. "The client wanted to get connections in for future phases of the project," explains Askey. "So while we were creating a mile of trenches around the site, we designed it so that the district heating pipes, gas, water, electric and communications infrastructure were all within the same trench." This will minimise future disruption.
The school, situated on the other side of the existing leisure centre, will also reach four storeys. However, once the school opens in autumn 2021, work will begin on the demolition of the old leisure centre and the construction of two residential towers. For this reason, the school's facade will be fitted with acoustic louvres so that they will not have to open windows for ventilation.
Minimising disruption
Hackney council's pledge to keep the leisure centre in operation during construction presented Morgan Sindall with its first obstacle – and opportunity. The project is being treated as two separate sites, with Askey assuming overall responsibility. Martin-Roberts explains that community engagement started very early on, with existing leisure centre staff treated as the client. "Due to the tight nature of the site, we had to devise an alternative entrance to the original leisure centre, which went through the first floor and via the management offices. We drew up detailed models to show them how the new layout would look to ensure they understood our plans."
It may seem counter-intuitive to spend hours on detailed plans for an entrance to a building that will be demolished in the next 24 months, but Askey says that this mindset put the staff at ease. "We've been told that footfall has not dropped at all since we started work, which shows we're getting something right with our community engagement."
All of Morgan Sindall's project planning is centred around minimising disruption while on site for everyone in the community – that includes leisure centre and park users, residents, pupils of a nearby primary school and commuters using the nearby cycle super highway. The site is overlooked by around 600 residential windows or balconies. For a two-year construction project, there is the potential for thousands of unhappy locals.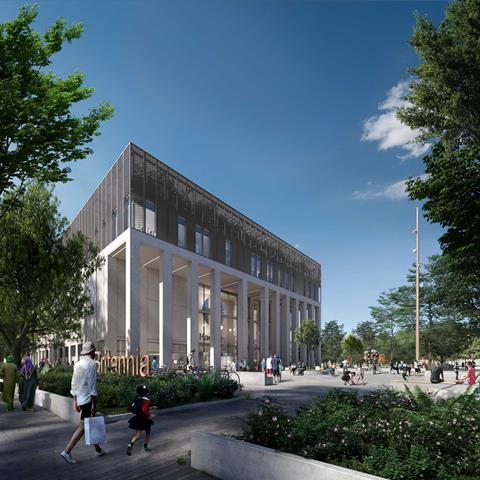 "Before work even began, we invested a lot of time and effort into figuring how we could minimise the disruption for residents throughout the project," says Hannah Cowell, Morgan Sindall's community investment manager for the project. "We ran several residents' forums, sending out hand-delivered letters, and booked local councillors chair the forums. For the first event, one person turned up." A low turnout for these events is seen as a success for the project team; people generally only show up when they have something to complain about.
The cycle super highway is on the road running parallel to the leisure centre site. Morgan Sindall needed to close this road but, conscious of the fact that this stretch is used by more than 5,000 cyclists each day, it devised a system with Transport for London [TfL] and Hackney's transport department Streetscene whereby the highway was kept open and marshalled by a Morgan Sindall team to manage traffic and incoming deliveries. The system has since been nominated for a London Transport Award.
The team saw the narrow streets and the cycle super highway as an opportunity to make its supply chain delivery more environmentally friendly and less disruptive to residents. The team became the first construction contractor in London to trial cargo bike deliveries. Aside from quieter deliveries and lower emissions, the deliveries through congested central London streets were also quicker – an average of 17 minutes per delivery saved.
Calculating social value
In order to track what each social value measure generates, Morgan Sindall has created its own social value bank. Similar to other tools on the market, it uses this bank to calculate the value its economic, social and environmental commitments generate on its projects in monetary terms. These commitments are initially agreed with the procuring client. The firm also uses a system called Local Multiplier 3. This is a methodology that allows it to calculate the level of re-investment and economic impact it makes within 25 miles of a site.
Positive impact
And there are smaller initiatives too, all designed to benefit the community. The neighbouring park continues to be a hive of sporting and leisure activity. Two "paws stations" were installed to provide water bowls, waste bags and bins for the park's many dog walkers; benches removed before construction started were placed elsewhere in the park; there was a commitment to plant twice the number of trees that had to be removed; and, thanks to the quick thinking of the site team when a local resident collapsed in the park, emergency first aid was on hand when site manager and first aider Mitchell sprung into action when alerted to the emergency. "I ran into the park with the defibrillator and we waited for the ambulance to arrive – it was great that we were able to assist and he pulled through just fine," says Mitchell.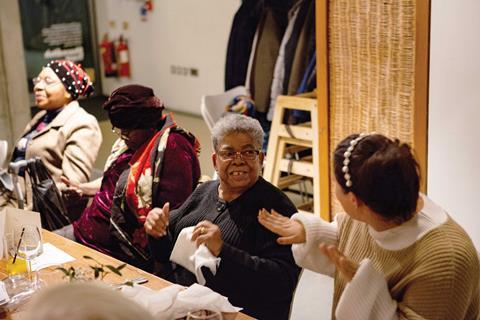 Each of these elements illustrates the potential for societal impact on a granular level. But it is the level of detail that contributes the most, says Askey, even if it cannot be tallied up in a spreadsheet. None of the social value measuring tools have a section which sets out targets for saving lives in a park, but having this mindset to help the community when needed, says Askey, is far more important.
Measuring social value
The social value initiatives deployed on this project required significant resource to keep on top of all the activities. As well as her community outreach work, Morgan Sindall's community investment manager Cowell ensures that both her team, the community and client are up to date on everything that is happening on site.
"The social value element of work was really important for the client," says Askey, "so we almost over-communicate and provide them with weekly updates on everything we do, big or small."
Cowell oversees these communications with Hackney council, as well as managing the project's dedicated website which acts as a news and resource outlet for local residents. QR codes directing users to the site are displayed across hoardings to send people to the website.
How many construction sites have supplies delivered by cargo bike?
Askey and Morgan Sindall have set internal targets for social value delivery, rather than use one of the measurement tools on the market such as Social Value UK's social profit calculator and the Social Value Portal's framework, launched in 2017. The team also have a target of 30% of its labourers to be sourced locally, as well as having 25 three-week work placements on site throughout the project. "We also plan to take our apprentices with us on future projects," says Askey.
The new leisure centre is planning its grand opening for spring 2021, with the school set to open its doors in time for the new academic year a few months later. A measure of the project's success will be to see how many other Morgan Sindall – or TfL – sites adapt their cycle super highway programme; how many construction sites have supplies delivered by cargo bike; how many work placements will find themselves in continued employment, in or outside construction. The Morgan Sindall project team will meet with Hackney council to feed back and evaluate the extent to which social value targets have been met.
The justification for social value on projects is gradually becoming more evident on both client and contractor side. But for some time, social value's sticking point in construction has been the sector's ability to accurately track what has been created. By putting in place a robust plan to track post-completion, the industry may find the case becomes much more compelling.
Share your story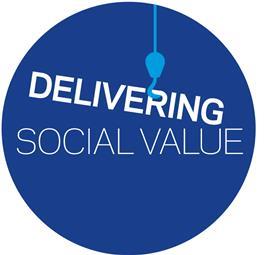 Delivering social value – Building's editorial initiative – looks at ways construction firms are attempting to create better environments for communities. We want to hear about challenging projects with a social purpose, so to share your story get in touch by emailing: building@building.co.uk