Dame Judith Hackitt's interim report into fire safety holds out the prospect of a profound change in the way construction does business. The only question now is whether the industry is ready for it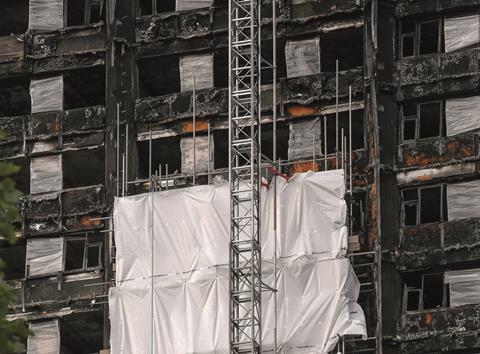 The shell of Grenfell Tower is gradually being wrapped up in white sheets, six months on from the blaze that resulted in the loss of 71 lives. But while the charred building itself may be becoming a less visible landmark on the west London skyline, the ramifications of last June's blaze look set to continue to overshadow construction throughout 2018.
And the disaster will be firmly back in the spotlight later this month when the industry will be coming together for a summit to discuss the findings of Dame Judith Hackitt's interim review of building regulations and fire safety, which was published in the week before Christmas.
The review itself contains a host of recommendations, and taken together they hold out the prospect of a thoroughgoing overhaul of the culture in which construction operates.
So is the industry up to the profound change that the review seems to be calling for or will it wait for the spotlight to move elsewhere and then quietly carry on as before?
Mark Farmer, chief executive of Cast, and author of his own review Modernise or Die, says this time the spur for change is intense: "It's a big moment and will act as a catalyst for change."
"Unfortunately, we could end up in a situation where only loss of life will result in the kind of radical changes that are needed"

Rudi Klein, SEC Group
In fact, he thinks the pressure to change will be relentless: "As an industry we need to get public confidence back because I am convinced we will have more bad news coming out of the public inquiry that will cast our industry in a poor light.
"The industry needs to up its game to show it has the competence and ability to come up with a system that works and which safeguards people's lives. It's right that we have that challenge because we can't carry on as we have before. To bring public confidence back, we have to address the major shortcomings in how we have been delivering."
Rudi Klein, chief executive of the Specialist Engineering Contractors' (SEC) Group, regrets that it took a tragedy like Grenfell to spur on long overdue reforms. "Unfortunately, we could end up in a situation where only loss of life will result in the kind of radical changes that are needed in the industry.
"This report will be a reality check for the industry, which is no bad thing. They are the right solutions but nobody to date has been prepared to put them into effect."
Nick Raynsford, former construction minister, believes Hackitt has succeeded in cutting through the complex regulatory framework surrounding the industry. "The whole Grenfell disaster demonstrated what happens when you have a framework where insufficient attention is given to the practical implementation of separate decisions being taken by different bodies," he says.
Richard Steer, chairman of Gleeds, agrees: "The system that has developed post-war needs to be rationalised and clarified. Most regulations are probably quite workable and sensible, but because they have become a mish-mash there are shortcomings in the overall system."
As an example of this lack of clarity, Raynsford highlights regulation 38 in the approved documents, which governs the handover from construction to the operational phase.
"It says fire safety arrangements have to be handed over to a responsible person, but there is no mechanism for ensuring that happens. Sending documents through the post could be deemed to have satisfied the obligation: there is no proper handover arrangement."
Interim report's key recommendations
Greater personal responsibility of senior individuals involved in commissioning, designing and building
Improved process, compliance and enforcement of regulations
A clear, quick and effective route for residents' voices
Improved testing, marketing and quality assurance for products used in construction
Risk-based, proportionate and unambiguous regulation and guidance
Improved levels of competence
Who's responsible?
However, it's not simply a matter of rewriting regulations. The review could have profound implications for the very nature of the construction industry.
One of Hackitt's key recommendations is clearer accountability, making responsibility for ensuring buildings are fit for purpose rest with those who commission, design and build them. And the interim review says this should rest with "clearly identifiable senior figures" rather than being dispersed through the supply chain.
This onus is music to the ears of Adrian Dobson, executive director of members at RIBA, who points to how the Republic of Ireland has introduced such a system. "We have to put a duty on those who design and construct to make sure they are building in line with the regulations," he says.
"It's quite right that it should be clear where responsibility lies," agrees Raynsford.
Lack of accountability is central to the industry's delivery bugbears, says Klein: "The problem with projects like Grenfell is that the teams are working in isolation. There should be somebody with overall responsibility for delivering the project and they need to know who is doing what and should have the ultimate say on whether a company should be hired.
"No other industry is so outsourced, which leads to a fragmented delivery process that is totally dysfunctional."
Farmer agrees: "You can hide behind corporate boundaries but effectively we need somebody taking personal responsibility."
A clearer delineation of responsibility in the construction process would have implications for how projects are procured, he adds: "The contractual structures we have operated over the last 20 years have led to a blame culture with nobody holding true responsibility at an individual level."
A procurement overhaul
"Procurement models need a complete overhaul," Farmer says, pointing to how transfer of risk through the supply chain has facilitated the bargain basement bidding by contractors which plagues the industry. "If someone selects the lowest price, there should be consequences if something goes wrong. The traditional, main contractor/lump sum model is broken."
In particular, the review identifies issues with the way design and build contracts work. The use of such contracts means it is "particularly problematic" to properly document or review changes in designs as projects evolve, it says.
And changes in design often lead to changes in products. "The ability to replace one approved product with another without having to seek building regulation approval is identified as an issue," says Gleeds' Steer.
RIBA's Dobson says: "Often in design and build, there is no individual oversight of what has been built, no clerk of works or anyone independent representing the client."
But Steer doubts whether the Hackitt review will sound the death knell for design and build. "You are not going to lose design and build as a procurement route."
Design and build will have a role to play, agrees Farmer: "It can work on certain projects where there is a well-defined project where a contractor is aware of the risk and can price it."
But it could be less important in a post-Hackitt review world, he predicts: "If you change the procurement model away from the cheapest price and inappropriate transfer of risk, design and build will decline."
The SEC Group's Klein believes that the report points towards a more integrated approach to procurement, whereby the delivery team is assembled at an earlier stage. This approach, which he dubs alliancing, would enable subcontractors to feed in their technical expertise at the front end.
SEC Group is working on developing integrated project insurance so that the whole team is covered in case of delays and cost over-runs.
Greater personal accountability will also see main contractors having to take greater direct responsibility for projects, which will in turn have resourcing implications for these companies, predicts Farmer. "With the skills issues we have, I don't think contractors can safely take responsibility for subcontractors because they are not in control of that process. They might have been able to guarantee that 10 years ago but they can't now.
"I see potential for main contractors moving away from risk-laden models where they take responsibility for others or moving to more integrated models where they take back control, and taking more people onto the pay roll in certain key trades where they have to control the outcome."
A shift in this direction won't happen overnight, he acknowledges. "Contractors will cherry pick what they want because the pressure to keep payroll lean hasn't gone away."
Nevertheless, the Hackitt review could "start to change the shape of the industry", says Farmer, identifying reductions in both the level of self-employment and subcontractors in certain key trades.
Raynsford says: "The challenge will be getting from where we are to a future framework that is simpler and more efficient."
And a lot of this will depend on political will, which will be required if the industry is ever to truly change its way. The risk, of course, is that momentum becomes lost as the immediate shock of last year's disaster wears off.
Raynsford remains concerned that the pressure to deregulate, which has driven much of the government's approach to the sector over the last seven years, will continue. "I hope there will be an acceptance by government that there should be an intelligent regulatory regime and not the view they've had in the last two years that regulation is a problem rather than a necessary part of a framework to ensure a civilised society."
This month's summit will shed further light on the scale of the change that construction faces in the post-Grenfell world.
Could a two-tier regulation system work?
A two-tier system for building regulation could be one of the outcomes from the Hackitt review, judging by the conclusions of the interim report.
Setting out the direction of travel for the next and final stage of the review, which is due to report in the spring, Dame Judith Hackitt suggested a more "risk-based and proportionate" framework. Those delivering high-rise and more complex buildings would be accountable to a "higher degree".
The former Health and Safety Executive chief suggests there should be a move away from the current system with its heavy reliance on government, advised by the Building Regulations advisory committee, to update and maintain the rules. She recommends that while the government should set a broad framework of standards, the onus should be on the industry to specify the detailed solutions for more complex structures.
Diane Marshall, head of technical services at the National House-Building Council, says Hackitt is "quite right to shine a light" on what she describes as the "significant burden" involved in updating and maintaining the existing regulatory framework.
"If we are going to commit to prescriptive regulation, we have to consider ongoing management and maintenance," she says.
However, Rudi Klein of the Specialist Engineering Contractors' Group is not sure whether it is a good idea to give construction a bigger role in setting its own rules. "This industry doesn't respond well to regulation unless it's sufficiently specific," he says.
Andrew Dixon, head of policy at the Federation of Master Builders, is lukewarm about the idea of a two-tier system for high-rise buildings and the rest of the built environment. "We need to use this opportunity to revolutionise the way the whole industry is regulated. Otherwise, this will not be as seminal a moment as it might be.
"The industry is due for greater professionlisation and we would like this [review] to be a catalyst for that."