After the shock election result last week, we asked Building readers to tell us how they actually voted in an online poll
The results were: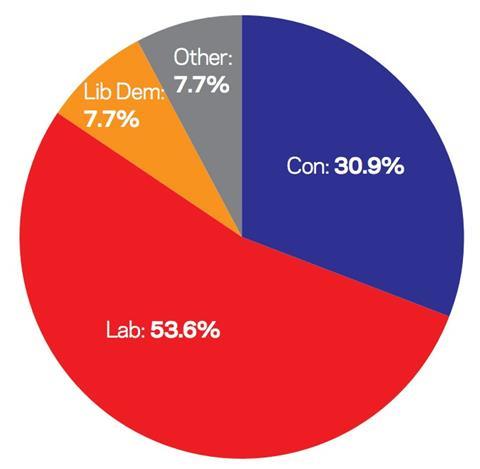 This post-election online poll, carried out from 9-12 June, reveals a surge in support for Labour, with backing from over half the respondents. This compares with only 39% of readers saying they intended to vote for Labour in our pre-election survey.
Support for the Conservative Party fell to 30.9% in the poll in terms of how people actually voted, from the 36.5% who said they intended to vote for Theresa May's party.
The Liberal Democrats also lost out: they had enjoyed support from 18% of readers before the election but only 7.7% said they voted Lib Dem on polling day.
The online poll was completed by 168 people on our website and on Twitter compared with over 1,000 who took part in the in-depth reader survey conducted from 19-25 May.
The vote share UK wide in the general election gave 42.4% of the vote to the Tories, 40% to Labour, 7.4% to the Lib Dems, 3% to the SNP, 1.8% to UKIP and 1.6% to the Greens.