High impact: Discover a place where building materials are tested to their absolute limit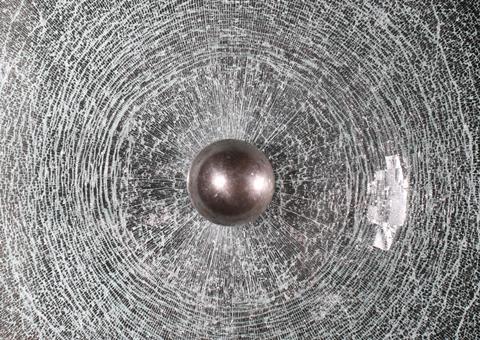 Extreme testing and the best results
How VINCI Construction UK's Technology Centre is helping the industry to cut costs, solve problems and win more work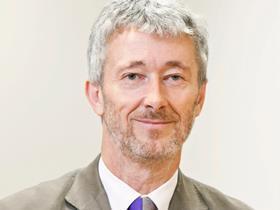 At first sight there's nothing particularly remarkable about VINCI Construction UK's Technology Centre. In a quiet corner of Bedfordshire, 30 minutes north of London, the site, set back off the road, could easily be overlooked. But remarkable things happen there: building facades are tested against typhoon conditions; flasks designed to carry nuclear waste are dropped from tall cranes; windows have all manner of objects dropped on them - while, in a large workshop, a complete full-scale model of a Crossrail underground station platform has been built, down to the finest detail. It's certainly no ordinary place.
In fact, the Technology Centre is one of the leading construction test centres in the world, offering on its 5.5ha site a range of services unique to the UK - including cladding, acoustic and laboratory tests, building pathology, full-scale mock-ups and buildability tests, environmental assessments, including BREEAM, CDM, car park life-care plans and cathodic protection.
These services are not only to the benefit of VINCI Construction UK, but to a host of clients including major UK housebuilders, main contractors, European curtain walling firms, Middle Eastern paint manufacturers and the Crossrail project. Indeed, 85% of the work undertaken at the Technology Centre is for external clients. "We deal directly with clients," explains Dr Russell Matthews, Technology Centre director. "They come directly to us - they don't go through VINCI."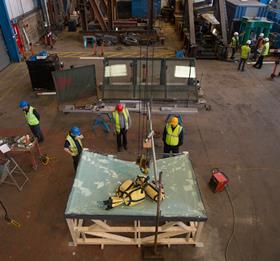 But Matthews says the centre's position as part of a major contractor gives it a unique offer. "Our competitors are not part of a contractor, so our solutions are more practically focused - we are in the construction industry - and that's a key difference for us in what we do," he says. "So for example, many people do BREEAM assessments but what we do is work directly with the contractor from the tender stage to achieve the most cost effective solution."
The Technology Centre is able to provide practical solutions for clients that save them time and money but also helps give them a competitive edge, helping them maintain margins and, ultimately, helping them to win more work - invaluable in tough times.
Building pathology
But the Technology Centre's services do not just cover pre-construction - a key part of what is offered is for problems that arise during and after a project is completed. The Technology Centre's building pathology team focuses on identifying the causes of problems in buildings during construction and in post-construction occupancy. "Any defect that arises with a building, we have the expertise and knowledge to investigate what is going on and develop remedial solutions," says
Dr Martin O'Farrell, the Technology Centre's principal consultant in building pathology. "That can range from cracked concrete slabs - we do an enormous amount of work on floors and concrete screeds - to water ingress issues in roofs. The spectrum of issues is enormous: material defects; workmanship issues; even what the weather was like on the day the concrete was poured. It's an investigative role and no problem is too big."
The Technology Centre's building pathology team developed the application of cathodic protection technology on historic steel framed buildings and remains an industry leader, with the use of ground-penetrating radar over the face of the building helping the centre save clients huge sums (see case study overleaf).
We have the space, facilities and skill to build full-scale samples and mock-ups
The Technology Centre has nearly 30 years of UKAS accreditation and was a founding member of the Centre for Window and Cladding Technology at Bath University. It was also the first centre to do cladding testing in the UK when in 1986 it began testing the cladding for the Broadgate development in the City of London. It is Europe's largest external cladding and curtain wall test and inspection centre, with a dozen permanent test chambers that can handle more than 20 samples simultaneously.
On site the cladding testing facilities enable clients to build full-scale samples of cladding systems that are tested for wind, water and impact resistance. A pair of Rolls-Royce Griffon airplane engines, taken from old Shackleton bombers and placed on bespoke stands, blow wind and water into the cladding and are able to simulate the impact of 50-year storms.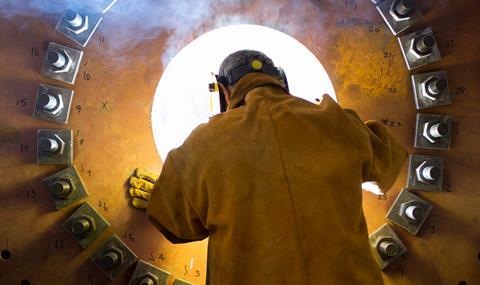 The centre also performs thermal tests that alternate hot and cold cycles for a predetermined period of time, with a temperature range of -30oC to 80oC. It can also perform simulated seismic tests, undertaking work for clients in earthquake prone regions such as Turkey. The facilities have attracted a host of clients, from major UK housebuilders to main contractors and European curtain walling companies. The centre tested the cladding for the Peak Tower in Hong Kong to typhoon conditions as well as Heathrow's Terminal 4 (pictured), which was tested for blast resistance. The centre also performed air and weather tightness tests on the timber cladding for the London 2012 Olympic velodrome (pictured).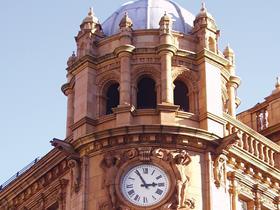 Depending on the complexity of a facade, tests can take about three weeks to complete, with about 90% of cladding samples failing the weathertightness test the first time. "This is the key point: the clients have the opportunity to come here and test the cladding - they test the performance; check the buildability and iron out any issues before heading on site. That saves time and money," says Stuart Moxon, the Technology Centre's head of compliance testing. "We often get the bosses and the building owner here as well as their crack installation teams because it's a chance for everyone to actually see the cladding and how it looks."
The centre has a key advantage in that it can offer an all-in-one service, so customers have no need to transport their samples from one laboratory to another. "What we also offer - and this is crucial - is a contractor's perspective. It's a very practically focused service and its backed up with on-site testing as well, where we undertake quality control and monitor the assembly and workmanship during the construction phase to ensure that when the cladding is put on it will deliver the results that we have tested for. It's a unique offer and clients can't benefit from it anywhere else in the UK," says Moxon.
The Technology Centre also boasts some of the UK's largest acoustic and sound transmission testing facilities and the only UKAS accredited facility in the country that can test for flanking transmission - the sound that travels through the building fabric. In fact, on any given day a whole range of tests can be taking place, with a massive tidal power blade undergoing stress testing in one corner of the centre, while in another expensive nuclear fuel storage flasks are being readied for drop tests (see previous page) or large glazing panels are being prepped for impact tests. There is even a full-scale mock-up of an underground Crossrail station platform (see below). "We've dropped shopping trollies and TVs into glazing at a client's request," says Moxon. "We have the space, facilities and skill to build full-scale samples and mock-ups. I like to think we can build anything and test it."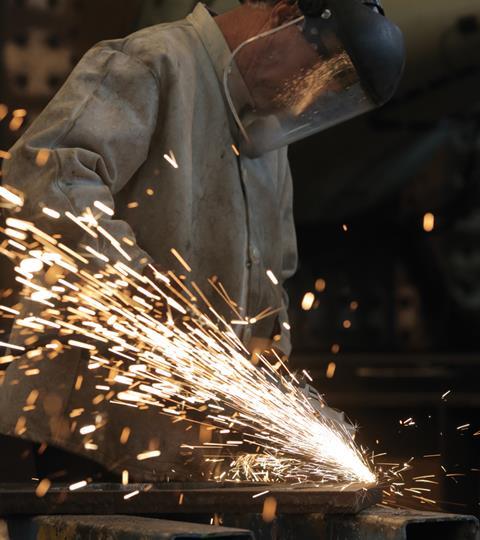 Matthews says the facilities not only enable clients to perfect their designs but also to test their buildability. He cites a project for King's Cross for which the facilities were used to perfect complex construction methods in a station tunnel environment before being used on site. "All that preparatory work meant every weekend closure on the rail line was handed back on time and without incident," he says. "Now that may have happened without the preparatory work, but you reduce the risk."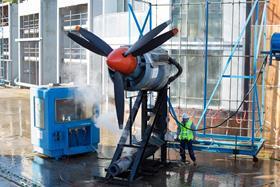 The centre offers a full range of laboratory tests for building products with a host of international clients, particularly from the Middle East and India, taking advantage of the centre's specialist facilities for testing concrete. "We have a lot of work from clients with products that have been developed for atmospheres that are harmful to concrete - it's about finding ways to make concrete last longer in aggressive environments," says Moxon.
The Technology Centre also developed VINCI Construction UK's BIM services, which it has been developing since the early days of the technology in the mid-nineties. "We were doing work that you would now recognise as BIM for repairs on Dungeness nuclear power station in 1995," Matthews says. "But it's developed a long way since then."
Nuclear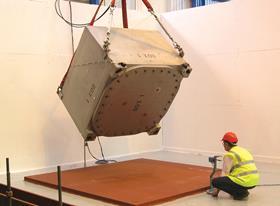 The origin of the Technology Centre lies in the nuclear industry, when, in the fifties Taylor Woodrow was involved in the early stages of the UK's nuclear programme and built the first power station in 1956. Russell Matthews says that to develop the concrete and special materials needed, Taylor Woodrow set up its own research and development centre, which became the Technology Centre in 2000. The centre undertook testing for Sizewell B, building and testing a tenth scale model of the primary containment vessel at the plant. In 2007, the Centre undertook work on the Heysham 1 and Hartlepool nuclear stations after a fault with the pressure vessel pre-stressing system lead to cessation of generation. "We played a key part in getting them back on line," says Matthews. The Technology Centre has carried out maintenance on most of the UK's nuclear power stations. It also carries out testing on prototype flasks to transport nuclear waste, including measuring impact resistance. Something Matthews says must be done right first time. "The prototypes are worth a lot of money - you can't go back to the client and say: 'Sorry, we got that wrong, can you give us another one?' It's high stakes business".
Crossrail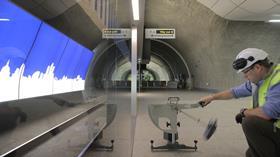 A highlight of the Technology Centre is the full-scale mock-up of a Crossrail underground station platform. The model is 6m high and 20m long with sliding passenger safety doors in the style of Jubilee line platforms. It took about three months to build and has delivered huge benefits. The model helps Crossrail to get a better understanding of how the platforms will operate in real life, and enables everything to be assessed in the finest detail: cladding finishing; CCTV; flooring; lighting and signage, and platform acoustics. These assessments inform design decisions, such as a move to put train information displayed above the passenger doors rather than perpendicular to the track as is usually the case.
The model has had over 400 visitors since it was completed, including disabled user groups, with their feedback used to adjust the design to be more inclusive.
The model is also used to help contractors devise construction techniques. "If you address it now - and get it right now - then you can avoid problems and cost in the future," says Matthews. "The real value is in the tangible model that the mock-up provides. Computer modeling of course exists, but it doesn't give the same sense of scale, of lighting and acoustics that this model provides. Given the importance of the project, everyone wanted to go the extra mile to get things right first time."