Whether you're going in or looking out, doors and windows are essential to look and thermal performance. But they can also provide additional features for the discerning specifier
Movers and Makers
Glasssolutions has had a new CPD Seminar approved by the RIBA. "An introduction to Electrochromic Glazing: Dynamic Control of Solar Heat Gain and Glare" by the Saint-Gobain Group company looks at sustainability and performance of electrochromic or "active" glass for windows, skylights and curtain walls.
Eurocell's Aspect system has achieved Secured by Design status. This is the latest award for the Aspect bi-fold door, which recently became the first system of its kind to gain British Board of Agrément (BBA) approval. The Eurocell Aspect bi-fold door system is now listed at: www.securedbydesign.com/companies/.
Polymer processing specialist Rehau has launched an app for iPhone and Android devices that includes details of its product range, installation manuals and technical literature. Called Rehau Docs, the app includes details of the company's PVCu window profiles, renewable energy, heating and plumbing and cable trunking products.
Select Windows (Home Improvements) has recently attained PAS: 2030, which sets out requirements for the installation of energy efficiency measures. The accreditation means the supplier of PVCu windows and doors is now one of the first window companies to be recognised as a Green Deal Installer.
GEZE has launched an updated Product Guide and Price List about their door and window control technology products. It features all of GEZE UK's latest ranges of door closers, window control systems, sliding door fittings, RWA smoke and heat extraction systems. The guide is available electronically or as hard copy.
BESPOKE PERIOD-STYLE WINDOWS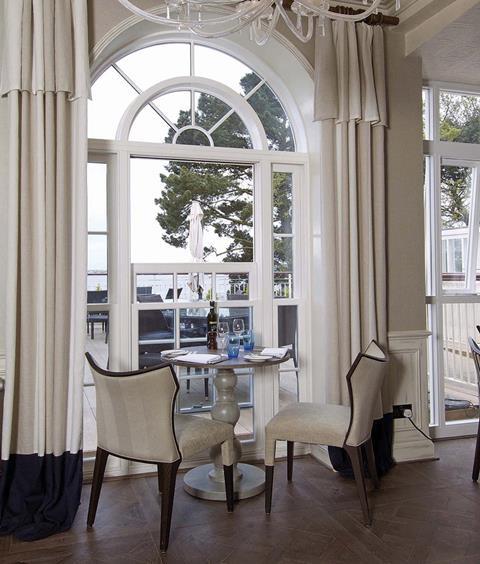 Products from Mumford & Wood's Conservation range have been specified in the recent renovation of the Christchurch Harbour Hotel Restaurant and Spa in Mudeford, Dorset.
Bespoke sliding sash timber windows and arched doorsets have been used in the original grade II-listed building, while French doorsets have been incorporated into a later wing.
Mumford & Wood was chosen as its bespoke work matches the look of the building, whose condition had been allowed to deteriorate. The owners removed all the PVCu windows and replaced them with Mumford & Wood's Conservation timber windows and doors more fitting to the architectural period.
Mumford & Wood
www.mumfordwood.com
LOW HEADROOM DOORS
Manufacturer P C Henderson has launched a new sliding door gear system. Soltaire Low Headroom is designed to help maximise the height of timber doors. Concealed into the top of the door, P C Henderson says that Soltaire reduces clearance between the track and the top of the door by 2mm. The firm adds that the door gear caters for doors up to250kg. Soltaire is available for interior and exterior uses and commercial or residential buildings. The range is available in aluminium.
P C Henderson
www.pchenderson.com
ALUMINIUM COMMERCIAL DOOR SYSTEM
AluK has launched the GT55 TB aluminium commercial door system. The company says that it is designed to be used for heavy duty commercial and public sector applications. The firm claims that it has a U-value performance of 2.0W/m²K (based upon 1.2 CP 28mm unit). It is available in single and double door choices, with standard or anti-finger trap hinge options, and has a maximum leaf weight of 90kg. It comes in 110mm x 55mm profiles for thermally broken door and screening options and can accommodate glazing sizes of 24mm-40mm for a door and 8mm-32mm for a screen.
AluK
www.aluk.co.uk
SLIM-PROFILE DOORS
Smart Architectural Aluminum has launched the Alitherm Heritage door, designed to replicate the slim profiles of traditional steel windows and doors. The company says it is ideal for sensitive planning areas and for refurbishment projects where traditional steel doors and windows have to be replaced. The firm adds that the aluminum profiles deliver a U-value of 1.8 W/m²K when installed with a suitable sealed unit. The design is suitable for both single and double door application and comes in sizes up to 2,100mm x 900mm.
Smart Architectural Aluminum
www.smartsystems.co.uk
LIBRARY GLAZING AND DOORS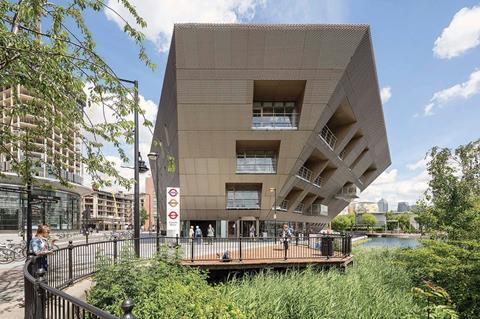 Technal's GEODE-MX SSG structural glazing and commercial doors were specified by CZWG Architects for Southwark council's library in Canada Water, London. As well as the doors and windows, GEODE-MX Visible Grid features as strips of curtain walling on the three upper floors of the building, with GEODE-MX top-hung concealed vents for
natural ventilation and PXi doors providing access to the balconies. The systems were chosen by the architect as it needed the facade systems to be robust, lightweight, have slim frames and to meet the required U-values, which the Technal products were able to deliver.
Technal
www.technal.co.uk
PASSIVHAUS WINDOW
Sapa Building System has launched a new aluminum Passivhaus window. The triple-glazed Avantis 95 has been certified Passivhaus compliant by IFT Rosenheim and the Passivhaus Institute. The window allows vent weights of up to 170kg. It is available in a range of applications: turn, tilt and turn, bottom hung and fixed. The company says its performance includes water tightness to 1950 Pascals, and a whole-window U-value of 0.8W/m2k.
Sapa Building System
www.sapabuildingsystems.co.uk
HIGH-USEAGE DOOR FOR SCHOOL
Jack Aluminium's Jack Door TD68 was specified for the Co-Operative Academy of Stoke-on-Trent. The high-usage Jack Door TD68 was chosen for the £23m project by Duplus Architectural Systems, because of its ability to withstand the tough conditions of a school as well as its thermal performance. The company adds that the door and framing system can achieve a 1.7 U-value.
Jack Aluminium
www.jackaluminium.co.uk
OUTWARD-OPENING WINDOW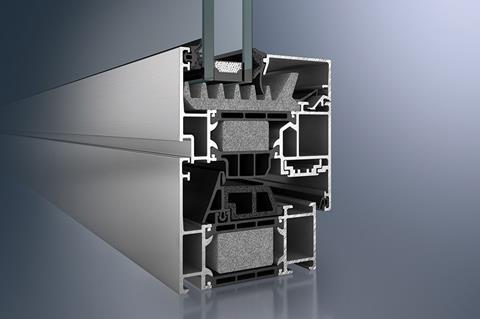 Schueco UK has launched the Schueco AWS 75 outward-opening aluminium window. The company says it has a face-width of 111mm and can achieve a whole-window U-value as low as 0.91W(m2K).
It comes in depths ranging from 50mm to 70mm. Top-hung vents can be up to 2m x 2m with a maximum of 130kg and side-hung vents up to 1.45m x 1.9m (maximum 90kg), allowing large areas of openable ventilation
Schueco UK
www.schueco.com/web/uk