We appraise the best products for building energy-efficient homes, from insulated steel lintels to external wall insulation that's fit for seaside locations
Energy-efficient MVHR system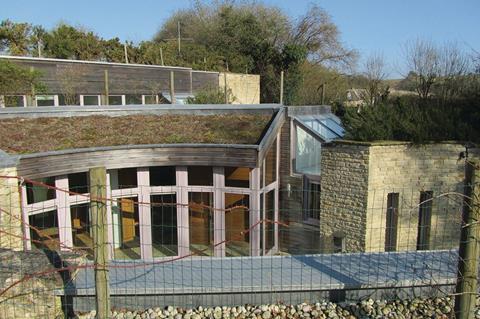 Architect Sandy Hickey has specified the latest energy-efficient version of an MVHR system from ADM Systems for the refurbishment of her parents' "earth-sheltered" home with swimming pool in the Cotswolds. Sandy says she chose ADM Systems as they demonstrated a much better understanding of their requirements than others, and the MVHR system maximizes the energy efficiency of the heat pump as well as avoiding issues with condensation in the pool areas.
ADM Systems
www.admsystems.co.uk
High acoustic rating interior doors
Vicaima's HD interior door has been awarded an improved acoustic rating, from tests conducted at Lorient acoustic transmission laboratory. The company says the improved acoustic rating has
been achieved through the robust construction of the door panel, which has a very high density core and double frame. The firm also claims private housebuilders recognise the key customer benefit and a number of major names have already specified this higher acoustic grade of door for new-build apartments and houses.
Vicaima
www.vicaima.com
Insulation for Fabric First homes
Miller Homes specified Knauf Insulation's Supafil glass mineral wool and Earthwool loft roll products for five Fabric First homes at Dukesmead in Nottingham. Two plots were designed to meet the current requirements under the 2010 revisions to Approved Document Part L, two were constructed to meet the Fabric Energy Efficiency Standard (FEES) and the final plot has been built to meet the expected Zero Carbon Hub Carbon Compliance Standard. Miller Homes says the aim of the project was to test proposed designs for future developments, enabling the company to assess the implications of future Building Regulations revisions on their project specifications, procurement process and site procedures. The firm says Knauf Insulation's products were chosen to save time, labour and on-site costs.
Knauf Insulation
www.knaufinsulation.co.uk
Calcium silicate render boards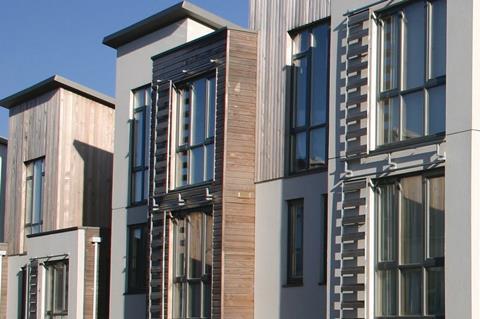 Stoneham Construction specified Marley Eternit's calcium silicate Bluclad render boards for Oakvale, a Code for Sustainable Homes Level 3 development comprising of 156 flats and houses, in Ryde on the Isle of Wight. Bluclad is a flat, Class 0 and EN13501-1 fire performance building board and has an installed life expectancy of at least 50 years. It is 100% recyclable. The company says
Bluclad was chosen as it offers superior dimensional stability for a seamless finish as well as being easy to install.
Marley Eternit
www.marleyeternit.co.uk
FSC certified laminates
Formica Group has introduced FSC (Forest Stewardship Council) certified laminates manufactured in its European plants. The FSC certified laminates are available as standard across the majority of Formica Group's European product portfolio. This includes the full plain colour offer and over 70% of patterns, available in High Pressure Laminate (HPL) and Compact Grade laminates and also specialist Formica product ranges such as DecoMetal metallic laminates, ColorCore through colour laminates and VIVIX exterior facade panels.
Formica Group
www.formica.com
Lift system with reduced energy consumption
Schindler has launched a lift system, the Schindler 5500, the design of which the company says sets new standards in flexibility, space efficiency, reliability and sustainability. The lift is suitable for applications such as commercial offices, high specification residential schemes and hotels. A range of door sizes is available from 800mm to 1,400mm and up to 2,400mm high. Designers have developed four distinctive interior lines ranging from functional to sophisticated and finishes such as stainless steel walls, back painted glass or wood laminates. The firm says the Schindler 5500 has been engineered to be highly sustainable and to minimise a building's carbon footprint; its clean drive technology and regenerative drive system reduces energy consumption by 30% and achieves a VDI "A" rating for energy efficiency on multiple sites.
Schindler
www.schindler.com
External wall insulation for seaside homes
Wetherby and Hamilton Building Contractors regenerated properties in Clacton-on-Sea, Essex, under the CERT scheme. The companies identified dramatic savings on energy bills that could be achieved for homeowners with the application of external wall insulation (EWI) to the properties. Phase one commenced at the end of 2012 and involved of 60 properties. The Wetherby Epsicon 3 system was specified, incorporating 100mm WBS EPS Premium insulation. The company says it was chosen as it thermally outperforms standard white EPS due to its lower K-value. Due to the success of the first phase, a second phase of 98 properties was completed under the CESP mitigating scheme in March 2013, with the final phase to finish the remaining 580 homes currently under way with ECO funding.
Wetherby Building Systems
www.wbs-ltd.co.uk
Insulated steel lintels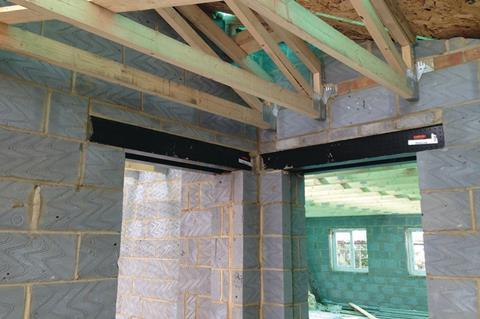 Due for completion in spring 2014, a residential development by Marden Homes of eight refurbished and six new-build apartments in Essex has utilised Catnic steel lintels. CG90 lintels in various lengths were used, erecting 100mm Thermalite blockwork inner leaf and fully filling the 100mm cavity with 100mm cavity thermal insulation to achieve a U-value of 0.18W/m2K.
The company says that with these energy performance levels, having an insulated lintel is important. The firm says Catnic lintels were selected for their strength, reliability and ease of installation.
Catnic
www.catnic.co.uk
Swisslab external wall insulation system
A residential development of 14 flats in Harrow, Boxtree Lane, Weald, has used 1,400m2 of Alumasc's Swisslab External Wall Insulation (EWI) system. The Swisslab system with 160mm phenolic insulation and a silicone render finish in white and basalt grey was specified. The company says a U-value of 0.12W/m2k has been achieved and that its system was also chosen for its attractive, robust and low maintenance solution.
Alumasc Facades
www.alumascfacades.co.uk