Lhoist UK produces building lime and hemp lime products, and is benefiting from the new Part L and public awareness of environmental issues.
Lhoist UK was established in 2000 and has a staff of 100. Its parent company, the Lhoist Group, was founded in 1889 in Belgium and has been run as a family business to this day. The company produces lime and dolomite, has 7000 employees worldwide and has a turnover of €1.7bn. Here we talk to Mike Hayne, product manager with Lhoist UK, about the sustainability agenda and the company's latest product range, Tradical Hemp Lime, as it responds to the environmental challenge.
Q: Why did it take the Lhoist Group more than a century to enter the UK market?
A: Maybe the family never felt that the opportunity was right until 2000. It was the year when they bought an existing company, RMC Industrial Minerals' lime business.
Q: Has the sustainability agenda encouraged more interest in lime products?
A: It has been absolutely fundamental in the level of interest we've enjoyed. Public awareness of environmental issues has risen with the media focus on climate change. The market is enthusiastic about green products. Our timing is perfect.
Q: You did welcome the new Part L then?
A: Yes, because in effect our product responds to the new Building Regulations. Part L was quite good news for us because it focuses on air tightness and solar gain, and our product has already solved these issues.
Q: What new products have been launched?
A: This year we launched the Tradical Hemp Lime product range in the UK with Tradical Hempcrete as the flagship product (see Product focus, below). It's a bio-composite walling product insulation that can be used for floors, renders, roofs and plasters. It is comparable to concrete but with air-lime based binders with the chopped core of the industrial hemp plant stem. It is a lightweight and solid material and it has an excellent acoustic and thermal performance. The product is also able to capture and lock carbon dioxide in the building.
Q: What is the current lead time for this product range?
A: For small orders it can come straight from our stocks. For larger projects, the more notice we have, the better. I'd say a couple of weeks.
Q: On what kind of project have your products been used so far?
A: The largest project to date is an 8000 m² warehouse for Adnams brewery in Suffolk. Limetec specified the Lhoist Tradical product because the client was looking for walls that would have good insulation, as beer has to be kept at a very low temperature. We have a number of other projects in the pipeline.
Q: How does it compare financially with other insulation products?
A: It is difficult to evaluate, because it's a new product so it's a little bit more expensive. But it has more benefits than comparable products because it can capture more CO2. Utility bills are reduced, so there is a balancing out of costs. Obviously it does require an initial investment.
Q: What is the next step for Lhoist UK?
A: At the moment we have two sites in the UK: one in Derbyshire and one in Cumbria. We are in the process of involving Limetec to build our third facility. There has been a steep increase in demand from the market for sustainable products. I don't anticipate it will slow down.
Product focus: Tradical Hemcrete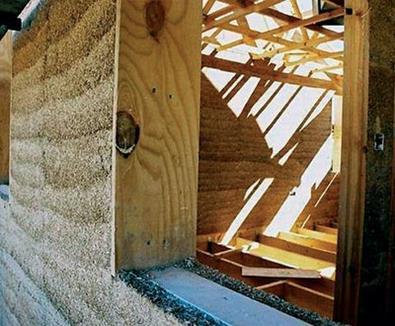 Tradical Hemcrete is a composite of lime and hemp that can be used for wall construction, floor screeding and roof insulation. It is suitable for both new and existing buildings.
To provide the support for the insulating wall form of Tradical Hemcrete, the company says that its Hemp Lime products range can be used with any structural framing system. The recommended structural frame is timber, because the vapour-permeable Hemcrete provides a dry environment for it.
Untreated timber can be used and there is no need to remove the structural frame on existing buildings to install Hemcrete.
The product has a good interface with building materials such as compressed earth or chalk blocks, as well as lightweight thermal insulation aircrete blocks. Lhoist UK recommends specifiers use permeable material with Hemcrete. Plaster and render needs to be lime-based. Vinyl paint should not be used as it creates an impermeable barrier, whereas Hempcrete needs to breathe.
The manufacturer says that the product is lightweight, which enables the use of fewer supports and lighter foundations.
Lhoist says that the product can be specified for schools, hospitals, offices, commercial and residential applications.
Sustainability
1

2

3

Currently reading

Lhoist UK: In the lime light

4

5

6